What do Astronauts read in space?
What books inspired them to become Astronauts?
To celebrate the launch of our World Space week online film festival. We have done a bit of exploring of our own and found out what two Astronauts like to read in space or inspired them to become Astronauts.
For full details of our online World space week film festival click here.
Astronaut Anousheh Ansari dreamed about going into space from a very young age,  a dream she achieved just after her 40th birthday, when she became the first Iranian in space. She is now the CEO of the X prize foundation. The book she cites as her inspiration for her dream of becoming an astronaut was The Little Prince by Antoine de Saint-Exupéry.
Italian astronaut Samantha Cristoforetti choose The Martian by Andy Weir, The Invincible by Stanisław Lem. And her personal favourite of her picks was The Hitchhiker's Guide to the Galaxy by Douglas Adams. Samantha said she had three good reasons for picking it as her favourite:
The first was that in the book the answer to the ultimate question is forty two, and she was a crew member on the forty second Expedition.
Second, the book contains an important reminder to not take ourselves too seriously.
And finally, and perhaps most importantly, 'Don't panic' is printed on the cover.
Other astronauts have taken up other novels including Gone With the Wind, Vanity Fair and War and Peace, Faust and Robert Heinlein's The Moon is a Harsh Mistress.
Astronauts also read books to children from space as part of the Storytime from space project and you can watch their out of this world readings by clicking here. Enjoy!

The little prince / Saint-Exupéry, Antoine de
" If a little fellow comes along, if he laughs, if he has golden hair, and if he never answers questions, then you will know who he is. He is the Little Prince. The Little Prince journeys to our planet from his home among the stars, encountering all sorts of benighted grown-ups along the way, and a fox, who teaches him how to see the important things in life. But the Prince has left behind a flower growing on his star, a rose which is his treasure and his burden, and before long he must return to it. " (Catalogue) Also available as an eBook.
The hitchhiker's guide to the galaxy : a trilogy in four parts / Adams, Douglas
" Book one: One Thursday lunchtime the Earth gets demolished to make way for a hyperspace bypass. For Arthur, who has just had his house demolished, this is too much. Sadly, the weekend's just begun. Book two : When all issues of space, time, matter and the nature of being are resolved, only one question remains: Where shall we have dinner? Book three : In consequence of a number of stunning catastrophes, Arthur Dent is surprised to find himself living in a hideously miserable cave on prehistoric Earth. Book three .Arthur Dent's sense of reality is in its dickiest state when he suddenly finds the girl of his dreams. They go in search of God's Final Message and, in a dramatic break with tradition, actually find it." (Adapted from Catalogue)
The Martian : a novel / Weir, Andy
"Six days ago, astronaut Mark Watney became one of the first people to walk on Mars. Now, he's sure he'll be the first person to die there. After a dust storm nearly kills him and forces his crew to evacuate while thinking him dead, Mark finds himself stranded and completely alone with no way to even signal Earth that he's alive–and even if he could get word out, his supplies would be gone long before a rescue could arrive. But Mark isn't ready to give up yet. " You can also borrow the film adaptation by clicking  here for details.
Gone with the wind / Mitchell, Margaret
" This is the tale of Scarlett O'Hara, the spoiled, manipulative daughter of a wealthy plantation owner, who arrives at young womanhood just in time to see the Civil War forever change her way of life. A sweeping story of tangled passion and courage, in the pages of Gone With the Wind, Margaret Mitchell brings to life the unforgettable characters that have captured readers for over seventy years." (Adapted from Catalogue) You can also borrow the film adaptation by clicking  here for details.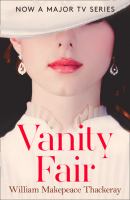 Vanity fair / Thackeray, William Makepeace
"Becky Sharp will do anything to raise her position in Society, from impoverished orphan to woman of means. Clever, lively and resourceful, Becky is the total opposite of her naive and sentimental schoolmate Amelia Sedley, a pampered yet good-natured girl from a wealthy family. As both women pursue love and life in London, against the background of the Napoleonic Wars, Thackeray paints a vivid portrait of decadent Regency England and satirises its corruption and flaws to delightful effect." (Adapted from Catalogue) Also available as an eBook.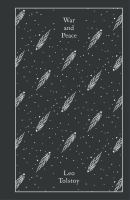 War and peace / Tolstoy, Leo
" War and Peace centers broadly on Napoleon's invasion of Russia in 1812 and follows three of the best-known characters in literature: Pierre Bezukhov, the illegitimate son of a count, who is fighting for his inheritance and yearning for spiritual fulfillment; Prince Andrei Bolkonsky, who leaves behind his family to fight in the war against Napoleon; and Natasha Rostov, the beautiful young daughter of a nobleman, who intrigues both men. As Napoleon's army invades, Tolstoy vividly follows characters from diverse backgrounds – peasants and nobility, civilians and soldiers – as they struggle with the problems unique to their era, their history, and their culture. " (Adapted from Catalogue) Also available as an eBook.
Faust, part one / Goethe, Johann Wolfgang von
"Goethe's Faust is a radical adaptation of the old German story of the wandering conjuror who sells his soul to a devil called Mephistopheles for magical powers and secret knowledge. Over a period of sixty years Goethe turned it into one of the greatest dramatic and poetic masterpieces of European literature. Goethe started work on it in the 1770s when still a young man, only finishing it near the end of his life, some fifty years later."  (Adapted from Catalogue)
The moon is a harsh mistress / Heinlein, Robert A.
"' It is a tale of revolution, of the rebellion of a former penal colony on the Moon against its masters on the Earth. It is a tale of a culture whose family structures are based on the presence of two men for every woman, leading to novel forms of marriage and family. It is the story of the disparate people – a computer technician, a vigorous young female agitator, and an elderly academic – who become the movement's leaders. And it is the story of Mike, the supercomputer whose sentience is known only to the revolt's inner circle, who for reasons of his own is committed to the revolution's ultimate success." (Adapted from Catalogue)