Hands up all the cat lovers out there? Whether it's an unspeakably adorable kitten, a playful moggy, a snuggly lap cat or an exotic breed, cats have filled humans with joy for millennia. In honour of International Cat Day, we thought we'd share some of our favourite books about cats with you all.
Dewey : a small-town library cat who touched the world / Myron, Vicki
"The story of Dewey Readmore Books, the beloved library cat, starts in the worst possible way. Only a few weeks old, on the coldest night of the year, he was stuffed into the book return slot at the Spencer, Iowa, Public Library. He was found the next morning by library director, Vicki Myron, a single mother who had survived the loss of her family farm, a breast cancer scare, and an alcoholic husband. Dewey won her heart, and the hearts of the staff, by pulling himself up and hobbling on frostbitten feet to nudge each of them in a gesture of thanks and love. For the next nineteen years, he never stopped charming the people of Spencer with his enthusiasm, warmth, humility (for a cat), and, above all, his sixth sense about who needed him most." (Adapted from Catalogue)
A Christmas gift from Bob / Bowen, James
"Originally published as A Gift from Bob, this festive standalone special sees the return of James and Bob, stars of the bestselling A Street Cat Named Bob, as they spend a cold and challenging December on the streets of London together in a new adventure.  From the day James rescued a street cat abandoned in the hallway of his sheltered accommodation, they began a friendship which has transformed both their lives. " (Adapted from Catalogue)
Homer's odyssey : a fearless feline tale, or how I learned about love and life with a blind wonder cat / Cooper, Gwen
"A New York Times Bestseller — Homer's Odyssey is the once-in-a-lifetime story of an extraordinary cat and his human companion. It celebrates the refusal to accept limits — on love, ability, or hope against overwhelming odds. By turns jubilant and moving, it's a memoir for anybody who's ever fallen completely and helplessly in love with a pet." (Catalogue)
Mrs Chippy the cat / Brocker, Susan
"Tale of Mrs Chippy, a tomcat who was a loyal and loved companion to the ship's carpenter and crew on Ernest Shackleton's 1914 expedition to the Antarctic aboard the Endurance, captained by New Zealander Frank Worsley. The cat proved to be a great rat-catcher, and the crew felt he was their lucky charm." (Catalogue)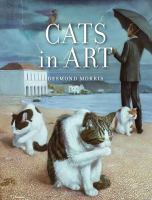 Cats in art / Morris, Desmond
"In his latest eye-catching book, best-selling author Desmond Morris tells the compelling story of cats in art. He explores feline art in its many forms, tracing its history from ancient rock paintings and spectacular Egyptian art to the work of old masters, avant-garde representations, and the depiction of cats in cartoons. Morris discusses the various ways in which artists have approached the subject throughout history, weaving illuminating stories with rarely seen images. The result is a beautifully illustrated book that will delight anyone with a Kitty, Max, or Tigger in their life." (Adapted from Catalogue)
Cats on Instagram
"Cat lovers, rejoice! This irresistible book compiles over 400 photos from the hugely popular Instagram profile @cats_of_instagram into a keepsake treasure. Playful categories including bowties, surprise!, and happy cats showcase all the charm and delightful quirks of the wide world of cats. This is a gift that will have feline fans smiling in recognition, surprise, and appreciation." (Catalogue)
Slinky Malinki / Dodd, Lynley
"The New Zealand classic by Lynley Dodd, a rhyming account of the night an adventurous cat goes thieving and becomes entangled in his ill-gotten gains." (Adapted from Catalogue)
Cats : 20 jewelry and accessory designs / Hamilton, Sian
"Feline fans will love this book of cat-motif jewelry. Cats: 20 Jewelry and Accessory Designs is packed with designs, big and small, for beautiful jewelry and accessories featuring cats. 20 whimsical projects from earrings, necklaces, and bracelets to brooches, cufflinks, rings, hair accessories, you can craft playful designs from jewelry-maker Sian Hamilton like these: Cat Charm Earrings Tiger Stripe Pendant Wire Cat Face Ring Lion Face Brooch Suitable for all ages and abilities." (Adapted from Catalogue)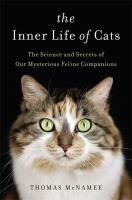 The inner life of cats : the science and secrets of our mysterious feline companions / McNamee, Thomas
"Our feline companions are much-loved but often mysterious. In The Inner Life of Cats, Thomas McNamee blends scientific reportage with engaging, illustrative anecdotes about his own beloved cat, Augusta, to explore and illuminate the secrets and enigmas of her kind" (Catalogue)
Of course, we couldn't leave out the most famous cat in Wellington!
The adventures of Mittens : Wellington's famous purr-sonality / Bruinsma, Silvio
"Meet Mittens, Wellington's world-famous cat-about-town. He has thousands of followers, a hit song, an exhibition of fan art, and with his exploring paws he brings joy to everyone he meets!"–Publisher information." (Catalogue)