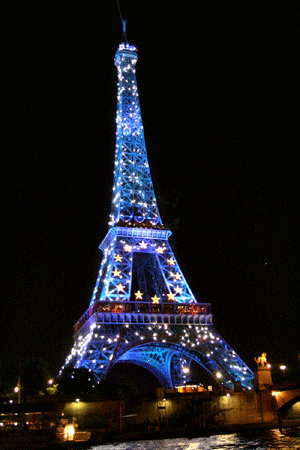 " The Eiffel tower lit up by strange ethereal flowers"
Robert Dinsdale, Paris by starlight.
Our selection of recently acquired Science Fiction and Fantasy titles includes Paris by Starlight by Robert Dinsdale, which features The Eiffel Tower heavily as one of its key locations. So, we thought what  further excuse do we need to dig up a few interesting facts about "La dame de fer".
The Eiffel tower was originally constructed as the entrance to the 1889 World's Fair. It wasn't initially loved by everyone; indeed there was a serious movement to get it torn down almost immediately after it was constructed. For forty-one years, until the construction of the Chrysler Building in New York City, it was the tallest man-made structure in the world.
The Eiffel tower has played a role in several other major historical events; for example, in 1910, Father Theodor Wulf discovering cosmic rays whilst measuring  radiant energy at the top and bottom of the tower! And during World War I, a radio transmitter located in the tower jammed German radio communications, seriously hindering their advance on Paris! On two separate occasions in 1925 con artist Victor Lustig "sold" the tower for scrap metal; it is also the most visited monument in the world that has a fee attached. And who can forget Grace Jones' (stunt double's) jump from the Eiffel Tower in The Roger Moore helmed Bond movie A View to A Kill. So, all in all, a truly fitting locale for a fantasy novel setting.
For details of this and our other selected recently acquired Science Fiction and Fantasy titles look below.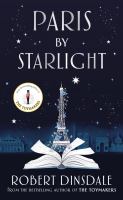 Paris by starlight / Dinsdale, Robert
"Every night on their long journey to Paris from their troubled homeland, Levon's grandmother has read to them from a very special book.… Nobody can explain why nocturnal water dogs start appearing at the heels of every citizen of Paris-by-Starlight like the loyal retainers they once were. There are suddenly night finches in the skies and the city is transforming: the Eiffel Tower lit up by strange ethereal flowers that drink in the light of the moon. How long can the magic of night rub up against the ordinariness of day? How long can two worlds occupy the same streets and squares before there is an outright war?" (Adapted from Catalogue)
Spirits abroad : stories / Cho, Zen
"Nineteen sparkling stories that weave between the lands of the living and the lands of the dead. Spirits Abroad is an expanded edition of Zen Cho's Crawford Award winning debut collection with nine added stories "If at First You Don't Succeed, Try, Try Again." A Datin recalls her romance with an orang bunian. A teenage pontianak struggles to balance homework, bossy aunties, first love, and eating people. An earth spirit gets entangled in protracted negotiations with an annoying landlord, and Chang E spins off into outer space, the ultimate metaphor for the Chinese diaspora." (Adapted from Catalogue)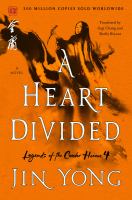 A heart divided / Jin, Yong
"China: 1200 A.D. In the fourth and final volume of Legends of the Condor Heroes, Guo Jing is at last forced to make a choice between loyalty to the land of his birth and keeping faith with Genghis Khan, who has been like a father to him. When it comes to matters of the heart, troubled waters stir there as well when Guo Jin's love for Lotus Huang is tested when he becomes convinced that her father has murdered someone dear to him. As the Mongol armies descend on China, Jin Yong brings this most beloved of his novels to a thrilling conclusion, complete with vast battles, stirring heroism, heartbreak, triumph and loss" (Adapted from Catalogue)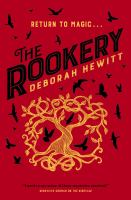 The rookery / Hewitt, Deborah
"After discovering her magical ability to see people's souls, Alice Wyndham only wants three things: to return to the Rookery, join the House Mielikki and master her magic, and find out who she really is. But when the secrets of Alice's past threaten her plans, and the Rookery begins to crumble around her, she must decide how far she's willing to go to save the city and people she loves." (Adapted from Catalogue)
Death's end / Liu, Cixin
"Half a century after the Doomsday Battle, the uneasy balance of Dark Forest Deterrence keeps the Trisolaran invaders at bay. Earth enjoys unprecedented prosperity due to the infusion of Trisolaran knowledge. With human science advancing daily and the Trisolarans adopting Earth culture, it seems that the two civilizations will soon be able to co-exist peacefully as equals without the terrible threat of mutually assured annihilation. But the peace has also made humanity complacent. Will humanity reach for the stars or die in its cradle?" (Adapted from Catalogue) Also available as an eBook.
Light from uncommon stars / Aoki, Ryka
"Shizuka Satomi made a deal with the devil: to escape damnation, she must entice seven other violin prodigies to trade their souls for success. She has already delivered six. When Katrina Nguyen, a young transgender runaway, catches Shizuka's ear with her wild talent, Shizuka can almost feel the curse lifting. She's found her final candidate. But in a donut shop off a bustling highway in the San Gabriel Valley, Shizuka meets Lan Tran, retired starship captain, interstellar refugee, and mother of four.  As the lives of these three women become entangled by chance and fate, a story of magic, identity, curses, and hope begins, and a family worth crossing the universe for is found." (Adapted from Catalogue) Also available as an Audiobook.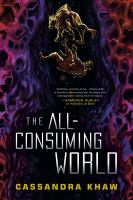 The all-consuming world / Khaw, Cassandra
"Maya has died and been resurrected into countless cyborg bodies during a long, dangerous career with the infamous Dirty Dozen. They were the most storied crew of criminals in the galaxy– until their untimely and gruesome demise. Decades later, Maya and her team of broken outlaws must get back together to solve the mystery of their last, disastrous mission, and to rescue a missing comrade. The highly evolved AI of the galaxy have their own agenda…" (Adapted from Catalogue)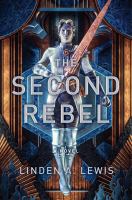 The second rebel : a novel / Lewis, Linden A.
"Astrid seeks to bring down the Sisterhood from within, while, on an outlaw colony station deep in space, Hiro val Akira seeks to bring a dangerous ally into the rebellion, and Lito sol Lucius continues to grow into his role as lead revolutionary." (Adapted from Catalogue)