The antipodes are shaping up to be a fine destination in July,August 2020 if you're keen or vaguely interested in what the SciFi/Speculative fiction/Fantasy/Graphic Novel/Gaming world has to offer. Aotearoa New Zealand is hosting WorldCon 2020.
Guests of honour at Worldcon 2020 are authors Mercedes Lackey and husband Larry Dixon. New Zealand artist Greg Broadmore and current Australian Science fiction foundation president.
Mercedes Lackey has an impressive backlist of titles where worlds and people have come into being. Collaborative work with the likes of Rosemary Edgehill, Robert  Gellis, James Mallory and Andre Norton, makes up a part of this collection. Her prolific fantasy output spans more than three decades of published work.  Some works feature husband Larry Dixon, author in his own right and artist famed for his work with birdlife. Known for detailing particular aspects of her worlds, like the page dedicated to sail making in the new Valdemar work, The Hills have Spies. The library holds a modest 121 titles of this author alone.  These two have paired up for a few conventions before, leaving their oddly shaped home in Oklahoma and collection of creatures to engage and inspire Con goers.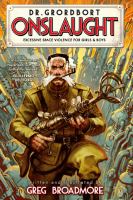 Local talent, Greg Broadmore has brought the appallingly flawed Dr Grordbort's universe to life through the medium of Graphic Novels and models, some to look at and some to commit hideous acts with.  The art work both on the page and very ineractive real-life ray guns is also heading into the realm of virtual reality with Magic Leap. These are fantastic concepts coming from a detailed well imagined graphic world, great content for the Con.
Rose Mitchell has been awarded Fan Guest of honour for her stirling services to the science fiction community. Rose, a lifelong science fiction fan has been a stalwart at innumerable conferences and is the current President of the Australian Science Fiction Foundation.
For lots more fascinating facts please connect to CoNZealand.