With economies stagnating, politics polarising, societies shattering and ecosystems suffering, I felt an urgent need to go walkabout last September. It was my best chance of making some sense of the news from around the world. Most crucially of all, the ominous signs of the onset of the Anthropocene… — Rod Oram, Three Cities
The New York Times declared 2020 "the year you finally read a book about climate change". Two years on, there's been a dramatic increase in the number of titles addressing this vital topic–as well as ongoing interest in earlier works. One of our favourites here at Wellington City Libraries is Three Cities: Seeking Hope in the Anthropocene by Rod Oram. (Borrow a copy here or read it via our eLibrary.)
Rod Oram has been writing and speaking about climate change for the past fifteen years, and is renowned for his ability to explain complex ideas in clear, concise language. Luckily for us, he was also present at the recent UN Climate Conference (COP26) during the negotiations surrounding the Glasgow Climate Pact. How will the pact influence Aotearoa? How will it shape the rest of the world? We contacted Rod to find out…
If there's a concerted effort to put the Glasgow Climate Pact into action, what key international developments should we see over the next twelve months?
Rod Oram: Momentum on climate action built rapidly in the past few years, accelerated in Glasgow, and will continue to gain speed, scale and impact in 2022 — although there will always be leaders and laggards among countries, sections of society and industries. Three big trends to watch for: countries increasing their climate pledges (their Nationally Determined Contributions); more action and ambition by farmers and food processors; greater civil society responses, ranging from more innovative climate solutions to more intense protests.
The New Zealand delegation to COP26 announced they would "show the world what meaningful, ambitious and lasting climate action looks like." What could this mean for us in the near future?
Rod Oram: We have made big emission reduction commitments to the rest of the world…but we still lack policy responses to help deliver them. So, crucially next May, the government will release its Emissions Reduction Plan. This will lay out the government's broad architecture for those inter-linked policies. To succeed, it has to be a roadmap for deep changes in structures, systems and behaviour in the economy and society. Then, civil society, business and other essential actors have to respond rapidly with their own ambitions and plans. That applies across all aspects of our lives from how we design and build our towns and cities, how we decarbonise all our transport (including aviation), how we use land for farming and other purposes, how we use resources, consume products and recycle/repurpose after, and how we restore our ecosystems to help solve the co-crises of climate breakdown and ecosystem degradation – solutions to one are often solutions to the other, and vice versa.
You mentioned that there was very little New Zealand business presence at COP26. What role could New Zealand businesses have in lasting climate action, and what would be the benefits of a larger business presence at COP27?
Rod Oram: Businesses create most of the goods and services we (individuals and society) want and/or need; they have the skills, capital, technologies, and knowledge required to do so; and they respond to the needs and desires of those customers. Thus they are crucial to devising and delivering better and new climate solutions. However, they also depend on us (customers, government, society at large) for their survival. So we all have a symbiotic relationship with each other. At COPs, businesses can contribute to many of the climate solutions; but crucially they also learn a lot from other businesses, governments and civil society. The greater the number of New Zealand businesses at COP27, the more New Zealand business in general will lift its climate commitments and performance…and the more government and civil society will benefit from that enhanced business capability.
How do you address the differences between governmental, business and activist approaches to climate action? There seemed to be tensions at COP26 with the final morning walkout of several hundred representatives?
Rod Oram: All three have crucial, distinctive and different roles to play on climate in general and at COPs particularly. The tensions and conflict between them are good and necessary when they are challenged constructively into more creative, more ambitious and more effective action. COP26 was positive, for example, on progress of indigenous, human, gender and justice issues on climate, and for some progress (but far from enough) on developed countries' financial and other forms of help to developing countries. But at COP26 some civil society delegates were more frustrated than at recent COPs because seats for them in negotiating sessions were more limited than usual (or even absent). This seemed to be because of poor planning and Covid restrictions…rather than a deliberate policy by the UK (as hosts) and the UN to reduce the civil society presence in many meetings.
One area that has had a lot of focus in New Zealand recently has been methane, specifically in relation to dairy farming. What are the possible outcomes here in terms of the Global Methane Pledge, Nestle's policies, Groundswell protests, etc.?
Rod Oram: Globally, the initial focus of the Pledge is to reduce emissions from oil and gas production. But agriculture is a bigger source of human-induced methane emissions than oil and gas. So in due course there will be more focus / pressure on agriculture to reduce its emissions. A growing number of major multinational producers such as Nestle (dairy and other foods) and Unilever (diversified producer of personal care, food and other household consumer items) and retailers (e.g. the five largest UK supermarket chains) have ambitious, science-based targets for reducing methane and CO2 emissions. Most New Zealand farming and food business are lagging well behind…but they will come under increasing international pressure to catch up. To do so they will need to work far more effectively with those farmers who are finding change very hard or believe it is totally unnecessary. Groundswell seems to draw many of its members from such farmers.
Are there any potential climate actions/policies/technologies that you'd like to see more promotion of post-COP26? (Particularly ones that haven't received as much focus as they deserve?).
Rod Oram: Our biggest climate tasks fall into two broad categories: built-environments; and farm environments. On both we're failing to identify, let alone act on, big systemic solutions. On the first, that covers the way we design and build towns and cities and the transport systems for them (e.g. we need higher, far more attractive density, featuring much more natural materials (e.g. timber over concrete), much greater presence of nature for ecosystem services, food growing, recreation etc; and much more active and public transport and diversified transport options. On the second, we are largely ignoring regenerative agricultural practices that lower emissions and rebuild ecosystem health; and beneficial de-intensification and diversification of farming.
How are journalists adapting to covering the climate emergency, and what new challenges does this involve?
Rod Oram: Climate coverage is increasing. But challenges include: conveying the complexity and urgency of the climate crisis; empowering people so they are eager to act; encouraging beneficial behaviour change (e.g. in the choices we make); and showing people the big upsides from acting (and the grave consequences from not).
Discover more with our climate booklist:
Three cities : seeking hope in the Anthropocene / Oram, Rod
"Orthodox is obsolete; conventional is kaput. We thought we knew how we make economics, politics, technology and nature work for us. But increasingly, they are failing to run by the rules and systems we've honed over recent decades. Pioneers around the world are seeking new values, systems and technologies. Thus equipped we might achieve the unprecedented, speed, scale and complexity of change we need to meet the immense challenges of the twenty-first century." (Adapted from Catalogue)
Saving us : a climate scientist's case for hope and healing in a divided world / Hayhoe, Katharine
"Over the past fifteen years Hayhoe has found that the most important thing we can do to address climate change is talk about it-and she wants to teach you how. In Saving Us, Hayhoe argues that when it comes to changing hearts and minds, facts are only one part of the equation. We need to find shared values in order to connect our unique identities to collective action." (Adapted from Catalogue)
Under a white sky : the nature of the future / Kolbert, Elizabeth
"So pervasive are human impacts on the planet that it's said we live in a new geological epoch: the Anthropocene. In Under a White Sky, Elizabeth Kolbert examines how the very sorts of interventions that have imperilled our planet are increasingly seen as the only hope for its salvation. By turns inspiring, terrifying, and darkly comic, Under a White Sky is an utterly original examination of the challenges we face." (Catalogue)
The rough guide to climate change / Henson, Robert
"The Rough Guide to Climate Change is a complete, unbiased guide to one of the most pressing problems facing humanity. From the current situation and background science to the government sceptics and possible solutions, this book covers the whole subject. The guide also includes lifestyle advice and tips for consumers who want to make a difference in tomorrow's climate, and comes complete with a glossary of websites for further information." (Adapted from Catalogue)
How bad are bananas? : the carbon footprint of everything / Berners-Lee, Mike
"Ten years on from first publication, a new edition of this invaluable and entertaining guide that shows just what effect everything has on carbon emissions, from a Google search to a plastic bag, from a flight to a volcano. This new edition updates all the figures (from data centres to hosting a World Cup) and introduces many areas that have become a regular part of modern life – Twitter, the Cloud, Bitcoin, electric bikes and cars, even space tourism." (Adapted from Catalogue)
Net zero : how we can stop causing climate change / Helm, Dieter
"What can we really do about the climate emergency? The inconvenient truth is that we are causing the climate crisis with our carbon intensive lifestyles and that fixing – or even just slowing – it will affect all of us. But it can be done. In Net Zero, economist Dieter Helm addresses the action we all need to take to tackle the climate emergency: personal, local, national and global." (Adapted from Catalogue)
Fathoms : the world in the whale / Giggs, Rebecca
"When Rebecca Giggs encountered a humpback whale stranded on her local beach, she began to wonder how the lives of whales might shed light on our seas. How do whales experience environmental change? Has our connection to these fabled animals been transformed by technology? What future awaits us, and them? And what does it mean to write about nature in the midst of an ecological crisis? In Fathoms, Giggs blends natural history, philosophy, and science to explore these questions with clarity and hope." (Adapted from Catalogue)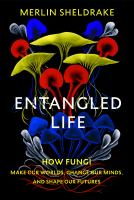 Entangled life : how fungi make our worlds, change our minds and shape our futures / Sheldrake, Merlin
"Merlin Sheldrake's revelatory introduction to this world will show us how fungi, and our relationships with them, are more astonishing than we could have imagined. Bringing to light science's latest discoveries and ingeniously parsing the varieties and behaviours of the fungi themselves, he points us toward the fundamental questions about the nature of intelligence and identity this massively diverse, little understood kingdom provokes." (Catalogue)
Islands of abandonment : life in the post-human landscape / Flyn, Cal
"This book explores the extraordinary places where humans no longer live – or survive in tiny, precarious numbers – to give us a possible glimpse of what happens when mankind's impact on nature is forced to stop. From Tanzanian mountains to the volcanic Caribbean, the forbidden areas of France to the mining regions of Scotland, Flyn brings together some of the most desolate, eerie, ravaged and polluted areas in the world – and shows how, against all odds, they offer our best opportunities for environmental recovery." (Adapted from Catalogue)