It's March and that means it's Endometriosis Awareness Month.  Endometriosis is an inflammatory condition where endometrial tissue (the type of tissue in the lining of the uterus) grows elsewhere in the body. Even though 1 in 10 people with a uterus suffer endometriosis, very little is known about it and many cases go undiagnosed. It can be extremely painful, even debilitating, and a lot of sufferers find themselves struggling to find information on the condition.
If you are looking for information on endometriosis, we can help!  We have several resources in our collection, here are some you could give a try:
For more help with information and resources on endometriosis, go to Endometriosis New Zealand.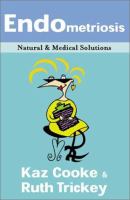 Endometriosis : natural and medical solutions / Cooke, Kaz
"Endometriosis a fun to read yet sensible explanation of the self-care, natural therapies and medical solutions for managing endometriosis." (Catalogue)
Endometriosis : the complete reference for taking charge of your health / Ballweg, Mary Lou
"Bestselling health authors present must-have information for managing endometriosis. Endometriosis is a serious disease associated with pain, immune dysfunction, infertility, cancer, and autoimmune diseases that can be managed only through active, informed decision making. Developed by the Endometriosis Association, Endometriosis provides new information on treatments and lifestyle changes that gives people with endometriosis and their families the tools they need to successfully manage the disease. This authoritative guide contains groundbreaking new discoveries on endometriosis and its relationship to autoimmune problems, chronic fatigue syndrome, fibromyalgia, and other poorly understood diseases. " (Adapted from Catalogue)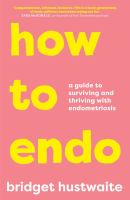 How to endo : a guide to surviving and thriving with endometriosis / Hustwaite, Bridget
"After years of dismissive doctors and misinformation, Bridget Hustwaite finally received a diagnosis for her intensely heavy periods, pulsing headaches and the excruciating abdominal pain that makes her ovaries feel like they are on fire. She has endometriosis – hard to pronounce, hard to diagnose and even harder to live with. Two excision surgeries and one thriving endo Instagram community later, Bridget knows firsthand how much personal research and self-advocating endo sufferers have to do just to have their pain acknowledged. With her trademark enthusiasm, Bridget has blended her own experience with a raft of tips and strategies from health experts and endo warriors to help you thrive whenever you can, and survive on days when you just can't." ( Adapted from Catalogue)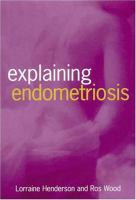 Explaining endometriosis / Henderson, Lorraine
"The most comprehensive handbook of up-to-date advice and information for sufferers of Endometriosis, a debilitating disease which affects approximately one in ten people with a uterus." (Adapted from Catalogue)
Private parts : how to really live with endometriosis / Thom, Eleanor
"Like 1 in 10 people with a uterus in the UK, Eleanor Thom has endometriosis and she thinks that it's time to talk a bit more about our private parts. Part memoir, part guide book and part survival guide, Private Parts retraces Eleanor's own journey with endometriosis, offering readers practical, down-to-earth and friendly advice covering everything from what actually happens in an internal exam, to finding the right specialist for you, the perfect post-op wardrobe and to why you should look to Frida Kahlo for inspiration in your darkest moments. Written for those looking to live well with their endometriosis and for those looking for help to understand the disease, this is a call to action for people to speak up about an illness which is still so misunderstood. Features exclusive interviews with Hilary Mantel, Paulette Edwards, Lena Dunham as well as insights from experts in the field." (Adapted from Catalogue)
Beating endo : a patient's treatment plan for endometriosis / Orbuch, Iris
"Endometriosisis an inflammatory response that results when tissue is found outside the uterus, thereby initiating a disease process and an array of maladies accrue. Dr Iris Orbuch. is a surgeon and Amy Stein,a physical therapist, have seen endo's harm and agony up close and personal and they have created this self-care guide for people with endometriosis about how to deal with their endometriosis in order to: 1) Avoid surgery (if at all possible), 2) What to do before surgery (should they absolutely need it); and how 3) To live and what to do post-surgery – so that the women afflicted by this disease, can reclaim their lives." (Adapted from Catalogue)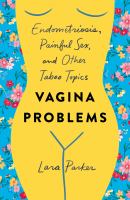 Vagina problems : endometriosis, painful sex, and other taboo topics / Parker, Lara
"In April 2014, Deputy Editorial Director at BuzzFeed Lara Parker opened up to the world in an article on the website: she suffers from endometriosis. And beyond that? She let the whole world know that she wasn't having any sex, as sex was excruciatingly painful. Less than a year before, she received not only the diagnosis of endometriosis, but also a diagnosis of pelvic floor dysfunction, vulvodynia, vaginismus, and vulvar vestibulitis. Combined, these debilitating conditions have wreaked havoc on her life, causing excruciating pain throughout her body since she was fourteen years old. These are her Vagina Problems. It was five years before Lara learned what was happening to her body. Five years of doctors insisting she just had 'bad period cramps,' or implying her pain was psychological[…]With candid revelations about her vaginal physical therapy, dating as a straight woman without penetrative sex, coping with painful seizures while at the office, diet and wardrobe malfunctions when your vagina hurts all the time, and the depression and anxiety of feeling unloved, Lara tackles it all in Vagina Problems: Endometriosis, Painful Sex, and Other Taboo Topics with courage, wit, love, and a determination to live her best life" (Adapted from Catalogue)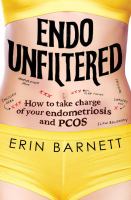 Endo Unfiltered: How to take charge of your endometriosis and PCOS / Barnett, Erin
"The real life guide to endometriosis and PCOS (from someone who's living it) from international reality TV star and health advocate Erin Barnett." (Adapted from Catalogue)