Spend these chilly winter days envisioning ways you can transform your interior space, to become its most eco-friendly, comforting and beautiful this winter. These new release non-fiction books are centered around how you can alter your interior world to reflect your personality, by embracing a healthy mix of creativity and design, that maintains a sustainable sensitivity.
Find artistic inspiration in Sarah Andrews's aesthetic wonderland Principles of Style, that has reached cult-status around the world following the success of her iconic, unpretentious Tasmanian cabin Captain's Rest. Andrews's unconventional, raw and honest personal journey is expressed in her unique interiors styling, and has been adapted into an approachable and practical guide, that can be applied to any space for a deeply personal outcome. Then, delve deeper into the creative approach in The Life Eclectic and The New Naturalists, that showcase a wide array of eclectic artists homes from around the globe. 
Experience the breath of fresh air that is Probably This Housewarming. A new release that humorously fills the rarely accommodated space of interior improvements for rental homes. You'll find fun and easy temporary alterations, DIY's and entertaining tips in this inclusive, enthusiastic and realistic rental home improvement guide. And explore the multiple new titles featuring sustainable homes, that will help you embrace greener ways of living, decorating and designing your interior space, to foster an eco-conscious spirit at home. These visually exciting and informative new releases will fulfill all your interior design needs, and help you revitalise your love for your own home.
Principles of style / Andrews, Sarah
"Principles of Style aims to be a timeless learning tool for readers, no matter their own personal style. Andrews examines some of her key projects and favourite rooms, as well as by focusing on her ten rules of styling, formulated both through hands-on experience and studies in the science of design. Andrews believes that everyone has the ability to create interiors that are right for them; in this inspiring and eminently practical book, she aims to demonstrate just how to do so." (Adapted from Catalogue)
The life eclectic / Breeze, Alexander
"Featuring homes of the world's most well-respected creatives, The Life Eclectic is a celebration of individuality, and embracing the joy that fluidity in taste can bring. Ever wondered how you might be able to recreate the eclectic, joyful and chic style of famed designers? The Life Eclectic is an interiors book that shows how highly regarded designers, artists, film directors and musicians curate their treasured (and varied) possessions to glorious effect." (Adapted from Catalogue)
Wonderland : adventures in decorating / Thornton, Summer
"Interior decorator Summer Thornton believes in designing with the wildest abandon: her world is one of nickel tubs, marble fireplaces, whimsical textiles, surprising patterns, and secret gardens. Often described as maximalist with a modern, fresh sensibility, Thornton manages to achieve highly polished, sophisticated interiors that indulge in a lighthearted, almost irreverent sense of whimsy. In her first book, she inspires readers to follow their creative impulses and make their own rules." (Adapted from Catalogue)
The new naturalists : inside the homes of creative collectors : with over 300 illustrations / Bingham, Claire
"Collectors open their homes to reveal the weird and wonderful world of natural objects. This new generation of naturalists use their collections to craft creative careers and decorate their homes, providing a wealth of inspiration for celebrating the beauty of the world around us more sustainably. From cabinets of curiosity to foraged decorations, these obsessive and eclectic creatives reveal the stories behind their collections and how they celebrate their love of nature in their everyday spaces." (Adapted from Catalogue)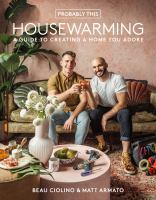 Housewarming : a guide to creating a home you adore / Ciolino, Beau
"A no-nonsense, comprehensive guide to living comfortably and beautifully on the cheap by and for millennials. This fun guide shows you how to live your best, fullest, most beautiful life while dealing with all of the limitations that come with renting, working full-time, and having little-to-no disposable income. Organized into three sections–Design, DIY, and Entertain– the guide is all about embracing your true self in your home design, to create a space that reflects your personality and fits your individual needs." (Adapted from Catalogue)
Green living : a sustainable guide to a more intentional life / Chillingsworth, Jen
"This book is a collection of changes you can make to your home and lifestyle over the course of a year. Jen Chillingsworth offers up achievable advice and tips for anyone and everyone, no matter where you live or what job you do. From making your own cleaning products, soy candles, buying vintage, giving up plastic to celebrating simply – discover how to get the most out of living a more modest, meaningful life. Learn to live and enjoy the little things." (Adapted from Catalogue)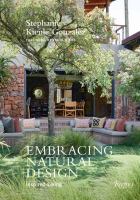 Embracing natural design : inspired living / Gonzalez, Stephanie Kienle
"Through beautifully photographed residences, which have an exquisite layering of classic and modern furnishings, Stephanie Kienle Gonzalez discusses how to bring sustainable elements into your living space. She employs organic forms, stone and wood pieces, and natural weaves with texture, such as seagrass, caning, bamboo, and rattan. Full of design and entertaining ideas, Embracing Natural Design is for those who are interested in achieving an environmentally conscious lifestyle." (Adapted from Catalogue)