¡Qué bueno! Saturday 23 April is UN Spanish Language Day; a day which is celebrated around the world. There are over 530 million Spanish speakers worldwide and here at WCL, we have a huge collection of books in Spanish; over 700 items across our branches!
To browse our full collection of Spanish language books, go to our catalogue and click 'Advanced' at the far right of the search bar. From here, select 'Call Number' from the top drop-down menu and enter 'Spanish'. Hit the 'Advanced Search' button and all of our Spanish language items will appear for you to browse, reserve and borrow!
Below is a selection of our newest Spanish language items, as well as some of our librarians' favourite books by Spanish-speaking writers that have been translated into English. ¡Disfruta leyendo! Happy reading!
Del aire al aire / Guedea, Rogelio
"Meditaciones acerca de los limites entre la realidad y los suenos, estos micro-relatos crean un mundo imaginario que aparenta ser mas autentico que el mundo fisico. Vidas se esfuman en suenos y pensamientos se cristalizan en el curso de una vida a traves de estos cuentos."" (Catalogue)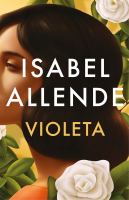 Violeta / Allende, Isabel
"Violeta viene al mundo un tormentoso día de 1920, siendo la primera niña de una familia de cinco bulliciosos hermanos. Desde el principio su vida estará marcada por acontecimientos extraordinarios, pues todavía se sienten las ondas expansivas de la Gran Guerra cuando la gripe española llega a las orillas de su país sudamericano natal, casi en el momento exacto de su nacimiento. En una carta dirigida a una persona a la que ama por encima de todas las demás, Violeta rememora devastadores desengaños amorosos y romances apasionados, momentos de pobreza y también de prosperidad, pérdidas terribles e inmensas alegrías." (adapted from catalogue)
Habitaciones compartidas / Guedea, Rogelio
"Roque, profesor de literatura hispana en Nueva Zelanda, vive con su mujer e hijos y lejos de su México natal una rutina tranquila, incluso monótona. Un buen día recibe un correo electrónico de Diego Valente, contratado por la misma universidad, quien le pide consejo dada su inminente llegada a la ciudad, a fin de aclimatarse al entorno. Diego es también mexicano y viene acompañado de la encantadora Lía, su mujer, y sus dos hijos menores. Para Roque y los suyos este encuentro se antoja providencial, pues es la primera familia de compatriotas que fijará su residencia en el mismo lugar en el que viven desde hace ya siete años, lo que traerá un renovado aire a sus vidas. Sin embargo, lo que en un principio se adivina un futuro halagüeño, poco a poco se tornará para ambas parejas en un escenario cercano a la pesadilla…" (adapted from catalogue)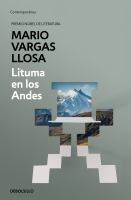 Lituma en los Andes / Vargas Llosa, Mario
"Ambientada en un remoto pueblo de montaña, Lituma en los Andes comienza como una novela policíaca sobre la desaparición de tres lugareños. El cabo Lituma y su ayudante Tomás sospechan de Sendero Luminoso, la organización guerrillera que viene sembrando el terror en el Perú. Pero la intriga adquiere visos inesperados cuando se descubren crueles prácticas ancestrales en la zona, y la narración va ganando dimensiones conforme las pesquisas se alternan con los recuerdos íntimos de los protagonistas. Con un virtuoso manejo de la trama, la psicología y los géneros, Mario Vargas Llosa ofrece al cabo una profunda meditación sobre la sociedad peruana y sus males históricos."–Page [4] of cover." (Catalogue)
In the time of the butterflies : a novel / Alvarez, Julia
"It is November 25, 1960, and three beautiful sisters have been found near their wrecked Jeep at the bottom of a 150-foot cliff on the north coast of the Dominican Republic. The official state newspaper reports their deaths as accidental. It does not mention that a fourth sister lives. Nor does it explain that the sisters were among the leading opponents of Gen. Rafael Leonidas Trujillo s dictatorship. It doesn't have to. Everybody knows of Las Mariposas The Butterflies. In this extraordinary novel, the voices of all four sisters Minerva, Patria, Maria Teresa, and the survivor, Dede speak across the decades to tell their own stories, from hair ribbons and secret crushes to gunrunning and prison torture, and to describe the everyday horrors of life under Trujillo's rule. Through the art and magic of Julia Alvarez s imagination, the martyred Butterflies live again in this novel of courage and love, and the human cost of political oppression. " (Catalogue)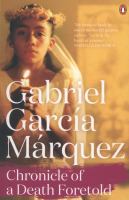 Chronicle of a death foretold / García Márquez, Gabriel
"Santiago Nasar is brutally murdered in a small town by two brothers. All the townspeople knew it was going to happen – including the victim. But nobody did anything to prevent the killing. Twenty seven years later, a man arrives in town to try and piece together the truth from the contradictory testimonies of the townsfolk." (Catalogue)
Like water for chocolate : a novel in monthly installments, with recipes, romances, and home remedies / Esquivel, Laura
"A #1 bestseller in Mexico in 1990, this charming, imaginative, and just plain fun novel of family life in turn-of-the-century Mexico employs a winning blend of poignant romance and bittersweet wit." (Catalogue)
The tunnel / Sabato, Ernesto
"Infamous for the murder of Maria Iribarne, the artist Juan Pablo Castel is now writing a detailed account of his relationship with the victim from his prison cell- obsessed from the first moment he saw her examining one of his paintings, Castel had become fixated on her over the next months and fantasized over how they might meet again. When he happened upon her one day, a relationship was formed which swiftly convinced him of their mutual love. But Castel's growing paranoia would lead him to destroy the one thing he truly cared about . . . " (adapted from catalogue)
The house on Mango Street / Cisneros, Sandra
"The bestselling coming-of-age classic, acclaimed by critics, beloved by readers of all ages, taught in schools and universities alike, and translated around the world–from the winner of the 2019 PEN/Nabokov Award for Achievement in International Literature. The House on Mango Street is the remarkable story of Esperanza Cordero, a young Latina girl growing up in Chicago, inventing for herself who and what she will become. Told in a series of vignettes-sometimes heartbreaking, sometimes deeply joyous-Sandra Cisneros' masterpiece is a classic story of childhood and self-discovery. Few other books in our time have touched so many readers." (Catalogue)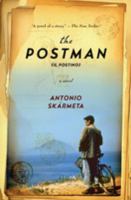 The postman : a novel / Skármeta, Antonio
"The unforgettable inspiration for the Academy Award-winning Il Postino, this classic novel established Antonio Skarmeta's reputation as "one of the most representative authors of the post-boom generation in contemporary Latin American letters". Boisterously funny and passionate, The Postman tells of young love ignited by the poetry of Pablo Neruda. Set in the colourful, ebullient years preceding the Pinochet dictatorship in Chile, the book has been translated into nearly twenty-five languages around the world." – Fishpond