"If you lose a son, it's possible to get another. There's only one Maltese Falcon." –Sydney Greenstreet as Kasper Gutman from the  1941 film The Maltese Falcon.
The Alfred Hitchcock plot device known as the McGuffin is strongly in evidence in our recently acquired crime novel Blotto, Twinks and the Maharajah's Jewel by Simon Brett. In the case of this book the McGuffin in question is a huge diamond, but what actually is a McGuffin?
Well, Hitchcock described it in this way: "The McGuffin is the thing that the spies are after, but the audience don't care." It is an event, object, or device, necessary to the motivation of the characters and the story, though largely irrelevant in itself.
Two very famous examples of McGuffins are the Maltese Falcon in the book by Dashiell Hammett and as described by George Lucas himself (perhaps controversially)  R2D2 in Star Wars: A New Hope (Episode IV) the first 1977 Star Wars film .  Of course, novels employ many other plot drivers and in many of this month's selection of recently acquired crime novels the main plot driver is the old classic, the burning desire to solve a ghastly crime. Below is a selection of our newly acquired crime novels.
Blotto, Twinks and the Maharajah's jewel / Brett, Simon
"An idle conversation on the merits of the glorious game with an old Etonian chum is just the excuse Blotto needs to put himself forward for a cricket tour to foreign climes… and so begins the next adventure for our intrepid duo, So Twinks joins Blotto on a steamer bound for India, one that is full of young woman desperate to marry well there — only once having encountered the dashing Blotto, a lot of them fancy the idea of getting married before they reach their destination. And, unbeknownst to the siblings, also on the ship is the international jewel thief M. le Vicomte Xavier Douce, passing himself off as one of Blotto's cricketing entourage." (Adapted from Catalogue)
A man named Doll / Ames, Jonathan
"Happy Doll is a charming, if occasionally inexpert, private detective living just one sheer cliff drop beneath the Hollywood sign with his beloved half-Chihuahua half-Terrier, George. A veteran of both the Navy and LAPD, Doll supplements his meager income as a P.I. by working through the night at a local Thai spa that offers its clients a number of special services. Armed with his sixteen-inch steel telescopic baton, biting dry humor, and just a bit of a hero complex, the ex-cop sets out to protect the women who work there from clients who have trouble understanding the word "no."  (Catalogue)
House with no doors / Noon, Jeff
"At first glance, Leonard Graves' death was unremarkable. Sleeping pills, a bottle of vodka, a note saying goodbye. But when Detective Henry Hobbes discovers a grave in the basement, he realizes there is something far more sinister at work. Further investigation unearths more disturbing evidence. Scattered around the old house are women's dresses. All made of the same material. All made in the same colours. And all featuring a rip across the stomach, smeared in blood. As the investigation continues and the body count rises, Hobbes must also deal with the disappearance of his son–" (Adapted from Catalogue)
Figure in the photograph / Sullivan, Kevin
"1898. Juan Cameron's father is killed while working as a photographer amidst the chaos of war in Cuba, but his last pictures reveal a sinister truth to his final moments. Juan travels to Scotland to grieve with family and immerses himself in the study of photography. When he invents a device that inadvertently solves a crime, local law enforcement recruit him to help stop a brutal serial killer plaguing the streets of Glasgow." (Adapted from Catalogue)
The Oxford Brotherhood / Martínez, Guillermo
"Mathematics student G is trying to resurrect his studies, which is proving difficult as he finds himself — and not for the first time — drawn into investigating a series of mysterious crimes. After meeting with a member of the Lewis Carroll Brotherhood, a startling new discovery by Carroll's great niece rocks Oxford, leading to deadly plots, salacious pictures and murder. G must stretch his mathematical mind to its limits to solve the mystery and understand the cryptic workings of the Brotherhood. Until then, nobody, not even G, is safe."–Publisher." (Adapted from Catalogue)
City of vengeance / Bishop, D. V.
"Florence. Winter, 1536. A prominent Jewish moneylender is murdered in his home, a death with wide implications in a city powered by immense wealth. Cesare Aldo, a former soldier and now an officer of the Renaissance city's most feared criminal court, is given four days to solve the murder: catch the killer before the feast of Epiphany, or suffer the consequences. During his investigations Aldo uncovers a plot to overthrow the volatile ruler of Florence, Alessandro de' Medici. If the Duke falls, it will endanger the whole city. …." (Adapted from Catalogue) Also available as an eBook.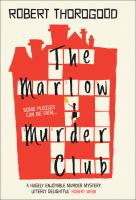 The Marlow Murder Club / Thorogood, Robert
"Judith is 77 years old and blissfully happy. She lives on her own in a faded mansion just outside Marlow, there's no man in her life to tell her what to do or how much whisky to drink. One evening, while out swimming in the Thames, Judith witnesses a brutal murder. The local police don't believe her story, so she decides to investigate for herself." (Adapted from Catalogue) Also available as an eBook.
Before you knew my name / Bublitz, Jacqueline
"Ruby Jones is a lonely Australian woman trying to put distance between herself and a destructive relationship back home, and is struggling in the aftermath of being the person to find Alice's body. When she encounters Death Club, a small group of misfits who meet at bars around the city to discuss death and dying, she finds a safe space to explore her increasing obsession with the girl and her unidentified killer. Alice, seemingly stuck between life and death, narrates Ruby's story, hoping that this woman will help her come to terms with what happened and help identify her body. " (Catalogue)