"Ever get the feeling you've been cheated?"
― John Lydon
With John Lydon in court recently railing against the use of The Sex Pistols music in the upcoming Danny Boyle directed Disney series 'Pistol', based on Steve Cook's memoir "Lonely Boy: Tales from a Sex Pistol", we thought now might be a good time to look at the legacy of punk in literature.
Punk was the incendiary music and fashion movement that exploded into the public's attention in the 1970's and is one of the most recognisable modern movements. Its lasting effects on our culture are huge but sometimes difficult to exactly pin down.  The D.I.Y ethos certainly inspired a generation to get up and do something. The old notion that you had to follow certain traditional paths to achieve your goals was debunked forever and replaced by one of self-reliance.
But beyond that, its influences are much more nebulous. It has now entered a point where punk music and books set in the 70's and 80's are regarded more as historical artefacts than revolutionary manifestos. And recently there have been a couple of really fine examples of works originating here in New Zealand that have their conceptual focus round the punk movement, such as David Coventry's Ngaio Marsh longlisted Dance Prone, set in America in the 1980's with a plot that follows a touring punk band and Anthony Sang's compelling graphic novel The Dharma Punks.  Below are just a few other books inspired by punk available to borrow from the library.
Dance prone / Coventry, David
"During their 1985 tour, two events of hatred and stupidity forever change the lives of a band's four members. Neues Bauen, a post-hardcore Illinois group homing in on their own small fame, head on with frontman Conrad Wells sexually assaulted and guitarist Tone Seburg wounded by gunshot. The band staggers forth into the American landscape, traversing time and investigating each of their relationships with history, memory, authenticity, violence and revelling in transcendence through the act of art." (Adapted from Catalogue)
The dharma punks / Sang, Anthony
"Auckland, New Zealand, 1994. A group of anarchist punks have hatched a plan to sabotage the opening of a multi-national fast-food restaurant by blowing it sky-high come opening day. Chopstick has been given the unenviable task of setting the bomb in the restaurant the night before the opening, but when he is separated from his accomplice, Tracy, the night takes the first of many unexpected turns. " (Adapted from Catalogue)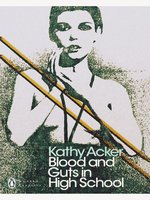 Blood and Guts in High School, Kathy Acker (ebook)
"Janey undergoes, as if in a fairytale, a nightmare journey of exploitation – first incest, then abortions, a job selling cookies to the chi-chi bourgois of Brooklyn, a one-sided love affair with the leader of punk gang THE SCORPIONS, and finally is sold into the white slave trade in the middle east. Along the way she grapples with the cultural message of The Scarlet Letter, falls in love with Jean Genet, and angrily ridicules Erica Jong . Blood and Guts in High School has lost none of its power to shock."(Overdrive description)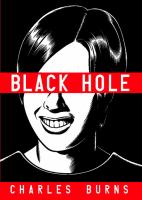 Black hole / Burns, Charles
"A strange plague has descended upon Seattles teenagers.The disease is manifested in any number of ways–from the hideously grotesque to the subtle. "Black Hole" explores a specific American cultural moment in flux and the kids who are caught in it. Suburban Seattle, the mid-1970s.  As hypnotically beautiful as it is horrifying, Black Hole transcends its genre by deftly exploring a specific American cultural moment in flux and the kids who are caught in it- back when it wasn't exactly cool to be a hippie anymore, but Bowie was still just a little too weird. " (Adapted from Catalogue)
A visit from the Goon Squad / Egan, Jennifer
"Bennie Salazar, an aging punk rocker and record executive, and the beautiful Sasha, the troubled young woman he employs, never discover each other's pasts, but the reader does, in intimate detail, along with the secret lives of a host of other people whose paths intersect with theirs in the course of nearly fifty years. A Visit from the Goon Squad is about time, about survival, about our private terrors, and what happens when we fail to rebound." (Adapted from Catalogue)
The singer / Unsworth, Cathi
" The legend goes like this: Vincent Smith met bandmates Stevie Mullin and Lynton Powell at a Sex Pistols concert. Together they formed Blood Simple, and for a while they made a lot of noise, a bit of money and caused a sensation wherever they went. Then Vincent eloped with Sylvana, and it all went wrong. Six months later Sylvana committed suicide, the band fell apart, and Vincent disappeared. That was 1981 and twenty years on, journalist Eddie Bracknell hopes the story of Blood Simple will be the making of him but he can't work out what happened to Vincent." (Catalogue)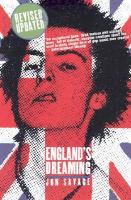 England's dreaming : anarchy, Sex Pistols, punk rock, and beyond / Savage, Jon
"England's Dreaming is the ultimate book on punk, its progenitors, the Sex Pistols, and the moment they defined for music fans in England and the United States. Savage brings to life the sensational story of the meteoric rise and rapid implosion of the Pistols through layers of rich detail, exclusive interviews, and rare photographs. This fully revised and updated edition of the book covers the legacy of punk twenty-five years later and provides an account of the Pistols' 1996 reunion as well as a freshly updated discography and a completely new introduction." (Adapted from Catalogue)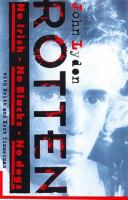 Rotten : no Irish, no blacks, no dogs : the authorized autobiography, Johnny Rotten of the Sex Pistols / Lydon, John
"In Rotten: No Irish, No Blacks, No Dogs, John Lydon (aka Rotten) looks back at himself, the Pistols and the 'no future' disaffection of their time. More than just a music book, Rotten is a history of punk: angry, witty, poignant and crackling with energy. Malcolm McClaren, Sid Vicious, Chrissie Hynde, Billy Idol, the Britain of the late '70s, the Pistols' creation and collapse – all are here, as one of punk's foremost protagonists brings us perhaps the best book ever written about youth culture. " (Adapted from Catalogue)