Winter is upon us and the atua Tāwhirimātea is making his presence known with a series of thunderstorms and biting wind chill in the last couple of weeks. As we say goodbye to barbecues and frolicking on a beach, what better way to usher in this new season than to get lost on a passion project at the comfort of your home!
Thinking of making a pair of your own simple slouchy socks for your cold feet but don't know where to start? Tracy Lord's "A Beginner's Guide to Knitting: a complete step-by-step course" has 20 workshops and corresponding projects to put your knitting into practice. Likewise, packed with more than 100 patterns with fresh themes ranging from galaxies to terrariums "Fun & Funky Cross Stitch: 160+ Designs, 5 Alphabets, 30 Bonus Gift Ideas" is a must-have on your winter hobby list.
For those keen to learn about fabric craft, the book "Furoshiki : The Japanese art of wrapping with fabric" by Aurélie Le Marec invites you to discover the benefit of this ancient Japanese art of folding and knotting a fabric to carry all kinds of items (guitar case, anyone?). With over 50 projects to try, this creative and versatile craft could be part of your journey to a greener lifestyle. If you find yourself dabbling in flower arranging, don't let this winter season stop you from enjoying the beauty fresh flowers evoke. Two books in our collection this month, "Floral Evolution: Over 20 displays that make the most of every stem" and "The Little Flower Recipe Book" provide practical guide, step-by-step instructions, along with stunning photographs for budding florists on a budget.
Other titles in this month's selection includes "The Fashion Show : The stories, invites and art of 300 landmark shows" .  This pink and gold colour motif book is a window to over 50 years of  fashion's exclusive printed art invitations. In "Anna: the Biography", author Amy Odell delights us about Vogue magazine editor Anna Wintour's rise to become one of fashion industry's most powerful women. So curl up with a cup of tea and spice up your winter night with intriguing tales from one of catwalk's most important figures.
A beginner's guide to knitting : a complete step-by-step course / Lord, Tracey
"Presents a step-by-step guide to stitches and techniques, from knit and purl to Fair Isle, and includes twenty beautiful projects to make." (Catalogue)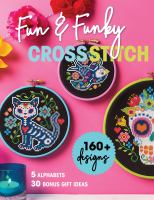 Fun & funky cross stitch : 160+ designs, 5 alphabets, 30 bonus gift ideas.
"Hand stitch funky designs! Stitch an eclectic collection of funky designs from top cross stitch artists around the world. Includes a beginners guide to the basic stitches, the stitch chart, and supplies lists. Each design has a skill level suggestion and an estimated time of completion"–Page 4 of cover." (Catalogue)
Furoshiki : the Japanese art of wrapping with fabric / Le Marec, Aurélie
"Furoshiki is a traditional Japanese wrapping cloth, and is used to wrap gifts and create bags for carrying things more easily. There is no sewing involved and, using just a square of fabric, Aurélie Le Marec shows you how to wrap all kinds of items from books to guitars and laptops to wine bottles. You can adapt furoshiki to suit items of all shapes and sizes and, with more than 50 furoshiki folds explained with step-by-step illustrations and clear instructions, you can help to reduce waste by making furoshiki part of your everyday life." (Adapted from catalogue)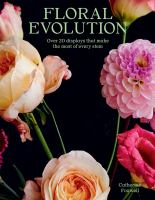 Floral evolution : over 20 displays that make the most of every stem / Foxwell, Catherine
"Author Catherine Foxwell believes that the flowers and beautiful arrangements should be accessible to all, and this book takes you through some simple projects using sustainable techniques to achieve this. She uses readily available, inexpensive flowers in straightforward projects that teach you how to repurpose the bloom into four different displays. With this step-by-step, extremely accessible approach, anyone can arrange blooms like a pro." (Adapted from Catalogue)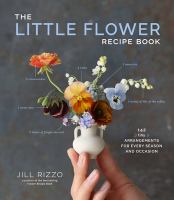 The little flower recipe book : 148 tiny arrangements for every season & occasion / Rizzo, Jill
"Beloved florist Jill Rizzo is back, and this time she has turned her attention to charming miniature arrangements. Projects are organized seasonally, and range from a thimble-sized vase of pansies to a tiny teacup holding a bundle of zinnias to a bud vase with a single Japanese anemone. All told, the book contains over 100 easy-to-follow recipes: ingredients lists specify the type and quantity of blooms needed; clear instructions detail each step; and hundreds of photos show how to place every stem." (Adapted from Catalogue)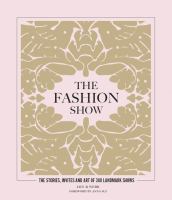 The fashion show : the stories, invites and art of 300 landmark shows / Webb, Iain R
"The story of the haute couture catwalk, through an exclusive collection of VIP invitations. Spanning over 45 years and 300 shows, each invite opens a window into the key trends and ideas behind each collection." (Catalogue)
Anna : the biography / Odell, Amy
"This definitive biography of legendary fashion journalist and media mogul Anna Wintour follows her journey from the trendy fashion scene of swinging 1960s London to becoming the editor-in-chief of Vogue magazine." (Catalogue)