Could happiness be just a needle and a skein of yarn away? In today's age of digital over stimulation and social distancing, this month's new collection of books is an assortment of unadulterated joy to indulge your creative spirit.
Regardless of one's sewing ability, anyone can benefit from YouTube star Laura Coia's second book, Sew Very Easy Patternless Sewing : 23 skill-building projects : bags, accessories, home decor, gifts & more. From simple scrunchies to complex projects like featherweight case cover, this book is a fun and quick way of creating something amazing from scrap fabrics. Likewise, crocheting projects do not need to be a time-consuming endeavour! In Quick Crochet : no-fuss patterns for colourful scarves, blankets, bags and more, Kate Rowell presents 28 colourful projects that are grouped according to their completion time.
Needle Felting Teddy Bears for Beginners is a "must-borrow" book for fellow creatives who would like to learn simpler techniques and seamless process in producing adorable, fuzzy, little teddy bears.
The repetitive and rhythmic flow of knitting can be a delightfully meditative process. Brandi Harper invites readers to venture into her personal knitting journey in her book, Knitting for radical self-care : a modern guide. Readers are encouraged to indulge in gorgeous projects, stunning visuals and honest musings on self-care and creativity. On the topic of knitting, we also suggest The Nordic knitting primer : a step-by-step guide to Scandinavian colorwork. Its wonderful images go hand-in-hand with its straightforward instructions and charts to guide anyone looking to start doing colorwork.
Floral enthusiasts, rejoice! Lucy Hunter's The Flower Hunter: seasonal flowers inspired by nature and gathered from the garden offers not only inspiration but also practical tips in floral design, flower drying and other creative projects. With the author's wit and grace in the narration, this enchanting book is a visual feast not to be missed!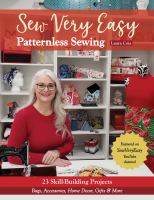 Sew very easy patternless sewing : 23 skill-building projects : bags, accessories, home decor, gifts & more / Coia, Laura Ann
"YouTube sew-lebrity Laura Coia returns with 23 projects, now available as printed, step-by-step instructions for the first time. Stitch up beautiful bags, accessories, and home decor with no pattern pieces"– Provided by publisher." (Catalogue)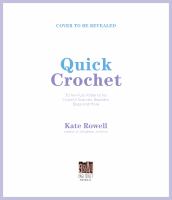 Quick crochet : no-fuss patterns for colorful scarves, blankets, bags and more / Rowell, Kate
"In just a few short hours, you can create vibrant accessories, cheerful home decor items and handmade gifts that are guaranteed to brighten up every space and occasion! Crochet designer Kate Rowell combines simple stitches and smart techniques to bring you this stunning collection of eye-catching projects that work up in next to no time.– Publisher's description." (Catalogue)
Needle felting teddy bears for beginners / Balchin, Judy
"Needle-felting is an easy and fun technique, requiring little in the way of expensive materials or equipment. Its accessibility means it's becoming more and more popular, and award-winning authors Judy Balchin and Roz Dace show how to make 20 wonderful little teddy bears using this tactile technique." (Catalogue)
Knitting for radical self-care : a modern guide / Harper, Brandi Cheyenne
"There is no such thing as being kind-of a knitter. The wobbly scarves and that oversized sweater you tried to shrink all count too. Each contribution that you make to the world through knitting is meaningful, but maybe you've slowed your commitment to this craft, or you can't seem to find the time to be creative. There's a lot to be distracted by, and the path forward isn't always clear. Brandi Harper aims to bring those challenges to the forefront and help you unearth the immense benefits that knitting has to offer. In her debut book, Knitting for Radical Self-Care, Harper offers tips and suggestions for carving out time for creativity, alongside beautiful patterns to try yourself." (Adapted from Catalogue) Also available as an ebook.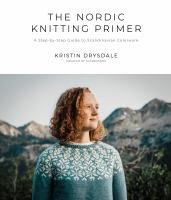 The Nordic knitting primer : a step-by-step guide to Scandinavian colorwork / Drysdale, Kristin
"Gorgeous Scandinavian knitwear is within reach for knitters of all levels with this collection of timeless patterns and essential techniques… Inspired by Kristin's Scandinavian heritage, these designs combine traditional patterns and motifs with stylish, easy-to-wear shapes. Knitting with multiple yarns creates a warmer knit fabric for high-quality garments and accessories to gift or wear all year long"–back cover." (Catalogue) Also available as an ebook.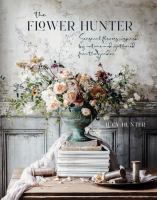 The flower hunter : seasonal flowers inspired by nature and gathered from the garden / Hunter, Lucy
"Lucy's evocative, gently humorous words accompany her glorious photographs and exquisite floral arrangements, as she encourages the reader to marvel at the intricate cycles of the natural world, develop their own innate creativity, and to look for beauty in the everyday. Her garden provides the raw materials for Lucy's floral artistry-breathtaking naturalistic arrangements with all the painterly beauty and flourish of a Dutch still life. Simple projects accompany Lucy's text, from drying garden flowers for an autumnal wreath to making your own journals and natural dyes to assembling lavish arrangements that showcase the voluptuous beauty of garden roses.  The Flower Hunter will encourage you to find your own creativity and help it to blossom"– Provided by publisher." (Adapted from Catalogue)