Well I'm not a scientist. But I know all things begin and end in eternity. –Walter Tevis, The man who fell to earth 
In this month's newly acquired science fiction and fantasy titles, we have the very welcome reprint of Walter Tevis's novel The man who fell to earth. First published in 1963, this science fiction story is  on the surface about an alien trying to save his civilisation, but the novel has many other layers and ideas behind it; such as a veiled autobiography of Tevis himself, a Christian parable, a portrait of an artist and, in the end, a profoundly sad story about inescapable loneliness.
The book was turned into an even more complex and labyrinthine film by director Nicolas Roeg, and starred David Bowie in what many people consider his finest film .Originally Roeg considered Peter O'Toole and even the author Michael Crichton for the lead role, before watching a documentary on Bowie convinced him he was the only person for the part. Walter Tevis's other science fiction novel, Mockingbird, is well worth checking out too.
Two of Tevis's other novels were also made into major movies; The Hustler, The Color of Money and, more recently, The Queens Gambit was turned into a miniseries by Netflix in 2020.To check out the Walter Tevis titles we hold in the library click HERE.
In other newly acquired science fiction and fantasy titles, we also have award winning Kelly Barnhill's debut adult novel When women were dragons, New York Times number one bestselling novel Book of night by Holly Black and J.D. Beresford's A world of women, originally published in 1913.
The man who fell to Earth / Tevis, Walter S
"Thomas Jerome Newton is an extraterrestrial from the planet Anthea, which has been devastated by a series of nuclear wars, and whose inhabitants are twice as intelligent as human beings. When he lands on Earth – in Kentucky, disguised as a human – it's with the intention of saving his own people from extinction." (Catalogue) Also available the DVD of the Nicolas Roeg film.
When women were dragons : a novel / Barnhill, Kelly Regan
"Alex Green is a young girl in a world much like ours. But this version of 1950's America is characterized by a significant event: The Mass Dragoning of 1955, when hundreds of thousands of ordinary wives and mothers sprouted wings, scales and talons, left a trail of fiery destruction in their path, and took to the skies. Was it their choice? What will become of those left behind? Why did Alex's beloved Aunt Marla transform but her mother did not? Alex doesn't know. It's taboo to speak of. Forced into silence, Alex nevertheless must face the consequences of this disturbing event…." (Adapted from Catalogue)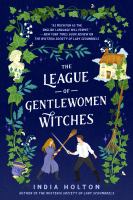 The league of gentlewomen witches / Holton, India
"Just when you thought it was safe to go back into the teahouse. . . . Miss Charlotte Pettifer belongs to a secret league of women skilled in the subtle arts. That is to say-although it must never be said-witchcraft. The Wicken League strives to improve the world in small ways. Using magic, they tidy, correct, and manipulate according to their notions of what is proper, entirely unlike those reprobates in the Wisteria Society. When the long-lost amulet of Black Beryl is discovered, it is up to Charlotte, as the future leader of the League, to make sure the powerful talisman does not fall into the wrong hands…" (Adapted from Catalogue) Also available as an eBook.
Book of night / Black, Holly
"Charlie Hall has never found a lock she couldn't pick, a book she couldn't steal, or a bad decision she wouldn't make. She's spent half her life working for gloamists, magicians who manipulate shadows to peer into locked rooms, strangle people in their beds, or worse. Gloamists guard their secrets greedily, creating an underground economy of grimoires. And to rob their fellow magicians, they need Charlie. Now, she's trying to distance herself from past mistakes, but going straight isn't easy. " (Adapted from Catalogue)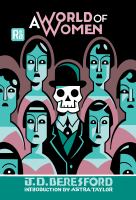 A world of women / Beresford, J. D.
"When a plague kills off most of England's male population, Mr. Gosling abandons his family for a life of lechery and his daughters find meaningful roles in a female-dominated agricultural commune." (Adapted from Catalogue)
In a garden burning gold / Power, Rory
"Twins imbued with incredible magic and near-immortality will do anything to keep their family safe–even if it tears the siblings apart– Rhea and her twin brother, Lexos, have spent an eternity helping their father rule their small, unstable country, using their control over the seasons, tides, and stars to keep the people in line. For a hundred years, they've been each other's only ally, defending each other and their younger siblings against their father's increasingly unpredictable anger. Now, with an independence movement gaining ground and their father's rule weakening, the twins must take matters into their own hands to keep their family–and their entire world–from crashing down around them. " (Adapted from Catalogue)
Voices from the radium age / Glenn, Joshua
"This collection of science fiction stories from the early twentieth century features work by the famous (Arthur Conan Doyle, creator of Sherlock Holmes), the no-longer famous ("weird fiction pioneer William Hope Hodgson), and the should-be-more famous (Bengali feminist Rokeya Sakhawat Hossain). It offers stories by writers known for concerns other than science fiction (W. E. B. Du Bois, author of The Souls of Black Folk) and by writers known only for pulp science fiction (the prolific Neil R. Jones). ." (Adapted from Catalogue)
The blue book of Nebo / Steffan Ros, Manon
" After nuclear disaster, Rowenna and her young son, Dylan, are among the rare survivors in rural northwest Wales. Left alone in their isolated hillside cottage, after others have died or abandoned the towns and villages, they must learn new skills in order to remain alive. With no electricity or modern technology they must return to the old ways of living off the land, developing new personal resources. While they become more skilled and stronger, the relationship between mother and son changes in subtle ways, as Dylan must take on adult responsibilities, especially once his baby sister Mona arrives. " (Adapted from Catalogue)