Here is part 3 of our new music picks for September. You can catch up with Part 1 here, and Part 2 here. Do we actually know anything about new music? Or, are we just too old to understand what most of this is banging on about? Read on to find out…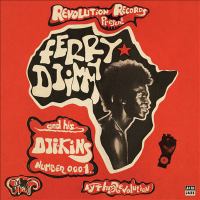 Rhythm revolution / Djimmy, Ferry
Mark: Ferry Djimmy was a Benin multi-instrumentalist, former schoolteacher, boxer, and friend to Fela Kuti & the Benin President. Given some money by the President to record this album to promote Marxist-Lenin politics to a younger audience, it nonetheless soon disappeared from public consciousness. Only 200 copies would go on to survive a fire, giving it a heady reputation as a lost afrobeat classic. Funky to the bone, it melds James Brown-esque raw soul, garage-rock with militant vibes, organ grooves, and Hendrix-like guitar workouts. It sounds like a tight smoking band, but most of the instruments played were played by Ferry himself. A raw classic, years ahead of its time.
Neil: When Ferry Djimmy was creating his very own version of Afrobeat in the early 1970's, he was creating something vital. Sure, he was aware of western artists: such as James Brown, Miles Davis, Santana, War, Parliament, and Jimi Hendrix, but he took all these influences and more and forged his own unique sound. What a sound it was: propulsive percussive rhythm and driving screaming guitars, often with funky vibes. Until now his work has never really got a solid release in the West, and you can tell this album has been put together using vintage recordings. Even today, it's hard to think of artists with such raw urgency. There's a political side to the work too, but it's the kinetic musicianship that shines through. He would have been a knockout act to have seen live.
Pre pleasure / Jacklin, Julia
Mark: The mellow Australian indie-folk/pop singer-songwriter is back with her third album, following 2019's Crushing. Her sweet voice, and general laid back music is less intense than Sharon Van Etten and Angel Olsen, whom she is often compared to. But the wry narratives of her songs with their reflective lyrics, are full of the kind of pointed insights that Aimee Mann was renowned for. A mix of jaded and dreamy, rollicking & introspective, the more sophisticated instrumentation is nicely balanced to not overpower her vulnerable confessional songwriting.
Neil: 'Pre Pleasure' is a collection of understated and empathetic songs from Australian singer songwriter Julia Jacklin. Some are looking inward at her own life, whilst others are more observational songs about others, but filtered through her own lens. The accompanying musical arrangements are stripped back to the essentials placing the emphasis firmly on Julia's voice and lyrics, both of which are strong enough to support the focus. The album takes its time to slowly unwind on the listener and weave its own brand of drifty magic.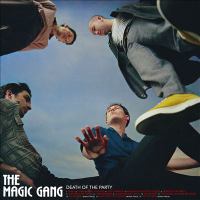 Death of the party / Magic Gang
Mark: Brighton indie pop quartet The Magic Gang debuted in 2018 with a self-titled album full of simple, Beach Boys harmony filled guitar pop similar to The Blossoms, a catchy if somewhat slight album. For 2020's 'Death of the party' they change things around a bit, resulting in a more ambitious effort. Elements of synthy pop, Northern Soul, Motown, Big-Band horns, and lush 70s grooves fill up the album with an effervescent variety that their debut lacked, to create a smooth sophisticated timeless sound.
Neil: 'Death of the party' is the second release from Brighton indie pop rock outfit The Magic Gang. The album definitely showcases a band in a more creative mood. There is more genre blurring than their first Beach Boys, Beatles influenced album. There are nods to the Northern soul movement, and both classic rock and unsurprisingly Motown. That said, the album mainly falls into the upbeat melodic indie pop rock category but The Magic Gang are also unafraid to be idiosyncratic and quirky when the album requires. It also contain more gritty lyrical content than on their first release.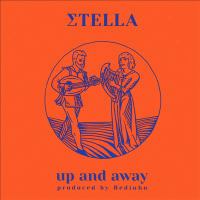 Up and away / Stella
Mark: Σtella is Greek indie pop artist Stella Chronopoulo and this, her 4th album, is her first on the Sub Pop label. An intriguing mix of traditional Greek folk-inflected elements & instruments (Bouzouki & Kanun feature) give the album a mysterious dreamy European feel, while the songs themselves evoke a 60s throwback vibe that reminded me a bit of early Saint Etienne. Relaxing and mesmerizing in equal measures, a lovely mix of the foreign and the familiar, evoking a cool sophisticated, swinging, Athens of the past.
Neil: Stella has been known in her native country of Greece for some time. Her music could be described as idiosyncratic dreamy synth pop, but with a veneer of Traditional Greek folk music to really make it distinctively hers. This is her first release on the major Sub Pop label, and the influence of European music has very much come to the fore especially The Greek folk-pop revival of the late 60's and 70's. There is also some very slick and smooth 21st century production going on thanks to producer Redinho.
The ghost of Santiago / Finn, Tim
Mark: The 2nd remote collaboration between Tim Finn & Roxy Music guitarist Phil Manzanera, following on from 2021's Caught By The Heart. They first met in Sydney in 1975, when Roxy were on their first Australian tour, became friends and have remained in contact ever since. Finn is 70, and Manzanera 71 at this point, and neither has anything to prove. Their collaborations aren't the later day projects of aging musos, with redone versions of old hits and famous cameos, but rather just two musicians going wherever takes their musical fancy. This is art for art's sake, the album wanders through experimental sketches: pure pop, to moody lusher tracks that all aim to evoke a Latin flair. Fado singer Sonia Bernardo adds some jazzy touches as she duets with Finn on three songs. So, while there's nothing revelatory here, it's interesting overall with some standout tracks. The production is also amazingly cohesive, given they never met in person.
Neil: 'The ghost of Santiago' is the second collaborative effort between Tim Finn and Phil Manzanera. It started life as a no fixed plan project during lockdown whilst the duo were 12,000 miles apart, such are the wonders of modern technology. This latest outing contains ten songs selected from many more. There is a free-wheeling artistic freedom at play here, with songs displaying a wide variety of styles: from classical to pop, indie, and even touches of prog. If you are a fan of the Crowded House singer songwriter or the Roxy Music composer guitarist, it's well worth a listen.
Giant palm / Bock, Naima
Mark: The former member of Goat Girl strikes out on her own with this impressive solo debut, mixing baroque folk elements with lush arrangements and over 30 instrumentalists. This is a long way from the fuzzy, political, post-punk of Goat Girl: with it's soaring harmonies and almost orchestral feel, strings, organs and woodwinds, as well as nods to Jazz, and her childhood in Brazil. The ability to make the traditional sounding aspects of this fit with her modern worldview are what makes this one of the most distinctive releases this year. Sure to be on plenty of the 'Best Of 2022' lists.
Neil: Formerly of the band 'Goat Girl', Naima Bock sets out on her own (ably supported by producer Joel Burton and a whole raft of musicians). The album feels, at first listen, loose limbed and laid back in a folk singer-songwriter type of way. Closer listening reveals layers of instrumentation, meticulously crafted into each track in a very subtle way. It is a breakup album of sorts and melancholic in places, whilst also happy to expand its emotional palette when necessary.
Colder streams / Sadies
Mark: 'Colder Streams', the 11th full-length studio release for the Canadian alt-country band The Sadies, was the last for guitarist, singer/songwriter Dallas Good, who passed away in February 2022. A Canadian indie-rock institution formed by brothers Dallas & Travis Good, the band melded bluegrass country, surf-rock, folk, garage and '60s psychedelia into a seamless musical blend for 25 years. A fitting tribute to their long career, this album was hailed as some of their best work; a tightly performed, energetic, diverse sounding album full of autumnal reflections on mortality, reaching out for help, and the undertrain times we live in.
Neil: This is the 11th album from the Toronto psychedelic Americana band 'The Sadies', known for their legendary live shows. It is also, tragically, the last to feature co-founder singer songwriter Dallas Good who passed recently. 'Colder Streams' is arguably the best album of all their releases. The band have expanded and refined their own sound, but more importantly, included some of their live vitality. For anyone who has never heard them before, 'The Sadies' perform their own brand of surf, country, and most noticeably psychedelic rock. Before passing, Dallas penned his own tongue in cheek "anti-bio'" of the album which says it all – "Colder Streams is, by far, the best record that has ever been made by anyone. Ever."
Box Set Pick:

American epic
Mark: A 100-track, 5-CD box set of American roots music performances from the 1920s and 1930s, compiled by film director Bernard MacMahon to accompany the release of his American Epic documentary film series, which took ten years to research. This accompanying Box Set was voted 'Reissue of the Year' by Rolling Stone upon its release in 2017. New sound restoration techniques developed for the film production were utilized to restore the 100 songs on the album, some of which were repressed from their original metal parts. It all creates an amazing sound quality for tracks recorded by rural folk & blues artists as far back as the 1920s. Each CD is themed by an 'area' of the USA, and then by the cities that featured prominently during the formative years of American music. There is some crossover with tracks and artists, but this is definitely worth checking out if you're a fan of Harry Smith's Anthology of American Folk Music, as this is a much larger and more multicultural look at America's musical history, with more Spanish, Latin-American & Native-American representation.
Neil: A remarkable collection of original recordings, many of them close to ninety years old . Featuring one hundred songs over five CD's, it is a really well named box set, as 'Epic' is the only word for it. Just to give the smallest of flavours: there's period blues, folk, country, Cajun, Jug band, gospel, Tex-mex and old-time folk as well as native American tracks and Hawaiian tracks. The list of artists featured is just as impressive. It's an incredibly rich release. Many of the original beating hearts of American music are contained within these CD's and, in many senses, it is also a historical document, a form of musical archaeology that has uncovered much of the DNA of American music from almost every genre.