Every three months Overdrive, one of our eBook providers, runs a 'Big Library Read'. Described a 'global eBook club', the 'big read' allows library users the chance to borrow a certain eBook simultaneously, to be read altogether – just like you would with your book club!
This time around, we'll be reading the #1 New York Times bestselling book This Is Where It Ends from debut author Marieke Nijkamp —  from October 13th through the 27th.
This is Where it Ends is a fictional account of a school shooting, told from four perspectives over the span of 54 harrowing minutes. Marieke provides a unique and poignant look into what it's like to experience a school shooting through the eyes of students who are living through it in real time. This title brings to light the subject of school shootings realistically, but without graphic depictions of the violence the students experience.
Once you finish this moving book, join our discussion board to share your thoughts. Join the Big Library Read and start reading This Is Where It Ends today!
The Big Library Read runs from October 13th, to October 27th.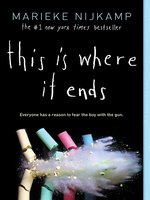 This Is Where It Ends, by Marieke Nijkamp (eBook)
"A New York Times Bestseller! Everyone has a reason to fear the boy with the gun. 10:00 a.m. The principal of Opportunity, Alabama's high school finishes her speech, welcoming the entire student body to a new semester and encouraging them to excel and achieve. 10:02 a.m. The students get up to leave the auditorium for their next class. 10:03 The auditorium doors won't open. 10:05 Someone starts shooting. Told from four perspectives over the span of 54 harrowing minutes, terror reigns as one student's calculated revenge turns into the ultimate game of survival. #1 Young Adult Debut of 2016 Winter '15 Kids Indie Next List Goodreads YA Best Books of the Month Buzzfeed 5 YA Books You Should Be Reading This January Bustle.com 18 of 2016's Most-Anticipated YA Novels BookRiot 15 Books out in 2016 You Should Mark Down Now" (Overdrive description)