Mark's Pick:

Vulture prince. / Aftab, Arooj [VINYL ONLY]
"Vulture Prince" is the third album from Brooklyn-based Pakistani composer Arooj Aftab. It made 'Best of the Year' picks even halfway through last year, and has been pressed on Vinyl 3 times since it came out last April – all of which sold out almost instantly. It's critical & commercial success led to her being nominated for two Grammys, Best New Artist and Best Global Music Performance, as well as being signed to major label, Verve Records. An amazing sounding album, a mixture of chamber jazz, Hindustani classical minimalism & neo-Sufi, centered around her crystal clear voice. A truly beautiful and haunting work.
Mother. / Sol, Cleo
There was a lot of Neo-soul this year. A lot. I listened to a good percentage of it, and Cleo Sol's 'Mother' was the best of the bunch. A mellow, tender, beautifully sung homage to motherhood. These lovely delicate songs have a real sense of intimacy, and at times the minimalist production from partner Inflo (who was recently announced as Producer of the Year in 2022's Brit awards) makes you feel you are hearing a bunch of personal demos that were never meant to be shared.
Lindsey Buckingham. / Buckingham, Lindsey
The ex-Fleetwood Mac-er returns with a delayed album – originally cut in 2018. It is perhaps his most 'pop' outing and most FM sounding solo album yet. Mirage-era stylings, double tracked vocals, and catchy choruses surround a set of songs that focus on band & domestic disharmonies. Few artists of his generation can claim to be still making music this strong.
Shinji's Pick's:

Mother. / Sol, Cleo
A member of the London's avant-soul unit 'Sault', Cleo Sol's sophomore album is a reflection of herself having become a mother during the pandemic. It's an intimate affair featuring medium/slow soul ballads. Surrounded by the warm, tender arrangements, her voice is charming and graceful.
Nine. / Sault 
Sault' also released another edgy album 'NINE' – more personal than previous albums but black proud and social justice are still its core. The both are a must-listen.
What we call life. / Rakei, Jordan
The Tokoroa-born, sweet-sounding soul singer Jordan Rakei steadily developes his style with every outing. This latest album from Ninja Tune takes us on an intimate, emotional journey, showing his mutuality both as an artist and a person. His dance/house project Dan Kye's 'Small Moments' (Vinyl only) is also quite good.
Harbour. / Herskedal, Daniel
Tuba is usually not considered a lead instrument, but the Norwegian tubaist Daniel Herkedal has made his mark as an outstanding player and band leader. Nature often inspires his works, in this album his trio brilliantly transforms images of Norwegian seaside into their music. You can feel a combination of warmth and cool air in the rich, open soundscapes that they create. Akin to ECM, it's a sublime jazz album.
Phantasmagoria, or, A different kind of journey / Aarset, Eivind
Norwegian jazz guitarist Eivind Aarset is a master of creating inventive sonic layers and tonal richness. Aarset's new album finds him in superb form. Showing impressive range, from the gentle ambient tracks to the eccentric guitar improvised prog-rock, it offers a sophisticated, expansive musical journey.
Becca Stevens & the Secret Trio. / Stevens, Becca
The 'jazzy but not quite jazz' singer Becca Stevens has worked with numerous artists, including David Crosby for his brilliant 'Here If You Listen'. Her new project with the Secret Trio, who's roots range from  Turkish to Armenian and Macedonian, offers a unique hybrid music of folk, jazz and world music. This work gets better with every listen.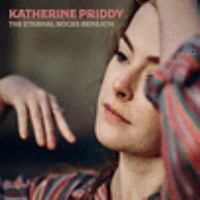 The eternal rocks beneath. / Priddy, Katherine
Praised by the likes of Richard Thompson and Vashti Bunyan, young English folk singer Katherine Priddy debuted with an exceptional album. Showing her love of Nick Drake, her songs are alluring. The band supports marvellously, but it is her captivating voice that takes your breath away. Everything is so natural here, a promising a star is about to be born.
Invisible cities = Le città invisibili / Winged Victory for the Sullen
The 2021 album from this ambient duo is a collaboration with a theatre production, directed by London Olympics ceremony video designer Leo Warner. The show, in turn, was is based on Italo Calvino's classic novel 'Invisible Cities'. This duo, once again, has created a stunning score which masterfully weaves the medieval feeling into the ethereal, ambient soundscape. Sublime.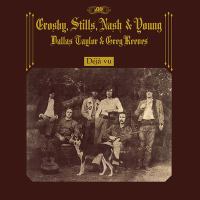 Déjà vu [deluxe] / Crosby, Stills, Nash & Young
[Box set/re-issue]
The 1970 original album climbed up to No.1 and stayed 88 weeks in the USA top 100 charts. In 2021, this iconic masterpiece finally got a deluxe edition (4CDs + 1LP). Including 38 tracks of demos and outtakes, a lot of tracks here have never been released before and, as well as this, they prove how genius these musicians are. The Laurel Canyon community also must have stimulated their creativity, which is evident in the intriguing documentary 'Laurel Canyon'.
Kid A mnesia / Radiohead
[Box set/re-issue]
The 21st century opened with this revolutionary music. 'Kid A' (2000) and 'Amnesiac' (2001) were recorded together but issued a year apart. This re-issue offers previously unreleased tracks on the third disc, which is fascinating. Their bold creative mojo and exceptional talent made Radiohead a one-and-only supergroup. 20 years on, they are still standing tall.
Aretha. / Franklin, Aretha
Aretha Franklin, the 'Queen of Soul', had a career which spanned 6 decades, and this smartly compiled box set should be welcomed by both dedicated fans and novices to her music. It's almost an ideal 'best album' of her music, and would be a wonderful accompaniment to the nice biographical film 'Respect'.
Neil J's Pick's:

Promises / Floating Points
This is my person pick for best of 2021. Many albums strive to be as beautifully mellow and profoundly intense. They nearly always fail to some degree or another. This album is as close to perfection as I have heard in many a year, an outstanding masterpiece that will rightly regarded as such long after 2021 is a distant memory. Recorded over the course of five years, this album is a hybrid of ambient, free-form jazz and classical. The result is an album that is elegant, refined, and full of quiet moments of sonic beauty. Although it is an experimental album, it's an exceptionally balanced, considered, and timeless work. To really appreciate it, a relaxed deep listen is highly recommended. A perfect way to unwind from the rigors of the day.
Nine. / Sault
The enigmatic and mysterious music collective Sault release another vital album. Unsurprisingly as an ever-changing music collective, there is a rich tapestry of sounds and approaches in 'Nine'. The overall effect though feels totally unified and coherent. The tracks are urban, dark, and edgy with real grit. In the mix there are elements of rap, grime Afro Beat and even some Tom Tom's club's style funk. The content of the album is largely about growing up in modern London. This is a fresh and surprising album, stunning in its contemporary urgency.
Geist. / Lay, Shannon
Shannon Lay's Geist is a deliberately wistful, transcendent, and spiritual album. Lay uses multi tracked choral vocals with a constantly flowing, and evolving acoustic guitar as its core. The effect is distinctive, expressive, quiet, and lovely. An evocative pastoral psychedelic folk work reminiscent of artists like Vashti Bunyan, I particularly enjoyed her cover of Syd Barrett's 'Late night'.
Buda / Buda, Luke
One of the core creative forces behind the mighty The Phoenix Foundation releases (with a lot of help from his friends) his third solo effort, this time simply called Buda. It is an impressive work, interspersed with a lot of the hallmark touches he brings to his other work in The Phoenix foundation. This album is wryly funny, poetic, serious when it needs to be and shows us why he is one of our finest musicians.
Black sea golden ladder. / Kingi, Troy
The supremely gifted musical chameleon that is Troy Kingi has shown his musical versatility over several wonderful albums on several occasions in recent years, but who would have thought that his latest musical incarnation would be as a mellow folk maestro? The resulting album is a beautiful, and chilled outing, like watching the sun go down on the fragile dream of a late autumn day. Delaney Davidson's voice adds just a little grit and darkness to the proceedings.
M'berra / Khalab
This is one of those album's that really transports the listener to new worlds. It is a collaborative work between electronic Italian D.J. Khalab and the M'berra Ensemble, a community of musicians living in the M'berra refugee camp. The resulting album, both ancient and futuristic, is a breath-taking work of fantastically sculptured tracks and diverse sounds, featuring a dazzling array of instruments from traditional Mali instruments to synth bass's and guitar.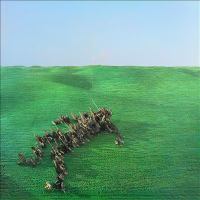 Bright green field. / Squid (Musical group)
An album of angular music, coupled with angry off kilter lyrics that illuminate the song writers' discomfort with the modern World. In places, it sounds slightly reminiscent of an early English, pre-Eno, Talking Heads. Seemingly unconcerned about creating a single musical identity, they use whatever style suits that particular track from throwing in punk, krautrock, dub, jazz, and funk into this potent mix of an album.
New long leg. / Dry Cleaning (Musical group)
I really loved this album, it sounded new and fresh and vitally edgy. Managing to sound quirky, surreal, approachable and experimental all at the same time, is it a release I strongly suspect will be on lots of best of 2021 lists.
The new blue : Pixie Williams reimagined.
Pixie Williams was one of the first ever superstars of the New Zealand music scene. She was a trailblazing pioneer; her song 'Blue smoke' was a huge international hit in 1951 covered by many artists, including Dean Martin. A compilation of her work was recently rescued from oblivion, called For the record : the Pixie Williams collection, 1949-1951, and was rereleased in 2011. 'The New Blue' is a collection of modern NZ artists paying tribute to her and her art, covering her best known pieces fabulously well with style and panache. This is a perfectly executed, modern nostalgic time machine of an album.
Optimisme. / Songhoy Blues
Crossing musical and cultural boundaries at will, 'Optimisme' is a joyous explosion of an album. Driving percussion and scorching guitar riffs come together with political, social and personal lyrics that are sung in several languages and never sound laboured or preachy. The music is exhilarating and unstoppable, you cannot but help feel that many huge stadium acts would be jealous and in awe of the energy pouring out of this release.
Gus' Picks:

The blue elephant. / Berry, Matt
Something I can only describe as "what if Tame Impala travelled back in time and did an album with the Kinks". Hands down the best summer album of 2021.
Favourite track: Summer Sun
Skin. / Crookes, Joy
A polished, bold debut neo-soul album for anyone with an Amy Winehouse-sized hole in their heart.
Favourite track: Feet Don't Fail Me Now
Prioritise pleasure. / Self Esteem
A pop solo act that goes big and goes hard one minute and becomes a tender pick-me-up the next. Everyone could use a little Self Esteem boost.
Favourite track: Prioritise Pleasure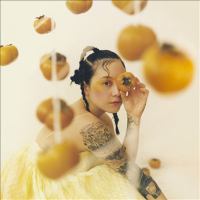 Jubilee. / Japanese Breakfast
An eclectic album of 80s city pop, soft ballads, and dreamy croons. A balanced breakfast indeed.
Favourite track: Paprika
Call me if you get lost. / Tyler, the Creator
No-one quite nails the feeling unique to creatives of alternating triumph and melancholy quite like Tyler Baudelaire, aka Bunny Hop, aka Wolf Haley etc. etc. Call Me If You Get Lost is more of a fun mixtape jam session than the more emotionally introspective albums of his recent output, and while it took me a while to appreciate, by the end of 2021 it became a staple of my playlists.
Favourite track: CORSO
Dune : original motion picture soundtrack
The space bagpipes must flow! I, for one, am always up for a eardrum rattling from the Zimmer Man, and Dune does not disappoint. Combining electrified strings, throat singing, epic brass, Middle Eastern choirs and the aforementioned space bagpipes, this score truly worthy of a space epic.
Favourite track: Armada
Yasuke : music from the Netflix original anime series
With the anime Yasuke, Flying Lotus finally gets to lend his unique blend of hip hop and electronica to scoring an animated series, and he succeeds immensely. As Samurai Champloo creator (and one-time FlyLo collaborator) Shinichiro Watanabe proved, there's something about blending hip hop and samurai that just works.
Favourite track: Your Day Off
Han's Picks:

L.A.B. V. / L. A. B
Another awesome album from L.A.B, with songs that are funky, chilled out and make you automatically feel free and summery. Favourite tracks on this album are: 'Under The Sun', with it's country twang and catchy chorus, 'All Night', which brings the groove and makes you want to dance and their latest smooth sounding single 'Mr Reggae'.
Little oblivions. / Baker, Julien
An emotional outpouring of deep and self-loathing lyrics ,with a voice that is raw, vulnerable and magical, makes for a brilliant third solo album from Julien Baker.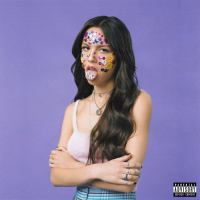 Sour. / Rodrigo, Olivia
If you have ever had your heart broken and not been sure of yourself, then you will easily relate to the lyrics on this album. Songs like 'Traitor' and 'Happier' convey familiar feelings of being hurt by relationships breaking down. 'Brutal', the first track, is probably the best with all of her thoughts and annoyances with life on display in a snarly pop punk style. Very impressive debut album from this new pop superstar.
OK human. / Weezer
This is Weezer in a completely different form, with none of the guitar sound that is associated with the band. Instead, they have opted for an orchestral sound, which is new for them and definitely works as a change. The opening track 'All My Favourite Songs' is brilliant and the chorus is incredibly catchy and anthemic. 'Grapes of Wrath' is a big advert for Audible, but I don't mind it as I like all the book references in that track. These songs were written during the pandemic and as a result are extremely relatable.
Van Weezer. / Weezer
In contrast to Ok Human, Van Weezer brings all the guitars back for a more familiar Weezer sound. On the track 'The End of the Game', the lyrics are "I know that you would crank this song, air guitaring with your headphones on"' and it definitely makes me want to do that. So, turn it up and have some fun jumping up and down to this homage to Van Halen!
Greg's Pick:

Leave love out of this. / Tonnon, Anthonie
If you don't have children, you rely on friends and colleagues to recommend new music to you. This was recommended to me by Martin. This is pop music with social, political and economic messages woven easily and naturally through the lyrics. The title track was nominated for the 2021 Silver Scroll Award.
Joseph's Pick's:

Godzone. / Sulfate
[VINYL ONLY]
Godzone by Sulfate was a local standout for me.
Martin's Pick:

Leave love out of this. / Tonnon, Anthonie
A strange mixture. This album sounds like a cross between Ultravox and Gary Numan with some distinctly New Zealand social commentary thrown in. In some ways the music is reminiscent of simple 80's synth, which I like, but it is also the use of his voice that grabs the attention. It is at both very unmelodic almost banal, but with great range and control. It doesn't sound, from what I have said, to be so good does it? But it is! It's interesting, mostly uplifting and overall a joy to listen to. It's different and fresh and I think positive, which is a rare thing in these times.
Mikaela's Pick's:
Jubilee. / Japanese Breakfast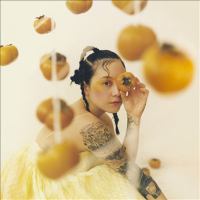 Charlotte's Picks:
Collapsed in sunbeams. / Parks, Arlo
Chemtrails over the country club. / Del Rey, Lana
In these silent days. / Carlile, Brandi
Valentine. / Snail Mail

Neil P's Picks:
De pelicula / Limiñanas
Earth trip. / Rose City Band
Comfort to me. / Amyl and the Sniffers
Afrique victime. / Moctar, Mdou
Yol. / Altın Gün
Henki / Dawson, Richard
La Luz. / La Luz
Sometimes I might be introvert. / Little Simz
Introducing… Aaron Frazer. / Frazer, Aaron
Invisible cities = Le città invisibili / Winged Victory for the Sullen
Genesis. / Xixa
Forest of your problems. / Snapped Ankles
Black sea golden ladder. / Kingi, Troy
Pale horse rider. / Hanson, Cory
Geist. / Lay, Shannon