The Baillie Gifford Prize (formerly known as the Samuel Johnson Prize) is the UK's premier non-fiction book award. It covers all non-fiction in the areas of current affairs, history, politics, science, sport, travel, biography, autobiography, and the arts. Books that make its long list are always fascinating and the winners are consistently readable, compelling, and thought provoking.
Past winners include Serhii Plokhy's Chernobyl (2018),  How to Survive a Plague by David France (2017), East West Street by Philippe Sands (2016), and Steve Silberman's Neurotribes (2015).
The short list for 2019's award was announced on October 22nd and includes rich pickings on an eclectic range of topics including murder, Maoism, biography, and family mysteries. It is also noteworthy that five of the six authors to make the short list are women, a conspicuous milestone for a prize whose long  lists and winners in the past have been predominantly male.
Here are the six fabulous finalists:
Furious hours: murder, fraud, and the last trial of Harper Lee/Cep, Casey N.
Willie Maxwell was a preacher accused of murdering his first wife in 1970. Over the next few years, other family members suspiciously died, each with life insurance policies taken out by Maxwell. With the help of a clever lawyer Maxwell escaped justice for years. Cep brings this gripping story to life along with a vivid account of Harper Lee's quest to write another book after To Kill a Mockingbird, and her struggle with fame,and the mysteries of artistic creativity.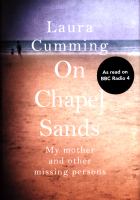 On chapel sands: my mother and other missing persons / Cumming, Laura
This is a book of mystery and memoir as prize-winning author Laura Cumming takes a close look at her family story. Two narratives run through it – her mother's childhood tale (as a child she was kidnapped) and Cumming's own pursuit of the truth. Above all, Cumming discovers how to look more closely at the family album finding crucial answers, captured in plain sight at the click of a shutter. (Adapted from our catalogue)
The Lives of Lucian Freud : The Restless Years, 1922-1968 / Feaver, William
Lucian Freud was one of the most influential figurative painters of the 20th century. He had ferocious energy, worked day and night and his social circle was broad including royals, drag queens, fashion models, and gangsters like the Kray twins. Rebellious, charismatic, extremely guarded about his life, he was witty and a womanizer. This is an intimate, lively and rich book, full of gossip and stories about people, encounters, and work. (Adapted from our catalogue)
Maoism : a global history / Lovell, Julia
It may seem that China has long abandoned the utopian turmoil of Maoism in favour of authoritarian capitalism, but Mao and his ideas remain central to the People' Republic and the legitimacy of its communist government. The need to understand the political legacy of Mao remains vital. In this new history, acclaimed historian Julia Lovell revaluates Maoism, analysing both China's engagement with the movement and its legacy on a global canvas. This is the definitive history of global Maoism. (Adapted from our catalogue)
The five : the untold lives of the women killed by Jack the Ripper / Rubenhold, Hallie
Debates have long raged about Jack the Ripper's identity, but what about the identity of his victims? Hallie Rubenhold reveals that they were not prostitutes, as we've always been told, but women going about their business – one ran a coffeehouse, another worked at a printing press, yet another lived on a country estate – who sadly crossed paths with a killer. As Rubenhold sets the record straight, she reveals a world  of poverty, homelessness and rampant misogyny. (Adapted from our catalogue)
Guest House for Young Widows / Moaveni, Azadeh Azadeh Moaveni's book is a sensitive account of 13 women who left their homes in different countries to join Isis. It explores the backgrounds of the women and the consequences of their choice to become Isis wives. Each woman ends up in devastating situations and Moaveni, a past Pulitzer Prize finalist, skillfully treads the fine line between exploring empathy for the women and the thorny subject of their culpability in wider terrorism. The women include former FBI agent Daniela Greene who married the IS member she was investigating and Shamima Begum the teenager who was villified by the UK press and was eventually stripped of her UK citizenship. This is a powerful book that uses the small stories of several women to explore the bigger picture of ISIS and it's impact on the world. (WCL does not currently have a copy of this book)