Kia ora, let's take a meander through the shelves to see what's new in the New Zealand Collection this month.
There are numerous water issues being discussed around the country and there is a new book about efforts to save Te Waikoropupū Springs told with poetry and images.
Samoan Queer lives are documented with story and portrait. Memoirs of musician Graeme Jefferies, whose career was spent with bands Nocturnal Projections, This Kind of Punishment and The Cakekitchen as well as being a solo artist, and  one from  poet and author Jeffrey Paparoa Holman.
A collection of recent plays in 'The recent art of actually caring and other New Zealand plays' talks about how new theatre is capturing the stories of increasingly diverse New Zealanders.
There are new editions to the poetry shelf and of course beautiful scenery in 'Wanaka: lake, mountain, adventure'.  Our last peek is at 'Thorny encounters: a history of England v the All Blacks' about the first 4o rugby internationals between the All Blacks and England.
Time to pick your favourite new book and sit down to read!
Water protectors : the story of the campaign to save Te Waikoropupū Springs in poetry and images / Moran, Kevin
"The Story of the Campaign To Save Te Waikoropupu Springs in poetry and images. Te Waikoropupu Springs in Golden Bay New Zealand is a national treasure. Crystal clear waters surge to the surface to form a bubbling fount. Over 90,000 people flock to visit each year. Yet Te Waikoropupū is under deadly threat. Nitrate leaching from intensive dairy farms is the culprit. You will read of protests, passionate petitions and about the small Iwi battling to protect Te Waikoropupu through the implementation of a Water Conservation Order." (Abridged Catalogue)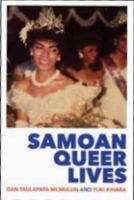 Samoan queer lives / McMullin, Dan Taulapapa
"Featuring 20 autobiographical stories from fa`afafine and LGBTIQ Samoans based in Samoa, Amerika Samoa, Australia, Aotearoa NZ, Hawai`i and USA. Includes a foreword and introduction by co-editors Yuki Kihara and Dan Taulapapa McMullin. Each story is accompanied by a portrait." (Catalogue)
Time flowing backwards : a memoir / Jefferies, Graeme
"Time Flowing Backwards is the fascinating and revealing story of Graeme Jefferies–one of the most inventive and influential musicians to emerge from New Zealand's vibrant independent music scene in the 1980s. This memoir spans over three decades of Jefferies' career spent with bands Nocturnal Projections, This Kind of Punishment and The Cakekitchen as well as a solo artist." (Abridged Catalogue)
The intricate art of actually caring, and other New Zealand plays
"Theater in New Zealand began as a tool of the British Empire, imported along with Christianity, seeds, and other commodities as a way of acculturating the indigenous Maori population. In the decades since, it has been turned to different ends, and is now a crucial outlet for the voices of the ever more diverse population of New Zealanders." (Abridged Catalogue)
Now when it rains : a writer's memoir / Holman, Jeffrey Paparoa
"Jeffrey Paparoa Holman examines a life lived over 70 years through rapid social changes and personal upheavals, from the 1950s to the 2000s, as he stumbles towards becoming the writer he believed he could be. Growing up on the West Coast in the shadow of his father's war and later imprisonment, he drops out of university and learns too much about drugs & alcohol while working as a shearer, bin-man and fisherman. Later in life he learns te reo and publishes groundbreaking history and memoir. This is a vital chronicle of our times; a frank and compelling insight into the writer's mind – and soul." (Catalogue)
The edge of things / Powell, Anne
"Anne Powell's poems reach from the soul-baring Waikanae River all the way across the earth to cascades of stars over cold desert sand. At times focusing on the wealth of wisdom nature imparts upon patient observation, at others on the daily realities of those people who live beyond our familiar trajectories, Anne Powell stays grounded in her ability to see the sacred in a world of both stillness and disturbance." (Catalogue)
One hundred poems and a year / Orr, Bob
"Rucksack Consider this book of mine as if it were a rucksack containing what you might need if you were to step outside your door. There are poems heavily knitted as fishermen's jerseys in case you should find yourself all at sea. others are like handkerchiefs you can put in your pocket – some of these poems are commonplace as soap – you can stand under the shower with them. Some are casual as jandals – one or two have soles tough as tramping boots. I wrote them while walking down a road with bare feet." (Catalogue)
A traveller's history of New Zealand and the South Pacific islands / Chambers, John H.
"A traveller's history of New Zealand and the South Pacific islands gives the curious tourist not only a modern day portrait of New Zealand and the far flung islands, their political systems and economic diversity, but also looks at the early settling of this massive area which covers about a fifth of the entire surface of the earth. The story of the peopling of the South Pacific Islands and NZ is one of the world's great epics which the author conveys." (Abridged Catalogue)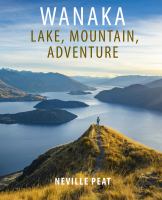 Wanaka : lake, mountain, adventure / Peat, Neville
"Neville Peat describes the scenic splendour of Wanaka and the myriad activities and attractions for visitors in this updated edition of a book that serves as both a guide to one of New Zealand's tourism hotspots, and as a souvenir.The book covers the history of the Wanaka area and its progress into a contemporary centre renowned for an exciting range of outdoor activities and regular events, including the internationally recognized Warbirds Over Wanaka air show. Further material offers a guide to local walking and cycling tracks, local flora and fauna, and Mt Aspiring National Park." (Catalogue)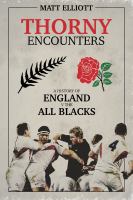 Thorny encounters : a history of England v the All Blacks / Elliott, Matt
"In 1905, Vic Cartwright's England rugby team lined up against Dave Gallaher's touring All Blacks at Crystal Palace–the first ever meeting of two national teams. Ensuing matches, in both the amateur and professional eras, have been dramatic and controversial, steeped in the historical rivalry of the traditional home of the game for the nation that has claimed rugby as its own. Thorny Encounters chronicles the first 40 rugby internationals between England and New Zealand, spanning 1905 to 2014. Historic encounters between men in white and black have been dramatic, controversial, and steeped in historical rivalry." (Abridged Catalogue)