A clear trend across the new releases is a call for ecologically sensitive design practices, for both our residential and industrial spaces of the future. From the structural materials to labour and internal design choices, a common theme emerging from within the world of architectural design is the need for all aspects of society to embrace greener building practices.
Highlighted on multiple 'Best of 2022' lists is 'Making Space: a history of New Zealand women in Architecture'. Wellington historian Elizabeth Cox's book has been praised for it's comprehensive championing of female architects, and rightly so. It is a beautifully compiled, in-depth celebration of the significant contributions that Aotearoa's female architects have made to their industry, many of whom had been overlooked in their time, or since relegated to the history books. Cox's compilation shines a much needed light on the industry and celebrates the true diversity behind our architectural spaces.
Dive into these visually stunning, cutting-edge new books that envision the ways in which our homes, offices and public spaces can look better and function smarter, all while making the world feel good too.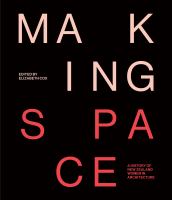 Making space : a history of New Zealand women in architecture
"Brilliant, hardworking and creative, women architects have made many significant contributions to the built environment, creativity and community of Aotearoa New Zealand. This groundbreaking book spans over a century, telling the story of women making space for themselves in a male-dominated profession while designing architectural, landscape and urban spaces." (Adapted from Catalogue)
Architecture : from prehistory to climate emergency / Calder, Barnabas
"The buildings we live in, from the humblest pre-historic huts to today's skyscrapers, reveal our priorities and ambitions, our family structures and power structures. In this ground-breaking history of world architecture, Calder takes us on a dazzling tour of some of the most astonishing buildings of the past fifteen thousand years. Calder argues if we are to avoid catastrophic climate change then now, more than ever, we need beautiful but also intelligent architecture, and to retrofit – not demolish – the buildings we already have. (Adapted from Catalogue)
Living in the forest : contemporary houses in the woods
"Take a walk through the forest in this dynamic survey of contemporary forest homes. Each architect-designed house, whether demonstrating innovative ecological design or shoring against the elements, explores a different facet of woodland living across a huge range of countries worldwide. Connecting us to nature through their affinity with trees, each home in this collection powerfully demonstrates the importance of green living." (Adapted from Catalogue)
Eco-cities : new healthy architecture
"The projects presented in this book are magnificent recent examples of how architecture can create attractive residential buildings aware of their social function, promoting interaction between users and the harmonious relationship of the community with its natural and urban environment. Showing a great sensitivity towards issues such as sustainability, eco efficiency, or the integration and conservation of historical and industrial heritage." (Adapted from Catalogue)
Never too small : reimagining small space living / Beath, Joel
"What does the future of urban living look like? Never Too Small explores this question through the lens of five small-footprint design principles and a showcase of 30 apartments and houses form around the world, all smaller than 50 square meters. Full of inspiration we can each apply to our own homes, this is a book that proves living better doesn't have to mean living larger." (Adapted from Catalogue)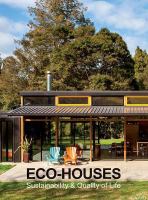 Eco-houses : sustainability & quality of life
"Sustainable design integrates consideration of resource and energy efficiency, healthy buildings and materials, ecologically and socially sensitive land-use, and an aesthetic sensitivity that inspire and affirms. In order to face these challenges, innovative and varied building strategies have been developed to contribute to the achievement of environmentally friendly homes that are alive and "breathe." (Adapted from Catalogue)