Benson, Arizona, blew warm wind through your hair
My body flies the galaxy, my heart longs to be there
Benson, Arizona, the same stars in the sky
But they seemed so much kinder when we watched them, you and I.
The 4th to the 10th of October 2021 is World Space Week, where we celebrate the accomplishments humankind has made in exploring and studying the cosmos.
While scientists, engineers, and astronauts work to broaden our understanding of planets and galaxies beyond our own, writers, musicians and artists are already light-years ahead of the curve with imagining life in space; not just from the idealistic view that we'll find better worlds when we leave our old one behind, but critiquing that idea as well. John Carpenter and Dan O'Bannon's Dark Star, for instance, deflates the idea that life in space will allow us to achieve a new state of cosmic enlightenment and technological efficiency; instead they present it as just another work-a-day job, like trucking or an office job today.
Here's a list of new and lesser-known music, books and films to explore for Space Week 2021: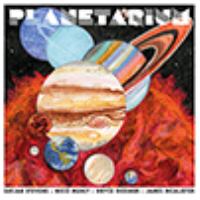 Planetarium / Stevens, Sufjan
"Inspired by the Solar System,
Planetarium
's 17 tracks are named after celestial objects and related phenomena. Each piece is a musical mini-drama, with the glistening wash of "Halley's Comet" lasting about 30 seconds, and "Earth" getting the most attention at around 15 minutes. Keyboard instruments ranging from piano, organ, and celeste to Mellotron, Moog, and other synths blend with Stevens' airy vocal timbre." (Adapted from Catalogue)
Trilogy; past present and future. / Sinatra, Frank

"One of Frank Sinatra's final albums, Trilogy is a three-part celebration of his career, covering his classics (Past), some then-new songs (Present), and a finale 'Future' that is both baffling and strangely compelling. In Future, Frank imagines a distant age where one can travel the Solar System in an afternoon, and how mankind achieved an era of peace by burning all of Earth's weapons ('World War None'). It's worth listening to just for the sheer dissonance of hearing 'Ol' Blue Eyes' sing about spaceships."
Dark star
"Dark Star was a student film expanded to theatrical length, directed by John Carpenter (Halloween, Escape From New York) and written by Carpenter's UCLA classmate Dan O'Bannon (who later retooled one sequence of the film into the script for a little production you may have heard of called Alien). The film is a pastiche of 2001: A Space Odyssey, following a crew of spaceship workers who have the thankless task of dropping bombs on unstable planets for an interstellar mega-corporation. A deeply underrated and underseen cult-classic that inspired the likes of Red Dwarf and Red vs Blue, Dark Star is essential viewing for any fan of sci-fi comedy."
Persephone Station / Leicht, Stina
"On the backwater planet of Brynner, a community of android refugees, all female, are hiding since they were able to awaken their AI and escape servitude. But the Serrao-Orlov Corporation is nothing if not tenacious, and it wants their property back. However, Persephone is run by Rosie, and they are in charge of an organized group of beneficent criminals and assassins, along with a bunch of worn mercenaries who have a thing for doing the honorable thing, despite the odds." (Adapted from Catalogue)
Will save the galaxy for food / Croshaw, Yahtzee
"Space travel just isn't what it used to be. With the invention of Quantum Teleportation, space heroes aren't needed anymore. When one particularly unlucky ex-adventurer masquerades as famous pilot and hate figure Jacques McKeown, he's sucked into an ever-deepening corporate and political intrigue. Between space pirates, adorable deadly creatures, and a missing fortune in royalties, saving the universe was never this difficult!" (Adapted from Catalogue)
The farthest : the story of Voyager : 12 billion miles, and counting
"In 1977, NASA launched the Voyager missions as a way of exploring the solar system's outermost planets, capturing images of Jupiter, Saturn, Uranus, Neptune, and their moons. "The farthest" documents Voyager's journey, including first-hand accounts of the men and women who built the ships and guided their missions. Bonus film Second Genesis explores the scientific quest to find life, or evidence of it, beyond Earth." (Adapted from Catalogue)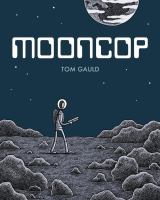 Mooncop / Gauld, Tom
"The lunar colony is slowly winding down, like a small town circumvented by a new super highway. As our hero, the Mooncop, makes his daily rounds, his beat grows ever smaller, the population dwindles. A young girl runs away, a dog breaks off his leash, an automaton wanders off from the Museum. Mooncop is equal parts funny and melancholy, capturing essential truths about humanity and making this a story of the past, present, and future, all in one." (Adapted from Catalogue)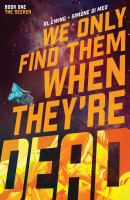 We only find them when they're dead. Book one, The seeker / Ewing, Al
"Captain Malik and the crew of his spaceship are in search of the only resources that matter – and can only be found by harvesting the giant corpses of alien gods that are found on the edge of human space. And now they see an opportunity to finally break free from this system: by being the first to find a living god." (Adapted from Catalogue)