"Mirror of the King."
Our recently acquired general fiction titles feature a number of wonderful and diverse New Zealand / Aotearoa titles which you can view below. One which caught our particular attention was The vanishing point by Andrea Hotere.
The vanishing point revolves around just a few of the mysteries surrounding one of the world's most famous paintings — Diego Velázquez's Las Meninas, or 'The Ladies-in-Waiting', sometimes referred to as 'Mirror of the King'.
The painting itself hangs in the Museo del Prado in Madrid, and is one of the most enigmatic, mysterious and most talked about works of art of all time. It is superbly painted with almost photographic detail, featuring numerous objects and a large cast of figures in its composition — a true masterpiece. Many of these elements and details raise questions in themselves, however it is the questions it raises about reality and illusion and the relationship between the figures in the composition and outside viewers that has fascinated admirers and writers on art for centuries. As if that weren't enough, there is also fierce speculation that the mathematics used in its composition are in fact actually a secret code by the artist.
In The Vanishing Point, Andrea Hotere takes some of the fascinating factual mysteries surrounding the painting and runs with them, creating a brilliant literary puzzle in a similar vein to Tracy Chevalier's Girl with a Pearl Earring.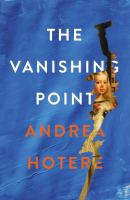 The vanishing point / Hotere, Andrea
"Set against the backdrop of London in 1991 and Madrid in 1656 the novel follows the lives of two women, Alex Johns and the Infanta Margarita, who are connected by a quest to unravel the enigmatic secrets within an iconic painting." (Adapted from Catalogue) Also available as an
eBook

– The Vanishing Point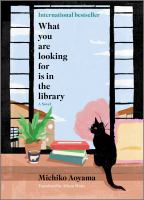 What you are looking for is in the library : a novel / Aoyama, Michiko
"What are you looking for? So asks Tokyo's most enigmatic librarian. For Sayuri Komachi is able to sense exactly what each visitor to her library is searching for and provide just the book recommendation to help them find it. A restless retail assistant looks to gain new skills, a mother tries to overcome demotion at work after maternity leave, a conscientious accountant yearns to open an antique store, a recently retired salaryman searches for newfound purpose. In Komachi's unique book recommendations they will find just what they need to achieve their dreams. What You Are Looking For Is in the Library is about the magic of libraries and the discovery of connection. This inspirational tale shows how, by listening to our hearts, seizing opportunity and reaching out, we too can fulfill our lifelong dreams. Which book will you recommend?" (Adapted from Catalogue) Also available as an eBook – What you are looking for is in the library
Continue reading ""Mirror of the King": New fiction on our shelves" →