Who else loves gorgeous maps and atlases?  We know kids love them, but how many of us never lose that love as we grow up?  Poring over huge books of maps, learning about the world, history, people and animals is lots of fun, and there is something particularly beautiful about quality cartography.
If you're a map lover, or you'd like to explore some atlases to see just what they're all about, check out these from our collection: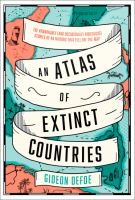 An atlas of extinct countries : the remarkable (and occasionally ridiculous) stories of 48 nations that fell off the map / Defoe, Gideon
"Prisoners of Geography meets Bill Bryson: a funny, fascinating, beautifully illustrated and timely history of countries that, for myriad and often ludicrous reasons, no longer exist." (Catalogue)
Brilliant maps : an atlas for curious minds / Wright, Ian
"Which nations have North Korean embassies? What percentage of young people live with their families? Which country lists volleyball as its national sport? How much does it cost to get a pint around the world? And where can you find lions in the wild? Revelatory, thought-provoking and fun, Brilliant Maps is a unique atlas of culture, history, politics and miscellanea, compiled by the editor of the iconic Brilliant Maps website." (Adapted from Catalogue)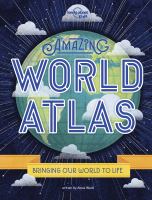 Amazing world atlas : bringing the world to life / Ward, Alexa
"Bringing planet earth to life, this colourful and fun addition to Lonely Planet Kids takes you on a trip around the world that you'll never forget. Filled with continental and regional maps, lively text, an entry for every country on the planet, plus mind-blowing facts, and an emphasis on the species that live on our planet, this is an essential resource for young readers wanting to learn about the world." (Catalogue)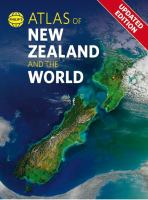 Philip's atlas of New Zealand and the world
"Finally we're included on the maps!  This updated edition of the bestselling Atlas contains: 16 pages of fully revised maps and statistical information; statistical information presented in a clear and accessible graphical format; a page dedicated to the islands of the South-West Pacific; separate New Zealand and Pacific index for easy access, latest world mapping; 200 country flags." (Adapted from Catalogue)
Atlas of everything : maps that help you make sense of the world
"Navigate the world like never before. Featuring over 50 maps of the world – one on every page – this unique atlas includes facts and figures on almost everything you'd want to know. From Nobel Prize winners and popular names, to endangered species and active volcanoes, the combination of maps and infographics makes this the perfect book for children to find out information in a quick and easy way, and remember it. Includes information on the origins of humans, ancient civilisations, the fashion industry, music around the world, film, sport, art and design, politics, the natural world, architecture, animal migration, oceans, natural disasters and space, to name just a few topics in this fact-filled book." (Catalogue)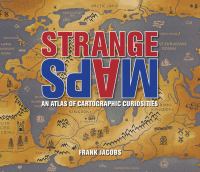 Strange maps : an atlas of cartographic curiosities / Jacobs, Frank
"An intriguing collection of more than 100 out-of-the-ordinary maps, blending art, history and pop culture to create a unique atlas of humanity." (Catalogue)
New Zealand historical atlas : ko papatuanuku e takoto nei
"Surveys New Zealand history through a dazzling array of maps and graphics, covering the story of life on these islands from their origins through East Polynesian settlement, the building of pa in the Bay of Islands, the colonial era in the nineteenth century through to the present." (Catalogue)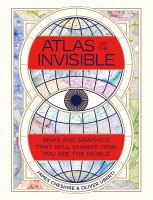 Atlas of the invisible : maps & graphics that will change how you see the world / Cheshire, James
"An unprecedented portrait of the hidden patterns in human society–visualized through the world of data.  In this triumph of visual storytelling, they uncover truths about our past, reveal who we are today, and highlight what we face in the years ahead." (Adapted from Catalogue)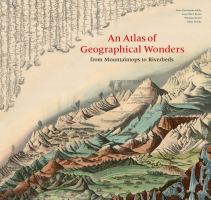 An atlas of geographical wonders : from mountaintops to riverbeds : a selection of comparative maps and tableaux / Bailly, Jean-Christophe
"This is the first book to catalog comparative maps and tableaux that visualize the heights and lengths of the world's mountains and rivers. Produced predominantly in the nineteenth century, these beautifully rendered maps emerged out of the tide of exploration and scientific developments in measuring techniques." ( Adapted from Catalogue)
These are just a selection of what we have on offer. For more atlases in our collection, click here.