Gif via Giphy.
"None of us can change the things we've done. But we can all change what we do next." – Fred Johnson
One of the most successful and acclaimed science fiction series in recent years has been The Expanse series, written jointly by Daniel Abraham and Ty Franck who collectively call themselves S. A. Corey. Both the novels and television series have been heaped with accolades. And in this month's newly acquired science fiction and fantasy we have The Leviathan Falls; the much anticipated ninth and final instalment of the series. (There are also nine short stories and novellas to accompany the series.)
The Expanse universe started life as an idea by Ty Franck for a massive multiplayer online role-playing game and then a table top role-playing game, before it morphed at Daniel Abraham's suggestion into its present fiction and television forms.
The authors are on record as saying they were inspired in some small ways by Alfred Bester's The Stars My destination, Frederik Pohl's Gateway, and Ridley Scott's Alien, though the whole series is its own unique, complex, and fabulous imagined universe which, incidentally, won the 2020 Hugo Award for Best Series. The Expanse is widely regarded as one of the finest science fiction series in recent years and comes highly recommended. ( And you can borrow both the books and the series from us; see below for details).
Also of note in this month's selection is Sinopticon: a celebration of Chinese science fiction; yet another reminder of how strong science fiction and fantasy writing is in that country at the moment.
Leviathan falls / Corey, James S. A
"The Laconian Empire has fallen, setting the thirteen hundred solar systems free from the rule of Winston Duarte. But the ancient enemy that killed the gate builders is awake, and the war against our universe has begun again. In the dead system of Adro, Elvi Okoye leads a desperate scientific mission to understand what the gate builders were and what destroyed them, even if it means compromising herself and the half-alien children who bear the weight of her investigation. " (Adapted from Catalogue) For the availability of  The expanse. Seasons one, two and three are also available.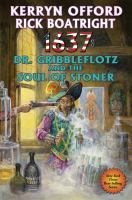 1637 : Dr. Gribbleflotz and the soul of Stoner / Offord, Kerryn
"Thomas "the Great Stoner" Stone once performed miraculous surgery upon Phillip Theophrastus Gribbleflotz, the World's Greatest Alchemist, using his bare hands, no anesthesia, producing no pain, and leaving no scar. It would have been wonderful if it was real. But Dr. Tom Stone, the face of modern medicine, has been engaging in fake treatments-bringing all modern medicine into question. Phillip, who has learned a thing or two about actual science from those uptime elopers from Grantville, West Virginia, decides to go to Padua and turn his problems into Tom Stone's problems." (Adapted from Catalogue)
This broken world / Gannon, Charles E
"Since boyhood, Druadaen expected he'd ascend to the command of an elite legion and become the leader his father predicted he would be. However, fate had something different in store. Assigned instead to a small group of outriders tasked with watching nearby kingdoms, Druadaen discovers that the world beyond his homeland is riddled with impossibilities. How do humanoid raiders, known as the Bent, suffer staggering losses and yet return as a vast horde every decade? How do multi-ton dragons fly? How have fossils formed in a world which sacrists insist has existed for only ten millennia? " (Adapted from Catalogue)
The god of lost words / Hackwith, A. J
"To save the Library of the Unwritten in Hell, former librarian Claire and her allies may have to destroy it first. Claire, the rakish Hero, the angel Rami, and the muse turned librarian Brevity have accomplished the impossible by discovering the true nature of unwritten books. But now that the secret is out, Hell will be coming for every wing of the library in its quest for power. To protect the Unwritten Wing and stave off the insidious reach of Malphas, one of Hell's most bloodthirsty generals, Claire and her friends will have to decide how much they're willing to sacrifice to keep their vulnerable corner of the afterlife. " (Adapted from Catalogue)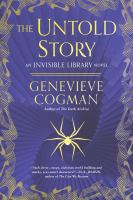 The untold story / Cogman, Genevieve
"Time-traveling Librarian spy Irene has faced unimaginable challenges across a multitude of worlds, but to keep her friends safe, Irene will have to do what has never been attempted and cut through the tangled web of power at the heart of the Library. Irene is trying to learn the truth about Alberich-and the possibility that he is her father. When the Library orders her to kill him, and then Alberich himself offers to sign a truce, she has to discover why he originally betrayed the Library. With her allies endangered and her strongest loyalties under threat, she will have to trace his past across multiple worlds and into the depths of mythology and folklore, to find the truth and uncover why the Library was first created" (Adapted from Catalogue)
You feel it just below the ribs : a novel / Cranor, Jeffrey
"Born at the end of the old world, Miriam grows up during The Great Reckoning, a sprawling, decades-long war that nearly decimates humanity and strips her of friends and family. Devastated by grief and loneliness, she emotionally exiles herself, avoiding relationships or allegiances, and throws herself into her work — disengagement that serves her when the war finally ends, and The New Society arises. To ensure a lasting peace, The New Society forbids anything that may cause tribal loyalties, including traditional families. Suddenly, everyone must live as Miriam has chosen to — disconnected and unattached…" (Adapted from Catalogue)
Constance / FitzSimmons, Matthew
"In the near future, advances in medicine and quantum computing make human cloning a reality. For the wealthy, cheating death is the ultimate luxury. For young Constance "Con" D'Arcy, who was gifted her own clone by her late aunt, it's terrifying. After a routine monthly upload of her consciousness–stored for that inevitable transition–something goes wrong. When Con wakes up in the clinic, it's eighteen months later. Her recent memories are missing. Her original, she's told, is dead. If that's true, what does that make her? The secrets of Con's disorienting new life are buried deep. So are those of how and why she died." (Adapted from Catalogue)
Sinopticon : a celebration of Chinese science fiction
"Presents a collection of the best Chinese science fiction stories from thirteen writers, translated into English for the first time. Including  Last save by Gu Shi, Tombs of the universe by Han Song,  Qiankun and Alex by Hao Jingfang, Cat's chance in hell by Nian Yu, Return of Adam by Wang Jinkang, Rendevous: 1937 by  Zhao Haihong, Heart of the museum by Tang Fei,  Great migration by Ma Boyong, Meisje met de parel by Anna Wu,  Flower of the other shore by  A Que, Absolution experiment by Bao Shu, Tide of moon city by Regina Kanyu Wang and Starship: library by Jiang Bo." (Adapted from Catalogue)