The Artist is Ruby Solly's stunning new verse novel (published by Te Herengawaka University Press), which vividly and evocatively brings to life histories of our Southern iwi through the whakapapa of its characters and the rich world they and their ancestors call their tūrakawaewae – their place to stand, their place to sing. It is heavily rooted in a spiritual place that encompasses various times and realities and has a strong mythic quality. The book also illustrates in a deep way how legends and folklore tales have a fundamental importance to us in our present time in terms of understanding both ourselves and the world around us. As a novel, it is deeply evocative – cave art leaps from walls, pounamu birds sing, legends become reality, and history becomes the present. The book also uses Ruby's own unique take on tarot within its creation and content.
Ruby Solly (Kāi Tahu, Waitaha, Kāti Māmoe) is a writer, musician and  taonga pūoro practitioner living in Pōneke. Ruby describes herself as someone who "writes things, sings things and plays things". While true, it doesn't take much work to discover that this description doesn't quite capture the scale – or indeed success – of Solly's projects, publications and accomplishments.
Ruby's first poetry collection Tōku pāpā gained rave reviews and was longlisted for the Mary and Peter Biggs Award for Poetry. Other poetic works  have been published in The Spinoff, Landfall, Sport, Ōrongohau / Best New Zealand Poems 2019 and more.
Ruby's musical achievements are equally impressive and include playing with artists such as Yo-Yo Ma, Whirimako Black, Trinity Roots and The New Zealand String Quartet. In 2020, Ruby released her fabulous debut album Pōneke. Amongst her many other musical projects, Ruby is a key member of the Tararua collective whose albumBird Like Men was released on Oro Records, again to ecstatic acclaim — it was described in Songlines Magazine as "totally mesmerising" and "truly magnificent".
As if that wasn't enough, Ruby is also  just about to complete a PhD in public health, focusing on the use of taonga pūoro in hauora Māori. So, when the opportunity to interview Ruby about The Artist and her creative practice arose, we jumped at it! We wish to extend our heartfelt thanks and appreciation to Ruby, for taking the time to answer our questions; for providing such an illuminating insight into her creative life, world and work; and also, for giving us permission to use snippets from tracks from her fabulous solo album and images of her artwork in the interview.
All music and art in this interview is used with kind permission and strictly copyrighted.
You can watch the video of our interview below or on our YouTube channel, and further below you will find links to some of Ruby's creative works we have in the library collection. Enjoy!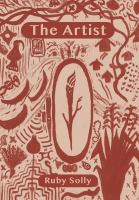 The Artist / Solly, Ruby
"At first there is nothing but black sand, then something begins to grow; a gentle song emerges so bright that sound becomes sight… And so from the black the world is sung into being, not for us, but for itself, but for the song. In a Southern land, where the veil of time and space has worn thin, twins with otherworldly ways are born to a stone carver and his wife. As they grow into themselves, the landscape and its histories will rise up to meet them and change their whānau forever. Cave art leaps from walls, pounamu birds sing, legends become reality, and history becomes the present in this verse novel by Ruby Solly (Waitaha, Kāti Māmoe, Kāi Tahu). The Artist brings to life the histories of our great Southern iwi through the whakapapa of its characters and the rich world they and their ancestors call their tūrakawaewae – their place to stand, their place to sing." (Adapted from Catalogue)
Tōku pāpā / Solly, Ruby
"Serves as a map of survival for Māori growing up outside of their papa kāika. These poems look at how we take knowledge we are given by our ancestors and hide it beneath our tongues for safekeeping. They show us how we live with our tūpuna, without ever fully understanding them. This book encompasses a journey spanning generations, teaching us how to keep the home fires burning within ourselves" (Adapted from Catalogue)
Atua wāhine : a collection of writings by wāhine Māori
"Contains the following works : Machine-generated: He Whakaaro Noa Iho: Goddesses and Grandmothers / by Jessica Maclean — Hinetītama's Unbroken Song / by Ariana Sutton — Atua Wāhine and Mana Wahine / by Ataria Sharman — Hine-nui-te-Pō / by Tayi Tibble — Hinewai / by Isla Reeves — With Teeth / by Cassie Hart — Hinepunui-o-Toka / by Ruby Solly — Hineteiwaiwa / by Stacey Teague — Hine's Moko / by Ataria Sharman — Rua Tekau Mā Waru / by Nicole Titihuia Hawkins, edited by Karlo Mila — uwha / by Miriama Gemmell — Papatūānuku / by Saskia Sassen — About the writers." (Adapted from Catalogue)
Out here : an anthology of Takatāpui and LGBTQIA+ writers from Aotearoa
"A remarkable anthology of queer New Zealand voices. We became teenagers in the nineties when New Zealand felt a lot less cool about queerness and gender felt much more rigid. We knew instinctively that hiding was the safest strategy. But how to find your community if you're hidden? Aotearoa is a land of extraordinary queer writers, many of whom have contributed to our rich literary history. But you wouldn't know it. Decades of erasure and homophobia have rendered some of our most powerful writing invisible. Out Here will change that. This landmark book brings together and celebrates queer New Zealand writers from across the gender and LGBTQIA+ spectrum with a generous selection of poetry, fiction, creative nonfiction, and much, much more." (Adapted from Catalogue)
A game of two halves : the best of Sport 2005-2019
"This book looks back through the fifteen issues of Sport from 2005 to 2019. In 600 pages it presents fiction, poetry, essays and oddities by 100 of our best writers, from leading lights like Bill Manhire, Ashleigh Young and Elizabeth Knox, to emerging glow worms like Tayi Tibble, Ruby Solly and Eamonn Marra." (Adapted from Catalogue)
Covid colab : a NZ lockdown music collaboration
"A Covid lockdown fundraising album created by some of New Zealand's finest musicians remotely during lockdown. Featuring: Borne aloft / Al Fraser, Ruby Mae Hinepunui Solly, Michelle Velvin, Milo Meldrum, Nikau Te Huki — Defy / Maz Hermon, Nikita Tu-Bryant, Johnny Lawrence, Deanne Krieg, Johnathan Nott — Glass mountain / Benjamin James, Caroline Bay, Tom Watson, Annabel Alpers, Samuel Scott — Counting down the days / Ryan Prebble, Erika Grant, Ben Lemi, Estère Dalton, Flo Wilson, Cass Basil — The phone call / Samuel Scott, Caroline Bay, Stef Animal, Anita Clark, Benjamin James — Disguise / David Randall Peters, Peter Hamilton, Ayrton Foote, Rachelle Eastwood, Letitia Mackenzie — Precipice / Brooke Singer, Anna Edgington, Ben Lemi, Deanna Krieg, Grayson Gilmour." ( Adapted from Catalogue)
Solar eclipse / Clear Path Ensemble
"DIY contemporary jazz meets electronic production from some of New Zealand's most revered musicians in the Wellington scene. (Adapted from Catalogue)