"This wallpaper is dreadful, one of us will have to go."
― Oscar Wilde
One of the many books that caught our eye in this month's recently acquired fiction titles was The Company by J. M. Varese, a book about the real-life arsenic wallpaper controversy of the late 19th century. The book is a wonderful serving of haunting and dark Victoriana gothic.
Wallpaper has been hanging around for a long time. The main historical techniques of producing it were stencilling, hand-painting, and woodblock printing and date back to well before 1700. The Renaissance period gentry took to wallpaper big time, especially as it was inexpensive compared to the alternative at the time which were tapestries. Sometimes the wallpapers of the time copied tapestry designs, and artists such as Albrecht Dürer created large wallpaper type prints for the market. It was during this time that France and England quickly emerged as the world's leading wallpaper manufactures, though Oliver Cromwell, and his Puritan government temporarily halted wallpaper production in England viewing it as " frivolous".
In the 18th century there was a big trend for scenic wallpapers which were enormous panoramic scenes. One of the most famous designers of the 19th century was William Morris and his floral arts and crafts designs, some of which are still in production to this day. The 20th century saw wallpaper becoming one of the most popular household items, with designers such as Andy Warhol creating designs for the booming market. These days there are a huge selection of designs and production techniques including custom wallpaper production and even wallpaper that blocks Wi-fi and mobile phone use.
Other books that caught our eye were David Keenan's sprawling, daring, ambitious and experimental  Monument maker, Emma Hislop's Ruin : and other stories and Her lost words : a novel of Mary Wollstonecraft and Mary Shelley by Stephanie Thornton.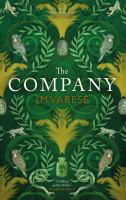 The company / Varese, J. M.
"Lucy Braithwhite lives a privileged existence as heir to the fortune of Braithwhite & Company — the most successful purveyor of English luxury wallpapers the world over. The company's formulas have been respected for nearly a century, but have always remained cloaked in mystery. No one has been able to explain the originality of design, or the brilliance of their colours, leaving many to wonder if the mysterious spell-like effect of their wallpapers is due simply to artistry, or something more sinister…" (Adapted from Catalogue)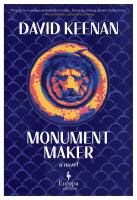 Monument maker / Keenan, David
"An epic romance set in an eternal summer, and a descent into history and the errors of the past; a novel with a sweep and range that runs from the siege of Khartoum and the conquest of Africa in the 19th century through the Second World War and up to the present day, where the memories of one summer and an unforgettable love affair unravel." (Adapted from Catalogue)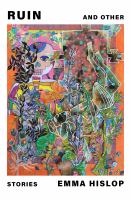 Ruin : and other stories / Hislop, Emma
"Women and girls walk a perilously thin line between ruin and redemption in these stories as they try-with varying degrees of success-to outmanouver the violence that threatens to define their lives. There's the physical violence of men against their bodies-and sometimes the violence they exact in revenge. While doubts about a romantic partner, an abandonment by a sister, the fallout of a parent's porgnography addiction, the betrayal of a friend, even the desire to touch a stranger's fur-like body are subtler aggressions that pack their own kinds of punches…" (Adapted from Catalogue)
Her lost words : a novel of Mary Wollstonecraft and Mary Shelley / Thornton, Stephanie
"As a child, Mary Wollstonecraft longed to disappear during her father's violent rages. Instead, she transforms herself into the radical author of the landmark volume A Vindication of the Rights of Woman, in which she dares to propose that women are equal to men. From conservative England to the blood-drenched streets of revolutionary France, Mary refuses to bow to society's conventions and instead supports herself with her pen until an illicit love affair challenges her every belief about romance and marriage…" (Adapted from Catalogue)

Strangers in the night : a novel of Frank Sinatra and Ava Gardner / Webb, Heather
"She was the small-town southern beauty transformed into a Hollywood love goddess. He was the legendary crooner whose voice transfixed the world. They were Ava Gardner and Frank Sinatra. Separately they were irresistible; together they were an explosive combination. Ava's star is rising just as Frank's career–and public image as a family man–is taking a hit. Gone are the days of the screaming bobbysoxers and chart-topping hits. Ava, however, finds herself gracing the front page of every tabloid in America. Jealousy and cheating abound, and when the two succumb to their temperaments and their vices, their happiness is threatened at every turn…" (Adapted from Catalogue)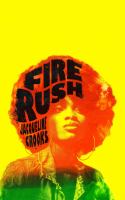 Fire rush / Crooks, Jacqueline
"Yamaye lives for the weekend, when she goes raving with her friends, the "Tombstone Estate gyals," at The Crypt, an underground dub reggae club in their industrial town on the outskirts of London. Raised by her distant father after her mother's disappearance when she was a girl, Yamaye craves the oblivion of sound – a chance to escape into the rhythms of those smoke-filled nights, to discover who she really is in the dance-hall darkness. When Yamaye meets Moose, a soulful carpenter who shares her Jamaican heritage, a path toward a different kind of future seems to open…" (Adapted from Catalogue)
The bookbinder of Jericho / Williams, Pip
"It is 1914, and as the war draws the young men of Britain away to fight, women must keep the nation running. Two of those women are Peggy and Maude, twin sisters who live on a narrowboat in Oxford and work in the bindery at the university press. Ambitious, intelligent Peggy has been told for most of her life that her job is to bind the books, not read them-but as she folds and gathers pages, her mind wanders to the opposite side of Walton Street, where the female students of Oxford's Somerville College have a whole library at their fingertips.  But as war and illness reshape her world, her love for a Belgian soldier-and the responsibility that comes with it-threaten to hold her back." (Adapted from Catalogue) Also available as an eBook
The best Japanese short stories : works by 14 modern masters : Kawabata, Akutagawa and more
"An anthology of the greatest stories by modern Japanese masters (including previously overlooked women writers). Fourteen distinct voices are assembled in this one-of-a-kind anthology tracing a nation's changing social landscapes. Internationally renowned writers like Yasunari Kawabata, Ryunosuke Akutagawa and Junichi Watanabe are joined by three notable women writers whose works have not yet received sufficient attention–Kanoko Okamoto, Fumiko Hayashi and Yumiko Kurahashi.  The Best Japanese Short Stories offers fascinating glimpses of a society embracing change while holding tenaciously onto the past…" (Adapted from Catalogue)