Are you a fan of mysteries?
The Ngaio Marsh Awards, in association with Wellington City Libraries, invites booklovers to a fun evening of criminally good conversation featuring four talented Kiwi storytellers.
Two-time Ngaio Marsh Awards finalist Charity Norman chairs a panel discussion with Wellington authors Jennifer Lane, Helen Vivienne Fletcher, and Alistair Luke on how they craft memorable characters and page-turning storylines.
WHEN: Thursday 1 June 2023
WHERE: Karori Library, 247 Karori Road, Wellington
WHEN: 6pm
This is a free event.
Charity Norman is the author of seven novels, including World Book Night title After the fall and past Ngaio Marsh Awards finalists See you in September and The secrets of strangers. Born in Uganda, Charity worked as a lawyer in northern England before immigrating to New Zealand in 2002.
Helen Vivienne Fletcher is a playwright, poet, writing teacher and children's author. She's been shortlisted for the Joy Cowley Award, and was named Outstanding Young Playwright at the Wellington Theatre Awards. Her first YA novel was a finalist for the 2018 Ngaio Marsh Awards.
Jennifer Lane is a copywriter, short story writer, and author. Her short stories have been published in journals and magazines in New Zealand and Australia. Jennifer's debut novel, All our secrets, won the 2018 Ngaio Marsh Award for Best First Novel. Her latest novel is Miracle.
Alistair Luke is a Wellington architect and debut novelist with a passion for our capital city's history. A fourth-generation Wellingtonian, his first novel One heart one spade is an historical police procedural set locally in the late 1970s. Below is a selection of titles from the authors involved available to borrow from the Library.
Please note we expect this event to be very popular and seating will be on a first come first served basis.
For further details of the Ngaio Marsh Awards visit their Facebook page here.
Facebook event click can be found here.
And don't forget to check out our second Ngaio Marsh Awards event later in the month:
Culprits in the Capital – Newtown Mystery in the Library
Friday, 9 June 2023, 6-7:30pm
Featuring Brannavan Gnanalingam, Kirsten McDougall, Rodney Strong and Anne Harre.
The secrets of strangers / Norman, Charity
"Five strangers, one cafe – and the day that everything changed. A regular weekday morning veers drastically off-course for a group of strangers whose paths cross in a London cafe – their lives never to be the same again when an apparently crazed gunman holds them hostage. But there is more to the situation than first meets the eye and as the captives grapple with their own inner demons, the line between right and wrong starts to blur. Will the secrets they keep stop them from escaping with their lives?" (Adapted from Catalogue) Also available as an eBook.
See you in September / Norman, Charity
"Having broken up with her boyfriend, Cassy accepts an invitation to stay in an idyllic farming collective. Overcome by the peace and beauty of the valley and swept up in the charisma of Justin, the community's leader, Cassy becomes convinced that she has to stay. As Cassy becomes more and more entrenched in the group's beliefs, her frantic parents fight to bring her home – before Justin's prophesied Last Day can come to pass." (Adapted from Catalogue) Also available as an eBook.
Miracle / Lane, Jennifer
"Born in the middle of Australia's biggest-ever earthquake, Miracle is fourteen when her world crumbles. Thanks to her dad's new job at Compassionate Cremations — which falls under suspicion for Boorunga's spate of sudden deaths — the entire town turns against their family. She fears for her agoraphobic mother, and for her angelic, quake-damaged brother, Julian. When Oli plays a cruel trick on Miracle, he sets off a chain of devastating events. Then her dad is arrested for a brutal attack. How can she convince the town of her dad's innocence?" ( Adapted from Catalogue)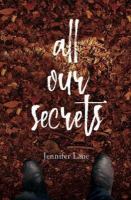 All our secrets / Lane, Jennifer
"A girl called Gracie. A small town called Coongahoola with the dark Bagooli River running through it. The River Children – born in the aftermath of the infamous River Picnic. They begin to go missing, one after another. Gracie Barrett is the naively savvy spokesperson for her chaotic family, for the kids who are taken, for the lurking fear that locks down the town and puts everyone under suspicion. Coongahoola is where hope and fear collide, where tender adolescence is confronted by death, where kindness is a glimmer of light  in the dark."(Adapted from Catalogue)
Broken silence / Fletcher, Helen Vivienne
"A stranger just put Kelseys boyfriend in a coma. The worst part? She asked him to do it. Seventeen-year-old Kelsey is dealing with a lot an abusive boyfriend, a gravely ill mother, an absent father, and a confusing new love interest. After her boyfriend attacks her in public, a stranger on the end of the phone line offers to help. Kelsey pays little attention to his words, but the caller is deadly serious. Suddenly the people Kelsey loves are in danger, and only Kelsey knows it. Will Kelsey discover the identity of the caller before its too late?" (Adapted from Catalogue)
One heart one spade / Luke, Alistair
"Wellington, December 1977. Felicity Daniels is missing, and a murdered drug dealer has complicated things for Detective Lucas Cole. Around him the Criminal Investigation Branch starts to unravel. As the questions surface, Cole starts to wonder if one of their own is responsible. New bonds form, and old ones wilt under the pressure. Facts become fictions and fictions become facts, the most trusted becoming the most likely. With his own relationship on the rocks, Lucas is led down a path he might regret as he negotiates the personal and the professional to find both Felicity and his own soul. One Heart, One Spade is a compelling crime story about family, love and loss in 1970s New Zealand." (Adapted from Catalogue)