Saturday 13th May, 11am
Karori Library   
The Wellington Writers Walk is 21 years old this year, and to celebrate this auspicious occasion we are holding a very special event with two of New Zealand's most celebrated authors: Elizabeth Knox and Dame Fiona Kidman. Along with author, broadcaster and Writers Walk committee member Tanya Ashcroft, they will talk about the creation, history and future of this wonderful Wellington institution and the part they've played in making the walk the much-loved success it is.
For anyone unfamiliar, this walk along Wellington's beautiful, famed waterfront pedestrian precinct is considered by many as "one of the world's loveliest urban land-and-seascapes". It consists of sculptural quotations situated in picturesque locations from the writings of a selection of iconic New Zealand authors – both past and contemporary. The walk celebrates and commemorates the place of Wellington in these writers' lives, and their place in the life of Wellington.
Writers featured include: Katherine Mansfield, Robin Hyde, Pat Lawlor, Denis Glover, James K. Baxter, Bruce Mason, Lauris Edmond, Maurice Gee, Patricia Grace, Vincent O'Sullivan, Barbara Anderson, Alistair Te Ariki Campbell, Eileen Duggan, Bill Manhire and our very special guests Dame Fiona Kidman and Elizabeth Knox.
Please note we expect this event to be very popular and seating will be on a first come first served basis.
An NZ Sign Language Interpreter will be present at this event.
The Wellington Writers Walk is a project of the Wellington Branch of the New Zealand Society of Authors Te Puni Kaituhi o Aotearoa (PEN NZ) Inc.
Below is a very small selection of Elizabeth Knox and Fiona Kidman titles available to borrow.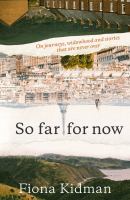 So far, for now : on journeys, widowhood and stories that are never over / Kidman, Fiona
"Evocative, wry and thought-provoking, this is a rewarding journey with one of our finest writers. It is a little over a decade since Fiona Kidman wrote her last volume of memoir. But her story did not end on its last page; instead her life since has been busier than ever, filled with significant changes, new writing and fascinating journeys. From being a grandmother to becoming a widow, from the suitcase-existence of book festivals to researching the lives and deaths of Jean Batten and Albert Black, she has found herself in new territory and viewed the familiar with fresh eyes. " (Adapted from Catalogue) Also available as an eBook.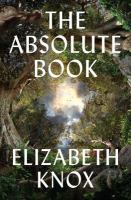 The absolute book / Knox, Elizabeth
"Taryn Cornick believes that the past is behind her – her sister's death by violence, and her own ill-conceived revenge. She has chosen to live a life more professional than personal. She has written a book about the things that threaten libraries – insects, damp, light, fire, carelessness and uncaring. The book is a success, but not all of the attention it brings her is good. There are questions about a fire in the library at Princes Gate, her grandparents' house, and about an ancient scroll box known as the Firestarter. A policeman, Jacob Berger, has questions about a cold case. There are threatening phone calls. And a shadowy young man named Shift appears, bringing his shadows with him. Taryn, Jacob, Shift – three people are driven towards a reckoning felt in more than one world." (Adapted from Catalogue)

This mortal boy / Kidman, Fiona
"Albert Black, known as the 'jukebox killer', was only twenty when he was convicted of murdering another young man in a fight at a milk bar in Auckland on 26 July 1955. His crime fuelled growing moral panic about teenagers, and he was to hang less than five months later, the second-to-last person to be executed in New Zealand. But what really happened? Was this a love crime, was it a sign of juvenile delinquency? Or was this dark episode in our recent history more about our society's reaction to outsiders." (Adapted from Catalogue) Also available as an eBook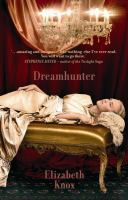 Dreamhunter / Knox, Elizabeth
"Fast-paced and dazzlingly imaginative, Dreamhunter will draw the reader into an extraordinary fictional world in which dreams are as vividly described as the cream cakes in the tea shop, the sand on the beach or teenage first love.Set in 1906, Dreamhunter describes a world very similar to ours, except for a special place, known simply as The Place, where only a select group of people can go. These people are called Dreamhunters and they harvest dreams which are then transmitted to the general public for the purposes of entertainment, therapy – or terror and political coercion.Fifteen-year-old cousins Laura Hame and Rose Tiebold both come from famous dreamhunting families, but only Laura proves to be blessed with the gift and once inside The Place she finds out what happened to her missing dreamhunter father and reveals how the government has used dreams to control an ever-growing population of convicts and political dissenters." (Adapted from Catalogue)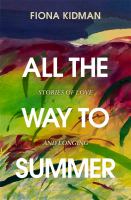 All the way to summer : stories of love and longing / Kidman, Fiona
"Fiona Kidman's early stories about New Zealand women's experiences scandalised readers with their vivid depictions of the heartbreaks and joys of desire, illicit liaisons and unconventional love. Her writing made her a feminist icon in the early 1980s, and she has since continued to tell the realities of women's lives, her books resonating with many readers over the years and across the world. To mark her 80th birthday, this volume brings together a variety of her previously published stories as well as several that are new or previously uncollected; all moving, insightful and written with love. The final stories trace her own history of love, a memoir of significant people from childhood and beyond." (Adapted from Catalogue)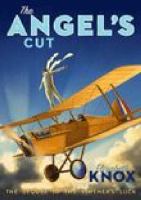 The angel's cut / Knox, Elizabeth
" Boomtown Los Angeles, 1929: Into a world of movie lots and speakeasies comes Xas, stunt flier and wingless angel, still nursing his broken heart, and determined only to go on living in the air. But there are forces that will keep him on the ground. Forces like Conrad Cole, movie director and aircraft designer, a glory-seeking king of the grand splash who is also a man sinking into his own sovereign darkness. And Flora McLeod, film editor and maimed former actress, who sees something in Xas that no one has ever seen before, not even God, who made him, or Lucifer, the general he once followed – Lucifer, who has lost Xas once, but won't let that be the end of it. " (Adapted from Catalogue) Also available as an eBook. 

The infinite air / Kidman, Fiona
"Jean Batten became an international icon in the 1930s. A brave, beautiful woman, she made a number of heroic solo flights across the world. The newspapers couldn't get enough of her; and yet she suddenly slipped out of view, disappearing to the Caribbean with her mother and dying in obscurity in Majorca, buried in a pauper's grave." (Adapted from Catalogue) Also available as an eBook.
The vintner's luck / Knox, Elizabeth
"One summer night in 1808, Sobran Jodeau sets out to drown his love sorrows in his family's vineyard when he stumbles on an angel. Once he gets over his shock, Sobran decides that Xas, the male angel, is his guardian sent to counsel him on everything from marriage to wine production. But Xas turns out to be a far more mysterious character. Compelling and erotic, The Vintner's Luck explores a decidedly unorthodox love story as Sobran eventually comes to love and be loved by both Xas and the young Countess de Valday, his friend and employer at the neighboring chateau." (Adapted from Catalogue) Also available as an Audiobook.