Whether you're looking for small steps to brighten up a tired, well-loved home, or to start from scratch with a total home overhaul, these new interior design books have your home inspiration covered. Dip your toe into the world of Maximalism with More Is More Is More, and experiment with layering: colours, textures, styles and patterns to create a true 'wow factor' home. Or unleash your inner artist with Making Murals, a DIY guide to creating unique wall art that will stand out and set your home apart — bland white walls be gone!
If low-maintenance, cosy interiors are more your style then check out Love Your Home Again and A Home to Share. Both books are filled with family-friendly, practical tips for injecting warmth and spirit into your home without sacrificing on design, function or liveability. 
And for some serious notes of inspiration, take a dreamy tour around Australia's most stunning country abodes in Country Homes in Australia, compiled by the highly popular Country Style magazine. You'll find sleepy cottages with quaint period details, restored farmsteads with a new lease on life, and renovated retreats that were once destined for demolition. Dive into our new interior design books for all of your home improvement needs!
Love your home again : organize your space and uncover the home of your dreams / Lightfoot, Ann
"When people first move into their homes, they have clear ideas about what they want from every room. Then time passes and clutter happens, the home they dreamt of is far from the reality. In 'Love Your Home Again', mother-daughter organizing duo teach readers how to manage their homes in a way that is modern, kind, effective, and fair through their signature systems of decluttering, organizing, and maintaining. (Adapted from Catalogue)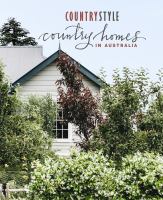 Country homes in Australia
"Regional Australia is as beautiful as it is diverse, and so are the houses and people that live there. Peek into the most gorgeous homes around the country, from charm-filled cottages and family farmhouses to lovingly restored Queenslanders and homesteads. A collection of the stand-out homes of the past three years featured in the iconic Country Style magazine." (Adapted from Catalogue)
A home to share : design that welcomes family & friends from the creator of My 100 year old home / Saeta, Leslie
"A Home to Share is all about the spirit of welcome. A guide to giving new life to underused spaces, and to bringing cozy, truly livable decor to every room of the house. Friends and family are Leslie Saeta's true north, so she has also woven in plenty of signature entertaining ideas for hosting relaxed gatherings large and small." (Adapted from Catalogue)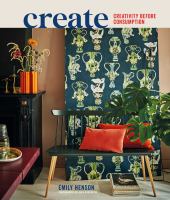 Create : inspiring homes that value creativity before consumption / Henson, Emily
"Creativity before consumption is about reinvention and sustainability for the sake of the planet, but also for the pure joy and satisfaction of creating a home that is truly unique. Using her experience as a stylist and set designer,  Emily shows how to create homes that meet our needs yet have style, dash and personality aplenty without relying on yet more disposable 'stuff' for the next generation to deal with." (Adapted from Catalogue)
Creative style : liveable, loveable spaces / McGraw, Lizzie
"When designing a space, one should thoroughly understand the lives of its inhabitants. The creative process is fun and adventurous, though it takes patience, imagination and self-awareness to transform your home into your sanctuary. In 'Creative Style', the basics–textiles, furniture, and accessories– are featured in new and exciting ways to create inspiring interiors projects that celebrate creativity." (Adapted from Catalogue)
Stephen Sills : a vision for design / Sills, Stephen
"Stephen Sills is a true icon and recognized as a unique artistic voice in the design world. Renowned for his ability not only to design innovative and beautiful rooms but also to establish a pervasive atmosphere of luxury and calm. This book is an in-depth look at several of Sills's most recent projects as well as Sills's own residences.  It will serve as an invaluable resource for all design lovers and students." (Adapted from Catalogue)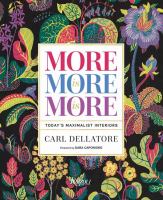 More is more is more : today's maximalist interiors / Dellatore, Carl J.
"Jewel-like colour, glorious pattern, enchanting lacquered ceilings and geometric floors. Although Maximalism has always had a place in interior design today it is bigger than ever. Thanks to its contemporary practitioners, rooms rich with color, pattern, and everything else have exploded onto the design scene. Celebrate the best of this work with vivid inspiration and ideas on color, pattern, surfaces, elements, and layering." (Adapted from Catalogue)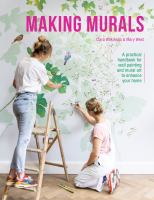 Making murals : a practical handbook for wall painting and mural art to enhance your home / Wilkinson, Clara
"Liven up your home! Mural artists share their techniques for wall art and mural painting, including different methods for scaling up technical painting styles and detailed advice on how to prepare walls and surfaces. There are step-by-step tutorials as well as 10 magnificent murals for you to follow – designs for hallways, bathrooms, bedrooms and more, in a wide range of styles to start 'unsaming' your walls." (Adapted from Catalogue)