The library is now open (for Wellington Pride 2023).
We know that reading is fundamental for many Wellingtonians, and so this Pride season we're highlighting two gems from our LGBTQIA+ eBook collection, both publications from Aotearoa!
From Saturday the 4th to Saturday the 18th of March, we will be offering unlimited free downloads of anthology collections Out Here : An Anthology of Takatapui and LGBTQIA+ Writers from Aotearoa and 30 Queer Lives : Conversations with LGBTQIA+ New Zealanders. Both eBooks are available through Libby, and are free to borrow with your Wellington City Libraries card.
Our celebrations don't stop there! Make sure to check out the events we're running for Pride, including: Pōneke Poets: Open Mic (Out in the City), Karori Rainbow Youth Night, Johnsonville Rainbow Youth Night and Youth Movie Night for Pride!. As an extra treat, we've also included a video from our YouTube channel featuring New Zealand Poet Laureate (and co-editor of Out here), Chris Tse!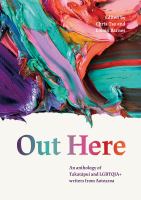 Out here : an anthology of takatapui and LGBTQIA+ writers from Aotearoa
"A remarkable anthology of queer New Zealand voices. We became teenagers in the nineties when New Zealand felt a lot less cool about queerness and gender felt much more rigid. We knew instinctively that hiding was the safest strategy. But how to find your community if you're hidden? Aotearoa is a land of extraordinary queer writers, many of whom have contributed to our rich literary history. But you wouldn't know it. Decades of erasure and homophobia have rendered some of our most powerful writing invisible. Out Here will change that. This landmark book brings together and celebrates queer New Zealand writers from across the gender and LGBTQIA+ spectrum with a generous selection of poetry, fiction, creative nonfiction, and much, much more. (Adapted from catalogue)"
30 queer lives : conversations with LGBTQIA+ / McEvoy, Matt
"Soldiers, politicians, Olympians, doctors, musicians, academics, businesspeople, farmers, writers and fa'afafine . . . the thirty LGBTQIA+ New Zealanders in this book are remarkable individuals. They each speak with candour and honesty about their challenges and successes, and together they show how LGBTQIA+ people strengthen the rich culture of Aotearoa. From the famous — Grant Robertson, Gareth Farr, Chlöe Swarbrick — to the less well known, these stories encourage empathy and understanding, challenge stereotypes, and offer courage and hope." (Catalogue)