Sarah L. Taggart is a queer, Canadian writer living in Petone who has just released her first novel, Pacifique.
The book is about a woman named Tia who, after five wonderful days with her new lover Pacifique, wakes up in an ambulance with a collarbone broken from a bike accident — and no trace of Pacifique. Unable to convince anyone that Pacifique exists, Tia winds up in a psychiatric ward, forced to face the possibility that Pacifique may not be real.
In addition to writing a brilliant first novel, Sarah is also completing a PhD at the Institute of Modern Letters on Janet Frame and the burgeoning field of "mad studies". Sarah's writing has been featured in many journals and her short stories have won prizes back in Canada.
When Sarah approached us about the possibility of an interview about the book and the themes it explores we jumped at it!
We wish to extend our heartfelt thanks and appreciation to Sarah for taking the time to answer our questions, and for providing such an illuminating insight into her world and work.
This interview was done by Customer Services Librarian Tessa Bowler.
You can watch the video below, or on our YouTube channel. Borrow Pacifique today, we've included a catalogue link below.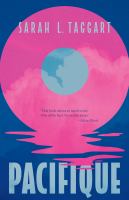 Pacifique / Taggart, Sarah L.
"When Tia meets Pacifique, it's a once-in-a-lifetime love. They spend five wild days and nights together, and then Tia wakes up in an ambulance with a collarbone broken in a bike accident– and no trace of Pacifique. Unable to convince anyone that Pacifique exists, Tia winds up in a psychiatric ward, forced to face the possibility that this perfect lover may be a figment of her imagination. While there, Tia meets Andrew, a contemplative man with schizophrenia, who falls in love with Tia. He, too, tells her to forget Pacifique. Who to believe? The medical establishment and her fellow patients? Or her frail human memory? And if Pacifique truly is a figment, is life in the "real world" with Andrew enough? (LAMBDA LITERARY OCTOBER'S MOST ANTICIPATED LGBTQIA+ LITERATURE ) " (Adapted from Catalogue)