Here in Wellington we're far away from Waitangi where the official Waitangi Day commemorations happen every year. But did you know that we're lucky enough to be able to visit the Treaty itself locally at the He Tohu exhibition at the National Library?
He Tohu is a permanent exhibition of three Aotearoa New Zealand constitutional documents, and preserves these powerful taonga for future generations. The three documents are:
He Whakaputanga o te Rangatiratanga o Nu Tireni (1835)
Declaration of Independence of the United Tribes of New Zealand
Te Tiriti o Waitangi (1840)
Treaty of Waitangi
The Women's Suffrage Petition (1893)
Te Petihana Whakamana Pōti Wahine
On Waitangi Day this year you can visit the National Library for a 30-minute guided tour exploring this multi-award winning exhibition. Tours begin on the hour and half hour between 10am and 4pm, and there's much more happening besides.
As part of the commemorations, our own He Matapihi Library (housed on-site at the National Library), will be open for the day for browsing, and will have two arts and crafts sessions open for children and their families:
Weaving: 10:30-11:15am
DIY Māori Treasure Box: 1:30-2:15 pm
Please note: He Matapihi will be the only Wellington City Libraries branch open on Waitangi Day — all other branches will be closed for the public holiday.
The National Library have a full day of activities planned so there will be lots more to see and do, including:
Arts and crafts activities for the whole whānau
Historical footage of Waitangi Day commemorations curated by Ngā Taonga Sound and Vision
Te reo Māori pronounciation and waiata workshops
View an installation of four giant banners featuring Treaty signatories, including local rangatira Te Wharepōuri
Waitangi Day 2023 at the National Library
Don't forget you can find more information about Waitangi Day events happening across the city on the Wellington City Council website.
Browse our collection below: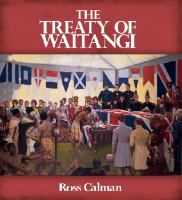 The Treaty of Waitangi / Calman, Ross
"The best basic introduction to the Treaty of Waitangi, New Zealand's founding document; it summarizes the history of the Treaty and race relations in New Zealand/ Aotearoa How well do any of us know what the Treaty document means? In this easy-to-follow book, Ross Calman looks at what New Zealand was like before the Treaty and how this important document has effected the way we live now." (Catalogue)
The Treaty of Waitangi / Orange, Claudia
"Today the Treaty has come to signify what both joins and divides the people of this country. It had different meanings also to those present at the 1840 signing -the new arrivals and the tangatawhenuathen occupying the land. To the British, it was the means by which they gained sovereignty over the country; for Maori, it represented something closer to partnership. That these distinct meanings were conveyed in texts written in different languages only added to the complexities now woven around this crucial agreement.Claudia Orange's remarkable history was first published in 1987. " (Catalogue)
Treaty of Waitangi : questions and answers
" Covering many historical and contemporary issues, it is for people who want to gain a basic knowledge about the Treaty of Waitangi and its implications, as well as for those who want to refresh and update their understanding. It includes a summary of legislation and events since 1840 which have breached the Treaty, and a comprehensive reading list for further information. " (Catalogue)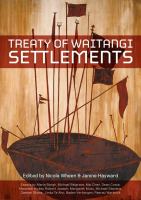 Treaty of Waitangi settlements
"The settlement of iwi claims under the Treaty of Waitangi has been a prominent feature of New Zealand's political landscape over the last thirty years. In this timely book, leading scholars offer the first analysis of the economic and social impact of the settlement process." (Catalogue)
Te Tiriti o Waitangi / Morris, Toby
"Ground-breaking full-colour graphic novel about Te Tiriti o Waitangi | The Treaty of Waitangi. Accessible, engaging, image-rich design. Dual-language flip book with Maori and Pakeha authors Ross Calman and Mark Derby. Text in te reo Maori version developed by Maori Language Commission-registered translator Piripi Walker. Reviewed by some of Aotearoas foremost Te Tiriti o Waitangi experts to reflect current scholarship. Includes a link to both versions of the treaty translated into thirty other languages and New Zealand Sign Language." (Catalogue)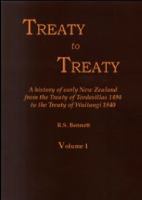 Treaty to Treaty : a history of early New Zealand from the Treaty of Tordesillas 1494 to the Treaty of Waitangi 1840 / Bennett, R. S.
"This book is a large & detailed history of early NZ and includes events elsewhere in the world that have had an effect on this country. The size of this project and the author's wish to bring to the fore interesting and important material not covered in other historical work has necessitated the production of three volumes rather than the one as originally intended. Volume One contains essays on background topics." (Catalogue)