For a fix of the latest contemporary New Zealand art, look no further than the Print Council of Aotearoa New Zealand's recently released book Proof: Two Decades of Printmaking. We recently had the privilege of hosting the Wellington book launch at Karori Library, and visited the studios of local artists Basia Smolnicki, Kirsty White and Carrie Carey in the lead-up to the event. You can take a sneak peek into their printmaking processes by watching their recorded interviews on our YouTube channel. The book is a visual delight that celebrates 20 years of homegrown printmaking. This stunning complication displays the vast array of talented artists practicing and living right here on our shores.
Over across the pond, Tracey Emin, one of Britian's preeminent living artists, continues to leave an indelible mark on the contemporary art scene. Her creative output has ranged from controversial bedsheets to neon-light exposés, that often polarise audiences and critics alike. Emin's works exhibit scathingly raw and honest reflections in both visual and text form, on deeply personal issues such as sexuality and ageing, and in more recent years her battle overcoming cancer. Pick up a copy of Tracey Emin: Art into Life to read a selection of essays on Emin's significant contributions to not only the British art scene, but also the global contemporary art world. 
Dive hundreds of years back into art history with Making a Masterpiece and Botticelli's Secret, to discover the age-old tales and modern revelations behind the worlds most infamous artworks. These newly released books uncover the often scandalous lives of the artists who epitomised the Renaissance, and created the artworks that are cemented into the history books.
Proof: Two Decades of Printmaking
"A superb showcase of some of the best examples of contemporary fine art printmaking in Aotearoa New Zealand today. With 180 works by 127 artists, Proof covers a huge breadth of printmaking processes and display the incredible diversity of this artform, from traditional woodcuts and etchings to those pushing the boundaries of print. This is the first book on fine art printmaking ever to be published in New Zealand." (Adapted from Catalogue)
Tracey Emin : art into life
"Tracey Emin has undergone an extraordinary metamorphosis from a young, unknown artist into the 'bad girl' of the Young British Art (YBA) movement, challenging the complacency of the art establishment in both her work and her life. Today she is arguably the doyenne of the British art scene and attracts more acclaim than controversy. In Tracey Emin: Art Into Life, writers from a range of art historical, artistic and curatorial perspectives examine how Emin's art, life and celebrity status have become inextricably intertwined." (Adapted from Catalogue)
Making a masterpiece : the stories behind iconic artworks / Mancoff, Debra N.
"There are many great works of art, but what makes a genuine masterpiece? Find the answers in this captivating book, which looks at the fascinating stories behind the world's most famous artworks — the ones that can truly claim that label. Each work reveals that making a masterpiece involves much more than just artistic skill: their paths to fame are filled with stories of theft, scandal, artistic reputation, politics and power." (Adapted from Catalogue)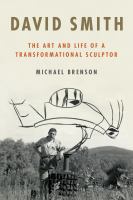 David Smith : the art and life of a transformational sculptor / Brenson, Michael
"The landmark biography of the inscrutable and brilliant David Smith, the greatest American sculptor of the twentieth century." (Adapted from Catalogue)
Botticelli's secret : the lost drawings and the rediscovery of the Renaissance / Luzzi, Joseph
"Some 500 years ago, Sandro Botticelli, a painter of humble origin, created works of unearthly beauty. A combination of artistic detective story and rich intellectual history, Botticelli's Secret shows not only how the Renaissance came to life, but also how Botticelli's art helped bring it about-and, most important, why we need the Renaissance and all that it stands for today." (Adapted from Catalogue)
Art is life : icons and iconoclasts, visionaries and vigilantes, and flashes of hope in the night / Saltz, Jerry
"Sotheby's Institute of Art has called him, simply, "the art critic", now, in Art Is Life, Jerry Saltz draws on two decades of work to offer a real-time survey of contemporary art as a barometer of our times. Art Is Life offers Saltz's eye-opening appraisals of trailblazers like Kara Walker, Hilma af Klint, Jasper Johns, Richard Prince, Marina Abramović and Willem de Kooning. The result is an openhearted and irresistibly readable appraisal by one of our most important cultural observers." (Adapted from Catalogue)
Dance vision : dance through the eyes of today's artists / Teal, Joshua
"Dance Vision showcases a kaleidoscope of contemporary artwork–from photography and sculpture to illustration and design–by world-renowned artists who find inspiration in dance. For some, the movement of bodies in space is a gateway into the human experience of beauty. For others, dance has become a way to engage with individuals and communities that exist beyond our singular experiences." (Adapted from Catalogue)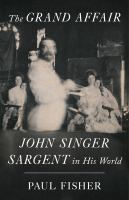 The grand affair : John Singer Sargent in his world / Fisher, Paul
"A bold new biography of the abiding enigma that is John Singer Sargent, the American expatriate painter. This book details the unruly emotions and furtive desires of Singer Sargent, that drove his innovative and groundbreaking paintings." (Adapted from Catalogue)