Statler: Well, it was good.
Waldorf: Ah, it was very bad.
Statler: Well, it was average.
Waldorf: Ah, it was in the middle there.
Statler: Ah, it wasn't that great.
Waldorf: I kind of liked it."
-'The Muppet Show'.
I'm Mark, the Music & Film Specialist at Wellington City Libraries (I also run the Libraries' Wellington Music Facebook page). Every month my colleague Neil and I cast our eye over the new material we have been buying for the Music collection at our CBD Te Awe library. We pick out some interesting titles across a range of music genres, and try to limit our reviews to a few lines only. Can we encapsulate an entire album in just a couple of lines? [Ed. This is probably unlikely at this point]. Do we actually know anything about new music? Or, are we just too old to understand what most of this is banging on about? Read on to find out…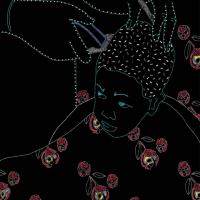 Back home / Big Joanie
Mark: Big Joanie are a UK post-punk trio, and 'Back Home' is their debut for the Kill Rock Stars label, following 2018's Sistahs, which inspired Sonic Youth's Thurston Moore to set up a whole new label, Daydream Library Series, in order to release it. Following the success of their debut they went on to support bands like Sleater-Kinney, Parquet Courts, IDLES, Bikini Kill and more, and this added experience has perhaps led to a shift of their riot grrrl/60s Girl group harmonies into a larger musical aesthetic. This is a super catchy album, full of great harmonies, surf-rock & pop stylings, that takes the 2000's Kill Rock sound & the 90s indie pop of (white) bands like Throwing Muses & Belly, and reshapes it to reflect a black feminist perspective. Really good, and perhaps one that should have also made our Best of 2022 podcast.
Neil: UK trio Big Joanie carves out a serious Black feminist message in their lyrics whilst using an infectious mix of 60's girl group harmonics and synth heavy post punk riot-grrrl sounds. The various elements are all sensitively fused with electronics and strings to bind the songs together. The fact that Big Joanie has expanded their sound and sharpened their lyrical focus gives the whole album a highly approachable sound. Highly recommended if these genres are your bag.
All the kids are super bummed out / Haines, Luke
Mark: The 2nd collaboration between the The Auteurs Luke Haines & R.E.M's Peter Buck, following on from 2020's Beat poetry for survivalists is more idiosyncratic pop. Buck's guitar gives the album a jangly-psych feel in places, while Haines pushes the British eccentricity buttons to full. Perhaps the most musically varied of R.E.M's members, Buck indulges his sonic palette without the constraints of his old bandmates, and Haines is obviously having an immense amount of fun with the lyrics, resulting in a sprawling double album that is chaotic & weird, yet always quite listeable & appealing.
Neil: The second collaboration between R.E.M's Peter Buck and the Auteurs Luke Haines boasts a whole host of guest musicians, but it is this creative duo that is at the albums heart. Buck has abandoned his trademark R.E.M sound and instead ops for a moodier, heavier, and very much psychedelic rock sound. Indeed, the whole album is very much psychedelic outing, with songs resplendent with titles like 'The British Army on LSD'. The lyrics are free form with sharp surrealist word plays. In places it reminded me of an American 60's psychedelic version of the mighty Fall.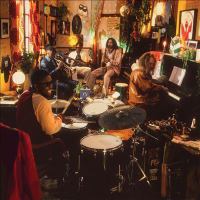 Where I'm meant to be / Ezra Collective
Mark: The 2nd album from genre-bending British jazz quartet Ezra Collective, who mix Jazz, Afrobeat, grime & R&B. A seriously funky party-band, the album embraces tradition while leaving room for the new, with guest appearances from Nao, Kojey Radical, Sampa The Great, and Emeli Sandé. Kinetic, improvisational & uplifting, the music is full of fun grooves that celebrate positivity and community for the new generation of young Jazz practitioners & their fans.
Neil: The Ezra Collective have long been a highlight feature of the London Modern Jazz music scene. 'Where I'm meant to be' is their second release, and shows a band developing and really expanding their already impressive musical vocabulary. To give you a taste of the music in play here, there are elements of UK funk, South African gqom, Salsa, cosmic devotional Jazz, and Salsa to name but a few. The Ezra Collective incorporates, rather than let these elements dominate, and the overall impression the album leaves is of a group of highly talented musicians enjoying themselves, and creating an eclectic work that radiates a joyful Jazz aura.
Palomino / First Aid Kit
Mark: The Swedish sisters return for a 5th album, and move firmly outside of the Americana aesthetic that typified their previous albums. The ghostly instrumentation & haunting intimate vocals are replaced with a wider sonic palette that embraces 70s country and soft-rock stylings, with a definite Fleetwood Mac/Dixie Chicks vibe. Working with outside songwriters for the first time, it's all a bit more radio friendly, the lyrics more positive and forward looking after the break up blues of 2018's Ruins.
Neil: 'Palomino' is Swedish folk-rockers First Aid kit's fifth album. As they have said in interviews about this album, their aim was to release a positive and fun work, which they have succeeded in doing in spades. Unsurprisingly, it is much lighter than its 2018 predecessor the break-up inspired 'Ruins'. There is still emotion and feeling in the lyrics and, although the music still falls clearly into the folk-rock genre, there are also lots of musical nods to their various and numerous musical obsessions, such as vintage rock bands like the Rolling Stones, Americana music in general and, especially noticeable in places on this release, Fleetwood Mac.
Orkos / Maha
Mark: Another great release from Habibi Funk is this obscure album from Salah Ragab's Cairo Jazz Band vocalist Maha, recorded in Cairo in 1979, and only ever released on cassette. Traditional Egyptian vocals blend with Jazz, swirling strings, and electro-funk elements to form a sultry, atmospheric sound. You can close your eyes and imagine sitting on cushions in a smoky late night club, as the music enfolds. Another lost gem rediscovered.
Neil: Another fabulous long hidden musical gem from the Arab World sees the light of day again thanks to the efforts of the Habibi Funk label. This time the music is from Cairo Jazz band vocalist Maha, though the album is a long way from Jazz. Orkos was originally recorded in 1979 for a very limited cassette release and very quickly faded into obscurity. It is once again wonderful stuff. Imagine an Egyptian disco in the late 1970's where the music being played is a wonderful mix of Egyptian vocal traditions fused seamlessly with disco, funk, and soul music.
And in the darkness, hearts aglow / Blood, Weyes
Mark: Weyes Blood (AKA vocalist, songwriter, and multi-instrumentalist Natalie Mering) follows on from Titanic Rising, with another album of super polished 70's styled folky-pop that harks back to stylism of Harry Nillson, Karen Carpenter & Laura Nyro. Her voice is very reminiscent of Aimee Mann, and indeed this sounds very much like Mann's early albums with its classicist songwriting influences, but layered with more grandeur and a big, lush, baroque, orchestral sound. There's a huge tonal sense to her music, with definite ambient & psych touches, and a sense of floating inward towards the centre of these tracks.
Neil: Lush and detailed orchestration underpins Weyes Blood's 'And in the darkness, hearts aglow'. The album is the second part of a trilogy, and this part is described as 'a dispatch from the centre of a catastrophe'. The songs contained within are secular hymns and love songs, that lyrically look both inward and outward at the same time. The emotions on display here in the lyrics are influenced by golden age of classic pop, and very much wide screen and universal in both scope, feel and scale. As such, they suit the slow build to multi-layered conclusion most of the music takes. In its own way, a very ambitious album.
The united states of the broken hearted / Nichols, Jeb Loy
Mark: Jeb Loy Nichols is an American-born singer-songwriter, now based in Wales, who incorporates elements of soul, country, & reggae into his folky musings. A long friendship with Dub-master producer Adrian Sherwood has led to some collaborations, the latest of which, his 2022 album 'The United States Of The Broken Hearted', was inspired by Gram Parsons' concept of 'American Cosmic Music'. Originally from Wyoming Nichols has a husky Americana voice, and an outsider's perspective, and in these 9 originals and three covers (including a Woodie Guthrie track) he takes stock of his homeland in a kind of 'State of the nation' concept. The breezy instrumentation and laid back campfire-vibes, hide scathing commentary and a dark melancholy, as he catalogues the hardships and injustice of modern America, with this 21st century political folk.
Neil: Alternative country folk, with a whole host of genre influences, is at the heart of Jeb Loy Nichols 15th album. The album is full of slow sentimental songs for the heart broken, delivered in an easy laid-back vocal delivery, which just emphasises the emotional bleak darkness expressed in the lyrics, as the songs succinctly explore the dark underside of America. There are some deep soul influences at play here too, and also the tiniest glimpses of dub techniques in the mastering, which isn't surprising as the work is released on the legendary On-U-sound Reggae label and produced by Adrian Sherwood – though Reggae this album is definitely not.
Voices of Bishara / Skinner, Tom
Mark: Tom Skinner is an English drummer, who plays with jazz band Sons of Kemet, but is perhaps best known now as the third member of Radiohead side-project Smile (alongside Thom Yorke and Jonny Greenwood). 'Voices of Bishara' is his first album under his own name, after releasing a couple of albums under the moniker 'Hello Skinny', and it was well received critically, making AllMusic's overall Best of 2022 list. The band includes fellow UK Jazz luminaries Nubya Garcia, and Sons of Kemet bandmate Shabaka Hutchings, and the albums throws up an atmospheric mix of free moments and structured playing, with the intriguing editing process aiding in the development of harmonic shifts and deep textures that unfold with repeated listens.
Neil: 'Voices of Bishara' is an often dense, complex, free-form alternative jazz, release propelled by the dynamic drumming of Tom Skinner. The mood of each segment changes throughout, flowing between tumultuous, exalted Jazz, to more mellow, contemplative, yet unsettling passages. It wasn't too surprising to learn that the album was recorded live then cut up and radically altered, using the William Burroughs cut-up technique, to introduce random process into the work. The result can be challenging, but yields rewards with repeated listens.