So we kick off the second part of what to keep an eye out for in 2023, starting with July. Part One covers January to June, and you can read it here.
July's scheduled novels start off with the sequel to Colson Whitehead's acclaimed heist novel Harlem Shuffle that's going to be titled Crook Manifesto; also in July we have a collection of short stories from 2022's Booker Prize winner Shehan Karunatilaka called The Birth Lottery & Other Surprises.
In August Stieg Larsson's Millennium series finds a new author to take over the mantle, in the shape of Karin Smirnoff. The new book is going to be called The Girl in the Eagle's Talons. Also, in August H is for Hawk's author Helen Macdonald is bringing out a science fiction tome about the weaponisation of nostalgia, called Prophet. And to round off August we have Nicola Upson's Shot With Crimson; a cosy crime novel set around the filming of Alfred Hitchcock's Rebecca.
In September the fabulous Zadie Smith brings out The Fraud, a historical novel set in London and Jamaica during Victorian times. And previous Booker Prize winner Anne Enright is bringing out a novel called The Wren, featuring three generations of an Irish family. There is also a new stand alone novel from Mick Herron called The Secret Hours and, to round off September, we have a tale of thwarted love by Rose Tremain called Absolutely and Forever.
October will see the release of a feminist retelling of 1984 called Julia by author Sandra Newman. Jeanette Winterson is releasing a series of haunting short stories especially for Halloween called The Night-Side of the River and finally, in October, we have Cahokia Jazz by Francis Spufford, set in the speakeasies of 1920's America.
And to round off our advanced peek into what's coming up in the fiction world of 2023 we are going to have a very special look at what is in store fiction wise from our own fair shores.
In September we  have Becky Manawatu's much anticipated sequel to the fabulous Auē  that's going to be called Kataraina. There are already  a lot of very excited readers desperate to get their hands on that title.  Also, in September we have  The Bone Tree by Airana Ngarewa; a novel about two brothers losing their parents.
There is also a wonderful batch of New Aotearoa New Zealand fiction titles in the pipeline that we don't yet have any fixed release dates for, but are due in 2023. These titles include Monty Soutar's historical novel called Tree of Nourishment which is set in pre-European Aotearoa in the 1700s.  Also, without a release date is the debut novel from Josie Shapiro called Everything Is Beautiful and Everything Hurts, about a woman athlete's attempt to hit the big time. There's also no set release dates for Sue McCauley's novel Landed, which was shortlisted for the 2021 Michael Gifkins Prize, or for How to Get Fired by Evena Belich, but they both look fabulous.
Below we have a few previous titles from some of the authors mentioned, just to whet your appetite.
Harlem shuffle / Whitehead, Colson
""Ray Carney was only slightly bent when it came to being crooked…" To his customers and neighbors on 125th street, Carney is an upstanding salesman of reasonably-priced furniture, making a life for himself and his family. He and his wife Elizabeth are expecting their second child, and if her parents on Striver's Row don't approve of him or their cramped apartment across from the subway tracks, it's still home. Few people know he descends from a line of uptown hoods and crooks, and that his façade of normalcy has more than a few cracks in it…" (Adapted from Catalogue)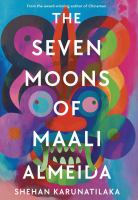 The seven moons of Maali Almeida / Karunatilaka, Shehan
"Colombo, 1990. Maali Almeida, war photographer, gambler and closet queen, has woken up dead in what seems like a celestial visa office. His dismembered body is sinking in the Beira Lake and he has no idea who killed him. At a time when scores are settled by death squads, suicide bombers and hired goons, the list of suspects is depressingly long, as the ghouls and ghosts who cluster around him can attest. But even in the afterlife, time is running out for Maali. He has seven moons to try and contact the man and woman he loves most and lead them to a hidden cache of photos that will rock Sri Lanka." (Adapted from Catalogue) Also available as an eBook.
The autograph man / Smith, Zadie
" Alex-Li Tandem sells autographs. A small blip in a huge worldwide network of desire, it is his business to hunt for names on paper, collect them, sell them, occasionally fake them, and all to give the people what they want: a little piece of Fame. THE AUTOGRAPH MAN is a deeply funny, existential tour around the hollow things of modernity – celebrity, cinema, and the ugly triumph of symbol over experience. Pushing against the tide of his generation, Alex-Li is on his way to finding enlightenment, otherwise known as some part of himself that cannot be signed, celebrated or sold." (Adapted from Catalogue)
Actress / Enright, Anne
"This is the story of Irish theatre legend Katherine O'Dell, as told by her daughter Norah. It tells of early stardom in Hollywood, of highs and lows on the stages of Dublin and London's West End. Katherine's life is a grand performance, with young Norah watching from the wings. But this romance between mother and daughter cannot survive Katherine's past, or the world's damage. As Norah uncovers her mother's secrets, she acquires a few of her own. Then, fame turns to infamy when Katherine decides to commit a bizarre crime. Actress is about a daughter's search for the truth – the dark secret in the bright star, and what drove Katherine finally mad." (Adapted from Catalogue)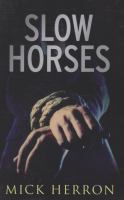 Slow horses / Herron, Mick
"You don't stop being a spook just because you're no longer in the game. Banished to Slough House from the ranks of achievers at Regent's Park for various crimes of drugs and drunkenness, lechery and failure, politics and betrayal, Jackson Lamb's misfit crew of highly trained joes don't run ops, they push paper. But not one of them joined the Intelligence Service to be a 'slow horse'. A boy is kidnapped and held hostage. His beheading is scheduled for live broadcast on the net. And whatever the instructions of the Service, the slow horses aren't going to just sit quiet and watch…" (Adapted from Catalogue)
The Colour / Tremain, Rose
" Newlyweds Joseph and Harriet Blackstone emigrate from England to New Zealand, along with Joseph's mother Lilian, in search of new beginnings and prosperity. But the harsh land near Christchurch where they settle threatens to destroy them almost before they begin. When Joseph finds gold in a creek bed, he hides the discovery from both his wife and mother, and becomes obsessed with the riches awaiting him deep in the earth. Abandoning his farm and family, he sets off alone for the new goldfields over the Southern Alps, a moral wilderness where many others, under the seductive dreams of the colour, rush to their destinies and doom." (Adapted from Catalogue)

The heavens / Newman, Sandra
"A young man, Ben, meets a young woman, Kate — and they begin to fall in love. From their first meeting, Ben knows Kate is unworldly and fanciful, so at first he isn't that concerned when she tells him about the recurring dream she's had since childhood. In the dream, she's transported to the past, where she lives a second life as Emilia, the mistress of a nobleman in Elizabethan England. But for Kate, the dream becomes increasingly real and compelling until it threatens to overwhelm her life." (Adapted from Catalogue)
Oranges are not the only fruit / Winterson, Jeanette
"Winner of the Whitbread Prize for best first fiction, Oranges Are Not the Only Fruit is a coming-out novel from Winterson, the acclaimed author of The Passion and Sexing the Cherry. The narrator, Jeanette, cuts her teeth on the knowledge that she is one of God's elect, but as this budding evangelical comes of age, and comes to terms with her preference for her own sex, the peculiar balance of her God-fearing household crumbles." (Adapted from Catalogue) Also available as an eBook.
Light perpetual / Spufford, Francis
"Lunchtime, a Saturday, 1944: the Woolworths on Bexford High Street in southeast London has a new delivery of aluminum saucepans. A crowd gathers to see the first new metal in ages – after all, everything's been melted down for the war effort. An instant later, the crowd is gone; incinerated. In it were five little children. Atomised. Who were they? What future did they lose? Running another reel, another version of time, Perpetual Light is the rest of the twentieth century as the five children's destinies were extended…" (Adapted from Catalogue) Also available as an eBook.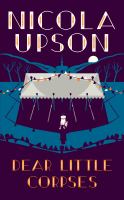 Dear little corpses / Upson, Nicola
"September 1st, 1939. As the mass evacuation takes place across Britain, thousands of children leave London for the countryside, but when a little girl vanishes without a trace, the reality of separation becomes more urgent and more deadly for those who love her.In the chaos and uncertainty of war, Josephine struggles with the prospect of change. As a cloud of suspicion falls across the small Suffolk village she has come to love, the conflict becomes personal, and events take a dark and sinister turn." (Adapted from Catalogue) Also available as an eBook.
Auē / Manawatu, Becky
"Taukiri was born into sorrow. Auē can be heard in the sound of the sea he loves and hates, and in the music he draws out of the guitar that was his father's. It spills out of the gang violence that killed his father and sent his mother into hiding, and the shame he feels about abandoning his eight-year-old brother to another violent home. But Arama is braver than he looks, and he has a friend and his friend has a dog, and the three of them together might just be strong enough to turn back the tide of sorrow. As long as there's aroha to give and stories to tell and a good supply of plasters." (Adapted from Catalogue)

: for such a time as this : a saga from the uttermost end of the earth – Aotearoa New Zealand / Soutar, Monty
" A young Māori man, compelled to learn the stories of his ancestors, returns to his family marae on the east coast of the North Island to speak to his elderly grand-uncle, the keeper of the stories. What follows is the enthralling account of the young man's tipuna, the legendary warrior Kaitanga, after whom his marae's whare puni has been named. Tracing the author's own ancestral line, Kāwai: for such a time as this, reveals a picture of an indigenous Aotearoa in the mid-18th century, through to the first encounters between Māori and Europeans. " (Adapted from Catalogue)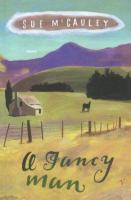 A fancy man / McCauley, Sue
"Frank and Jess had seeped into each other. Severance would leave both of them maimed. Frank is in his forties, a hard-bitten, laconic Australian stockman, left with a baby son and a stepdaughter when his partner decides it's time to move on. Jess is only fifteen, the daughter of the local schoolteacher, certain she wants a life beyond the tight little New Zealand rural town where she has grown up. This absorbing novel, wry, funny and moving, never sentimental, is about a love that transcends 'accepted' boundaries – and about others' reactions to a relationship they fail to understand. It's about unexpected criteria for happieness, about refusing to be bullied by convention." (Adapted from Catalogue)