One of this month's recently acquired crime and mystery titles is The Bingo Hall Detectives by Jonathan Whitelaw, which features the members of the Penrith Bingo Club as sleuths, and the book got us thinking about the origins of Bingo.
Bingo, or as it is sometimes called Housey Housey, has its roots in Italy in the sixteenth century where it originated from the Italian lottery, Il Gioco del Lotto d'Italia. It spread quickly and became a firm favourite of the French aristocracy. It is thought to have made it to Britain and other parts of Europe in the 18th century, the original version was even used as an educational tool in Germany.
The modern game resplendent with  rhyming 'bingo lingo' phases, like legs eleven or the current Rishi's den for number ten, came into popularity in the 1920's in carnivals and fairs in Britain.
After the British Betting and Gaming Act of 1960 allowed cash prizes into the game, it became a major entertainment in Britain, with Bingo Halls attracting huge audiences springing up all over the country. These days it is still popular, albeit on much a smaller scale, in situations such as community social groups and of course globally as an online betting phenomenon.
Our selections also see two intriguing reissues one from science fiction maestro Robert Silverberg, turning his hand to crime writing, and a crime novel published by the British Library called These names make clues by E.C.R. Lorac, which dates originally from 1938.
The icing on the cake is Blood Matters by Renée, who recently launched her novel with fellow crime writers Jennifer Lane and Anne Harré in conversation with Louise Dowdell at our Newtown Branch (you can watch a recording of that event below).
The bingo hall detectives / Whitelaw, Jonathan
"….There's a killer on the loose in the Lake District, and the members of the Penrith Bingo Club have decided they're the ones to catch the culprit… Jason Brazel is an out of work journalist who lives in Penrith with his family and mother-in-law, Amita. She knows everyone and everything that's going on in this corner of the Lakes. So when it's discovered that Madeline Forbisher, one of Amita's fellow regulars at the bingo club has died, found by the postman outside her crumbling country home close to Ullswater Lake, she senses immediately this is no accident. The trouble is, no one else seems to take her suspicions seriously. ." (Adapted from Catalogue)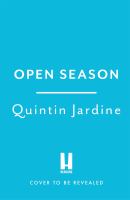 Open season / Jardine, Quintin
"Amidst a family celebration, a cataclysmic storm uncovers long-buried horrors – and a team of detectives struggle to solve a thirty-year-old double murder. The police are also searching two countries for traces of a mysterious crime novelist who appears to have vanished. Has the faking of his own death been his masterpiece? Alongside each inquiry as it evolves is former Chief Constable Sir Robert Skinner, relishing his new role as a media magnate, but drawn into reluctant action and towards a chilling discovery of his own. With evil on one hand and intrigue on the other, will Skinner escape with either his integrity or career intact . . . or is it open season on him?" (Adapted from Catalogue)
The other side of night : a novel / Hamdy, Adam
"The Other Side of Night begins with a man named David Asha writing about his biggest regret: his sudden separation from his son, Elliot. In his grief, David tells a story. Next, we step into the life of Harriet Kealty, a police officer trying to clear her name after a lapse of judgment. She discovers a curious inscription in a secondhand book–a plea: Help me, he's trying to kill me. Who wrote this note? Who is "he"? This note leads Harri to David Asha, who was last seen stepping off a cliff. Police suspect he couldn't cope after his wife's sudden death. Still, why would this man jump and leave behind his young son? Quickly, Harri's attention zeroes in on a person she knows all too well. Ben Elmys: once the love of her life. A surrogate father to Elliot Asha and trusted friend to the Ashas. Ben may also be a murderer." (Adapted from Catalogue)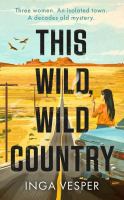 This wild, wild country / Vesper, Inga
"1933. Cornelia Stover stumbles upon a secret hidden out in the hills… 1970. Decades later, Joanna Riley, a former cop, drives west, fleeing a life she can no longer bear. Eventually she finds herself in Boldville, a sleepy desert town in the foothills of the Gila mountains. But something is off about this place. In a commune on the outskirts of town, a young man has been found dead and Joanna knows a cover up when she sees it. Soon, she and Glitter, a young, disaffected hippie, find themselves caught up in a dark mystery that leads all the way back to the unexplained disappearance of Glitter's grandmother, Cornelia, forty years before…" (Adapted from Catalogue) Also available as an eBook.
The midnight killing / Dempsey, Sharon
"She'd cycled this way hundreds of times before, every twist and turn familiar. She didn't know this would be the last. When the body of local architect James McCallum is found hanging in the grounds of his former school one cold, dark night, DI Danny Stowe and forensic psychologist Rose Lainey suspect foul play behind his apparent suicide. To their astonishment, the trail leads to a 20-year-old cold case of a missing girl, and a teenage party. But what was James' fascination with the case and how is it linked to his death? Secrets don't stay buried forever – but the real killer will stop at nothing to hide theirs… " (Adapted from Catalogue)

The hot beat / Silverberg, Robert
"A disgraced LA music star faces execution for a crime he didn't commit in the long-lost crime novel of Robert Silverberg, SFF Writers of America Grand Master, available for the first time in over 60 years. Featuring a new introduction by the author and three bonus stories from Guilty and Trapped." (Adapted from Catalogue)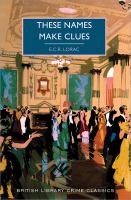 These names make clues / Lorac, E. C. R.
"Amidst the confusion of too many fake names, clues, ciphers, and convoluted alibis, Chief Inspector Macdonald and his allies in the CID must unravel a truly tangled case in this metafictional masterpiece, which returns to print for the first time since its publication in 1937. This edition includes an introduction by CWA Diamond Dagger Award-winning author Martin Edwards. "Should detectives go to parties? Was it consistent with the dignity of the Yard? The inspector tossed for it-and went." Chief Inspector Macdonald has been invited to a treasure hunt party at the house of Graham Coombe, the celebrated publisher of Murder by Mesmerism. " (Adapted from Catalogue)
Blood matters / Renée
"Puti Derrell likes running at midnight. During lockdown it was safe but now lockdown is over and Porohiwi doesn't feel safe anymore – especially when she discovers her estranged grandfather has been murdered and left with a Judas mask on his face. Puti's already got a lot on her plate. She's the new guardian of ten-year-old Bella Rose, who wants to be a private investigator when she grows up, and the new owner of a bookshop called Mainly Crime. But when there's a murder closer to home and another of the grandfather's masks seems to be at the centre of it, Puti and Bella Rose are drawn into the investigation despite themselves. They discover that in matters of blood you often don't get a choice." (Adapted from Catalogue)