"In a child's eyes, a mother is a goddess. She can be glorious or terrible, benevolent or filled with wrath, but she commands love either way. I am convinced that this is the greatest power in the universe."

 N.K. Jemisin
A warm welcome to the last selection of recently acquired Science Fiction and Fantasy titles for 2022. And in this month's selection we have three new titles from our own fair shores, including The Hand of Glodd by Gareth Ward, It Was In Our Hands by M.C. Ronen and the Year's Best Aotearoa New Zealand Science Fiction & Fantasy. V. 4. We were  recently lucky enough to interview the editor of that anthology, Emily Brill-Holland, and you can hear that interview below. The interview was done in conjunction with Caffeine and Aspirin, the arts and entertainment review show on Radioactive FM.
And in other titles, we are very excited to have the new N. K. Jemisin novel; an author we love whom the New York Times recently described as "The most celebrated Science Fiction and Fantasy writer of her generation." Her new book The World We Make is the sequel to The City We Became and takes place a few months after the events in that book, and again features a fantastical reimagined New York city. It has already featured on many of the Best of 2022 lists.
The Hand of Glodd / Ward, Gareth
" The first instalment of the Tarquin the Honest series of books. Tarquin is wizard on a quest to find a golden gauntlet, accompanied by his  reluctant gnome sidekick Luna and riding his skeleton statue Clatterbones.  Along the way he encounters a series of madcap adventures.  " ( Adapted from catalogue)
It was in our hands / Ronen, M. C.
"Sunny, a seasoned, long-time activist who fights to liberate enslaved and exploited victims, is herself an escapee from a farm where she was kept as a slave. Years of battling for total liberation did not dampen her highly developed sense of justice. But time has come to take the fight into a brand-new arena – the treacherous political one. Could the Liberation Amendment be passed into law? And if so, at what cost? The Liberation saga powerfully ends with this eventful, emotional rollercoaster. A tale of love, loss, violence, bravery, compassion and friendship." (Adapted from Catalogue)
Year's best Aotearoa New Zealand science fiction & fantasy. v. 4
"Contents : Introduction. I will teach you magic by Andi C. Buchanan,  A thorn in your side by M. Darusha Wehm, Rabbit by Samantha Lane Murphy ,  Clutch, stick, shift by Tehnuka, Plague year by Anuja Mitra,  Basil and the wild by Rem Wigmore,  Data migration by  Melanie Harding-Shaw, Domestic goddess  by Kirsteen Ure,  Below salt-heavy tides by Andi C. Buchanan,  The women who didn't win Nobels, and how world trees are not a substitute by Octavia Cade, Why we make monsters by  Rem Wigmore,  Interview with the sole refugee from the A303 Incident by James Rowland, Last Bird Island by  Nat Baker and Washing the plaid by Juliet Marillier." ( Adapted from Catalogue)
The world we make / Jemisin, N. K
"Every great city has a soul. A human avatar that embodies their city's heart and wields its magic. New York? She's got six. But all is not well in the city that never sleeps. Though Brooklyn, Manny, Bronca, Venezia, Padmini, and Neek have temporarily managed to stop the Woman in White from invading–and destroying the entire universe in the process–the mysterious capital "E" Enemy has more subtle powers at her disposal. A new candidate for mayor wielding the populist rhetoric of gentrification, xenophobia, and "law and order" may have what it takes to change the very nature of New York itself and take it down from the inside…" (Adapted from Catalogue)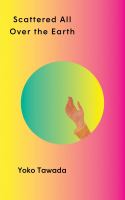 Scattered all over the earth / Tawada, Yōko
"Welcome to the not-too-distant future: Japan, having vanished from the face of the earth, is now remembered as "the land of sushi." Hiruko, its former citizen and a climate refugee herself, has a job teaching immigrant children in Denmark with her invented language Panska (Pan-Scandinavian). As she searches for anyone who can still speak her mother tongue, Hiruko soon makes new friends. Her troupe travels to France, encountering an umami cooking competition; a dead whale; an ultra-nationalist named Breivik; unrequited love; Kakuzo robots; red herrings; uranium; an Andalusian matador…" (Adapted from Catalogue)
The atlas paradox / Blake, Olivie
"The Atlas Paradox is the long-awaited sequel to Olivie Blake's New York Times bestselling dark academic sensation The Atlas Six–guaranteed to have even more yearning, backstabbing, betrayal, and chaos. Six magicians were presented with the opportunity of a lifetime. Five are now members of the Society. Two paths lay before them. All must pick a side. Alliances will be tested, hearts will be broken, and The Society of Alexandrians will be revealed for what it is: a secret society with raw, world-changing power, headed by a man whose plans to change life as we know it are already under way." (Adapted from Catalogue) Also available as an eBook.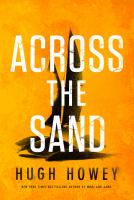 Across the sand / Howey, Hugh
"The old world is buried. A new one has been forged atop the shifting dunes, a land of howling wind and infernal sand. In this barren home, siblings Conner, Rob, Palmer and Violet daily carve out a future. They live in the shadow of their father and oldest sister, Vic, two of the greatest sand divers ever to comb the desert's depths. But these branches of their family tree are long gone, disappeared into the wastes beyond, leaving the younger siblings scratching in the dust, hopeful for a better life…" (Adapted from Catalogue)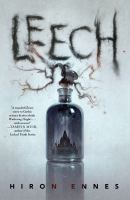 Leech / Ennes, Hiron
"In an isolated chateau, as far north as north goes, the baron's doctor has died. The doctor's replacement has a mystery to solve: discovering how the Institute lost track of one of its many bodies. For hundreds of years the Interprovincial Medical Institute has grown by taking root in young minds and shaping them into doctors, replacing every human practitioner of medicine. The Institute is here to help humanity, to cure and to cut, to cradle and protect the species from the apocalyptic horrors their ancestors unleashed. In the frozen north, the Institute's body will discover a competitor for its rung at the top of the evolutionary ladder…" (Adapted from Catalogue) Also available as an eBook.