Image by Brigitte Werner from Pixabay
"I found I could say things with color and shapes that I couldn't say any other way – things I had no words for." – Georgia O'Keeffe
It is December and time for our last selection of recently acquired crime and fiction titles for 2022. And as it's time for Christmas sales, some of the biggest names in the crime writing community have titles out, including T.V personality turned mega huge bestselling crime writing sensation Richard Osman; not to mention fabulous new titles by both Ian Rankin and Elly Griffiths, all of whom have featured heavily in many of the best of the year lists already.
And a very special mention goes Dark Deeds Down Under, a compendium of new crime stories  featuring some of Australia's and New Zealand's finest modern crime and mystery writers and compiled by no other than Ngaio Marsh Awards supremo Craig Sisterson. 
If you're looking for something very different, one title that caught our attention was Light on Bone by  Kathryn Lasky; the latest celebrity detective novel to join an ever-growing genre. This time the internationally acclaimed American painter Georgia O'Keefe does the sleuthing; the tale is set in the semi desert landscape of New Mexico – the landscape that inspired so many of her wonderful and  famous paintings.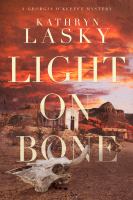 Light on bone / Lasky, Kathryn
"Kathryn Lasky has written a new adult amateur sleuth mystery set in New Mexico in the 1930s. The sleuth is Georgia O'Keefe. It begins when  she discovers the slain body of a priest in the desert. The plot includes several other murders,  an international espionage plot involving Charles Lindbergh, and lots of intricate twists and turns leading to a thoroughly unforeseen denouement. The strength of this story is how Lasky's elegant writing captures the emotional depth of this artist's turmoil and so stunningly reveals O'Keeffe's perception of the landscape that moves her to paint. " (Adapted from Catalogue)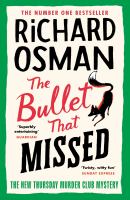 The bullet that missed / Osman, Richard
"It is an ordinary Thursday, and things should finally be returning to normal. Except trouble is never far away where the Thursday Murder Club are concerned. A decade-old cold case–their favorite kind–leads them to a local news legend and a murder with no body and no answers. Then a new foe pays Elizabeth a visit. Her mission? Kill or be killed. Suddenly the cold case has become red hot. While Elizabeth wrestles with her conscience (and a gun), Joyce, Ron, and Ibrahim chase down the clues with help from old friends and new. But can the gang solve the mystery and save Elizabeth before the murderer strikes again?" (Adapted from Catalogue) Also available as an eBook.
A heart full of headstones / Rankin, Ian
"John Rebus stands accused: on trial for a crime that could put him behind bars for the rest of his life. Although it's not the first time the legendary detective has taken the law into his own hands, it might be the last. What drove a good man to cross the line? Or have times changed, and the rules with them? Detective Inspector Siobhan Clarke faces Edinburgh's most explosive case in years, as a corrupt cop goes missing after claiming to harbour secrets that could sink the city's police force. But in this investigation, it seems all roads lead to Rebus–and Clarke's twin loyalties to the public and the police will be tested to their limit. A reckoning is coming–and John Rebus may be hearing the call for last orders…" (Adapted from Catalogue) Also available as an eBook.
Bleeding heart yard / Griffiths, Elly
"DS Cassie Fitzgerald has a secret but it's one she's deleted from her memory. In the 1990s when she was at school, she and her friends killed a fellow pupil. Thirty years later, Cassie is happily married and loves her job as a police officer. One day her husband persuades her to go to a school reunion and another ex-pupil, Garfield Rice, is found dead, supposedly from a drug overdose. As Garfield was an eminent MP and the investigation is high profile, it's headed by Cassie's new boss, DI Harbinder Kaur. The trouble is, Cassie can't shake the feeling that one of her old friends has killed again. " (Adapted from Catalogue)
Dark deeds down under
"This crime and thriller anthology, from Clan Destine Press, showcases the breadth and depth of modern Australian and New Zealand crime writing in a collection of brand-new short stories from some of our brightest storytelling talents: international bestsellers, award winners, and fresh voices. Dark Deeds Down Under features some of crime fiction's most beloved 'characters', including Garry Disher's Hirsch, Kerry Greenwood's Corinna Chapman, Vanda Symon's Sam Shephard." (Adapted from Catalogue)
The long knives / Welsh, Irvine
"Ritchie Gulliver MP is dead. Left to bleed in an empty Leith warehouse. Vicious, racist and corrupt, many thought he had it coming. But nobody could have predicted this. After the life Gulliver has led, the suspects are many: corporate rivals, political opponents, the countless groups he's offended. And the vulnerable and marginalised, who bore the brunt of his cruelty – those without a voice, without a choice, without a chance. As Detective Ray Lennox unravels the truth, and the list of brutal attacks grows, he must put his personal feelings aside. But one question refuses to go away… Who are the real victims here?"  (Adapted from Catalogue)

Marple : twelve new stories
"A brand-new collection of short stories featuring the Queen of Mystery's legendary detective Jane Marple, penned by 12 remarkable best-selling and acclaimed authors. This collection of 12 original short stories, all featuring Jane Marple, will introduce the character to a whole new generation. Each author reimagines Agatha Christie's Marple through their own unique perspective while staying true to the hallmarks of a traditional mystery … " (Adapted from Catalogue) Also available as an eBook.
The King Arthur case : a Brittany mystery / Bannalec, Jean-Luc
"The forest of Broceliande, with its picturesque lakes and castles, is the last remnant of the fairy kingdom, if Breton lore is to be believed. Innumerable legends spanning thousands of years are set here, including the tale of King Arthur and the Round Table. It seems to be an appropriate destination for Commissaire Dupin and his team to take a late summer field trip. But when the body of a historian turns up, Dupin is called upon to investigate the brutal murder case. Before too long, there are more victims…" (Adapted from Catalogue) Also available as an eBook.