Get a taste of the many facets of te ao Māori through these collections of ngā kōrero poto.
Huia short stories 14 : contemporary Māori fiction
"These stories present the best writing from the Pikihuia Awards for Māori writers 2021. The authors are a mix of new writers and known authors. The stories they tell have characters that will stay with you, descriptions that evoke strong sense of time and place, and situations that are funny, tense, sad and wistful." (Catalogue)
Black marks on the white page
"Stones move, whale bones rise out of the ground like cities, a man figures out how to raise seven daughters alone. Here are the glorious, painful, sharp, and funny 21st-century stories of Māori and Pasifika writers from all over the world. Vibrant, provocative and aesthetically exciting, these stories expand our sense of what is possible in Indigenous Oceanic writing. Witi Ihimaera and Tina Makereti present the very best new and uncollected stories and novel excerpts, creating a talanoa, a conversation, where the stories do the talking." (adapted from Catalogue)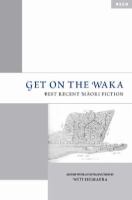 Get on the waka : best recent Māori fiction
"Get on the Waka is a fresh, energetic collection of fiction writing by Maori since 2000, selected and with an introduction by Witi Ihimaera. It showcases 17 stories and extracts from established writers, most of whom have won awards and recognition in New Zealand and overseas." (Catalogue)
Where's Waari? : a history of the Maori through the short story
A collection of short stories from authors such as Patricia Grace, Keri Hulme, Witi Ihimaera, J.C. Sturm, and more.
Pounamu Pounamu / Ihimaera, Witi
"First published in 1972, Pounamu Pounamu introduced an exciting new voice into New Zealand literature. Most of Witi Ihimaera's stories, based on the East Coast, describe a traditional rural, communal way of life facing huge pressures from the drift by many Māori to the cities. This was to be a constant theme in Ihimaera's future writing." (Catalogue)
Pūrākau : Māori myths retold by Māori writers
"Ancient Māori creation myths, portrayals of larger-than-life heroes and tales of engrossing magical beings have endured through the ages. Some hail back to Hawaiki, some are firmly grounded in New Zealand and its landscape. Through countless generations, the stories have been reshaped and passed on. This new collection presents a wide range of traditional myths that have been retold by some of our best Maori wordsmiths" (Catalogue)