Margery Kempe was a Christian mystic who lived from 1373-1438. During her life she had at least fourteen children, undertook pilgrimages across Europe and the Middle East, experienced extensive visions, and was tried multiple times for heresy (although she was never convicted). She also authored what is most likely the first ever autobiography written in English.
The Book of Margery Kempe is a unique glimpse into a woman's life during the medieval period. We have a copy you can reserve here, if you'd like to check it out. It's due to a whole lot of luck that we can even read it at all, as it was lost for centuries after the Reformation, until it was eventually found in 1934 in a cupboard on a countryside estate (during a search for some ping-pong balls no less). The man who found it joked about burning the old tome in order to clear some space, but thankfully this didn't end up happening: the book's worth was recognised and it went on to be published. 
You can find stories like this and more in Femina: A New History of the Middle Ages Through the Women Written Out of It. It's no chance, Janina Ramirez argues, that knowledge about women like Margery Kempe is so rare – rather, there has been a concerted effort to erase the many strange, wonderful women in Western history, whether that's through active removal from the historical record or simply through lack of care. But traces have survived, even if scholars have to scour the cracks for them. In Femina, Ramirez challenges our preconceptions of what life was like for women in the past, and shows us just how complex and fascinating our world can be when such histories are celebrated, not smothered.
There's more of this questioning spirit to be found in the rest of this month's picks, which cover a range of different topics from jazz and the mafia to the little games on your phone. You can read more about them all below! 
Femina : a new history of the middle ages through the women written out of it / Ramirez, Janina 
"The middle ages are seen as a bloodthirsty time of Vikings, saints and kings: a patriarchal society which oppressed and excluded women. Historian Janina Ramirez has uncovered countless influential women's names struck out of historical records, with the word FEMINA annotated beside them. Only now, through a careful examination of the artefacts, writings and possessions they left behind, are the influential and multifaceted lives of women emerging." (Adapted from Catalogue)
Dangerous rhythms : jazz and the underworld / English, T. J.
"Dangerous Rhythms tells the symbiotic story of jazz and the underworld. For the first half of the century mobsters and musicians enjoyed a mutually beneficial partnership. By offering artists a stage, the mob provided opportunities that would not otherwise have existed. Even so, at the heart of this relationship was a festering racial inequity. The musicians were mostly African American, and the clubs and means of production were owned by white men. It was a glorified plantation system that, over time, would find itself out of tune with an emerging Civil Rights movement." (Adapted from Catalogue)
Freedom to think : the long struggle to liberate our minds / Alegre, Susie
"Without a moment's pause, we share our most intimate thoughts with trillion-dollar tech companies. Their algorithms categorize us and jump to conclusions about who we are, and even shape our everyday thoughts and actions. Part history and part manifesto, Freedom to Think charts the history and importance of our most basic human right: freedom of thought. Providing a bold new framework to understand how our agency is being gradually undermined, Freedom to Think is a groundbreaking and vital charter for taking back our humanity and safeguarding our reason." (Adapted from Catalogue)
Volt rush : the winners and losers in the race to go green / Sanderson, Henry
"We depend on a handful of metals and rare earths to power our phones and computers. Increasingly, we rely on them to power our cars and our homes. Whoever controls these finite commodities will become rich beyond imagining. Sanderson journeys to meet the characters, companies, and nations scrambling for the new resources, linking remote mines in the Congo and Chile's Atacama Desert to giant Chinese battery factories, shadowy commodity traders, secretive billionaires, and a new generation of scientists attempting to solve the dilemma of a 'greener' world." (Adapted from catalogue)
Into the forest : the secret language of trees / Hitchcock, Susan Tyler
"For millennia, trees have offered renewal and inspiration. They have provided for humanity on every level, from spiritual sanctuary to the raw material for our homes, books, and food. Here, National Geographic combines legendary photography with cutting-edge science to illuminate exactly how trees influence the life of planet Earth. Beautifully illustrated essays tell the stories of the world's most remarkable trees, from Tāne Mahuta in New Zealand to Pando, a single aspen spreading over 100 acres: Earth's largest living thing." (Adapted from Catalogue)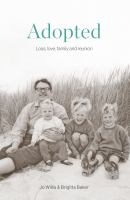 Adopted : loss, love, family and reunion / Willis, Jo
"To not know your family story is a huge loss of your sense of self. It has the potential to undermine your wellbeing and your relationships across a lifetime. Adopted is the powerful and honest account of two of the thousands of children affected by closed adoption in Aotearoa New Zealand, from 1950 to the mid 1970s. Jo Willis and Brigitta Baker both sought and found their respective birthparents at different stages of their lives and have become advocates for other adopted New Zealanders. In this compelling book, they share the complexity of that journey, the emotional challenges they faced, and the ongoing impacts of their adoptions, with candour and courage." (Adapted from Catalogue)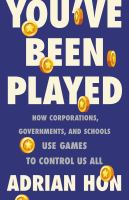 You've been played : how corporations, governments, and schools use games to control us all / Hon, Adrian
"A call-center worker patiently troubleshoots a customer's broken printer, while a cartoon character in a corner of his screen chides him for sounding too unengaged. An exhausted Uber driver needs extra cash, so she accepts a pop-up Quest on her app: drive another three trips to get a $6 bonus. These are games that we often have no choice but to play, where failure isn't met with a cheery "try again" but with very real financial and social penalties. You've Been Played is a scathing indictment of a tech-driven world that wants us to think misery is fun, and a call to arms for anyone who hopes to preserve their dignity and autonomy, at our jobs and in our lives." (Adapted from Catalogue)
American cartel : inside the battle to bring down the opioid industry / Higham, Scott
"American Cartel is an unflinching and deeply documented dive into the culpability of the drug companies behind the staggering death toll of the opioid epidemic. Its narrative approach moves dramatically between corporate boardrooms, courthouses, lobbying firms, DEA field offices and Capitol Hill while capturing the human toll of the epidemic on America's streets. American Cartel is the story of those who were on the front lines of the fight to stop the human carnage." (Adapted from Catalogue)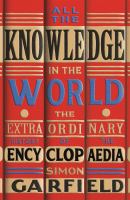 All the knowledge in the world : the extraordinary story of the encyclopaedia / Garfield, Simon
"The encyclopaedia once shaped our understanding of the world. Created by thousands of scholars and the most obsessive of editors, a good set conveyed a sense of absolute wisdom on its reader. But now these huge books gather dust, and sell for almost nothing on eBay, and we derive our information from our phones and computers, apparently for free. What have we lost in this transition? And how did we tell the progress of our lives in the past? All the Knowledge in the World is a history and celebration of those who created the most ground-breaking and remarkable publishing phenomenon of any age." (Adapted from Catalogue)