If I were not King of France, I would choose to be a citizen of Venice.
Location is of the utmost importance to many crime and thriller novels, and this month's selection is no exception. Many authors in the genre treat a novel's location almost like an extra character — think of Rebus's Edinburgh or Inspector Morse's Oxford, or even Inspector Montalbano's setting of a fictitious Sicilian town (heavily based on the author's own hometown of Porto Empedocle).
The atmospheric labyrinthine city of Venice and its canals are at the core of one such pick this month — The angels of Venice, by Philip Gwynne Jones. Jones is actually a resident of the city, and he has weaved his knowledge of its architecture, art, politics and rich history into a haunting thriller set in modern times. The background for the mystery is the devastating floods of 2019 — which flooded nearly 85% of the city, causing death and millions of euros worth of damage. It is into these real-life events that Philip Gwynne Jones places his fictional victim, a dead art historian floating in an antiquarian bookshop. Mystery and intrigue follows.
Also in this month's selection is another new translation of Seishi Yokomizo's famous crime novel Death on Gokumon Island, regarded by many as the pinnacle of his work. The novel is a locked room mystery, and is said to be loosely based on And then there were none by Agatha Christie. Also keep a look out below for two new Aotearoa / New Zealand crime novels — Surveillance by Riley Chance (set in suburban New Zealand), and One heart one spade by Alistair Luke (set in our very own Wellington). Lastly, see if you can spot a mystery novel below set in ancient Ireland circa AD 672.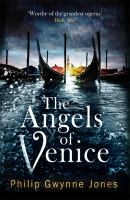 The angels of Venice / Jones, Philip Gwynne
"It's the night of 12 November 2019. The worst flooding in 50 years hits the city of Venice. And the body of Dr Jennifer Whiteread – a British art historian, specialising in the depiction of angels in Venetian painting – is found floating in a flooded antique bookshop. As the local police struggle to restore order to the city, Nathan Sutherland sets out to discover the truth behind Whiteread's death. The trail leads to the 'Markham Foundation', a charity working to preserve the ancient city. " (Adapted from Catalogue)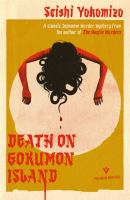 Death on Gokumon Island / Yokomizo, Seishi
" Detective Kosuke Kindaichi arrives on the remote Gokumon Island bearing tragic news–the son of one of the island's most important families has died on a troop transport ship bringing him back home after the Second World War. But Kindaichi has not come merely as a messenger–with his last words, the dying man warned that his three step-sisters' lives would now be in danger. The scruffy detective is determined to get to the bottom of this mysterious prophesy, and to protect the three women if he can. As Kindaichi attempts to unravel the island's secrets, a series of gruesome murders begins. He investigates, but soon finds himself in mortal danger ." (Adapted from Catalogue)
Surveillance / Chance, Riley
"Journalist Grace Marks, needing a story to boost her career and finances, is intrigued by a surge in minor crime in New Zealand suburbs. She discovers it's organised, but why? Her investigations lead her to Will Manilow, CEO of Erebus Optics, whose security company uses innovative technology from America. Manilow's business is booming but he's suspicious of his American owner's motives. While searching through their internal website he stumbles over a document that outlines what they are planning, and what's at stake." (Adapted from Catalogue)
One heart one spade / Luke, Alistair
"Wellington, December 1977. Felicity Daniels is missing, and a murdered drug dealer has complicated things for Detective Lucas Cole. Around him the Criminal Investigation Branch starts to unravel. As the questions surface, Cole starts to wonder if one of their own is responsible. New bonds form, and old ones wilt under the pressure. Facts become fictions and fictions become facts, the most trusted becoming the most likely. With his own relationship on the rocks, Lucas is led down a path he might regret as he negotiates the personal and the professional to find both Felicity and his own soul. One Heart, One Spade is a compelling crime story about family, love and loss in 1970s New Zealand." (Adapted from Catalogue)
Death of a heretic : a mystery of ancient Ireland / Tremayne, Peter
"Ireland. AD 672. The abbey of Muman at Imleach Iubhair is being renovated when its guest house burns to the ground. There is one fatality: Bishop Brodulf of Luxovium. Sister Fidelma is asked by Abbot Cuán to investigate the unfortunate incident and soon finds that the bishop had been stabbed to death before the fire had even started. Thrown into a world of treachery and jealousy, where religious beliefs are vehemently disputed, Fidelma and her companions, Eadulf and Enda, face a barrier of deceit…" (Adapted from Catalogue)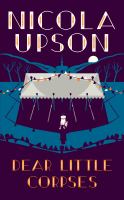 Dear little corpses / Upson, Nicola
"September, 1939. As the mass evacuation takes place across Britain, thousands of children leave London for the countryside, but when a little girl vanishes without trace, the reality of separation becomes more desperate and more deadly for those who love her. In the chaos and uncertainty of war, Josephine struggles with the prospect of change. As a cloud of suspicion falls across the small Suffolk village she has come to love, the conflict becomes personal, and events take a dark and sinister turn.." (Adapted from Catalogue) Also available as an eBook.
A botanist's guide to parties and poisons / Khavari, Kate
"Newly minted research assistant Saffron Everleigh attends a dinner party for the University College of London. While she expects to engage in conversations about the university's large expedition to the Amazon, she doesn't expect Mrs. Henry, one of the professors' wives to drop to the floor, poisoned by an unknown toxin. Dr. Maxwell, Saffron's mentor, is the main suspect, having had an explosive argument with Dr. Henry a few days prior. As evidence mounts against Dr. Maxwell and the expedition's departure draws nearer, Saffron realizes if she wants her mentor's name cleared, she'll have to do it herself. " (Adapted from Catalogue) Also available as an eBook.
The fall / Blok, Rachael
"On Good Friday, the verger of St Albans cathedral was supposed to be preparing the Easter service. Instead he discovers a man lying dead, fallen from the famous fifty-foot-high spire. Did he jump, or was he pushed? For DCI Maarten Jansen, it's a simple case of suspected suicide. Until a stranger, Willow, who witnessed the jump, prompts a deeper investigation into a long-buried past, involving a mental hospital, a pregnant woman, and fifty years of silence. As Willow's own family history entwines with the case, Jaansen starts to wonder how everything is connected." (Adapted from Catalogue)