Here is Part 2 of our new Music Picks for September. You can catch up with Part 1 here. Do we actually know anything about new music? Or, are we just too old to understand what most of this is banging on about? Read on to find out…
Happy hour / Cook, Hollie
Mark: The 4th album from UK reggae singer Hollie Cook, following 2018's Vessel of Love, is a mellow, sensual update on the 'Lovers Rock' reggae subgenre, of which she is a prime proponent. The lovely lilting vibes and melodic songs with their dreamy romantic atmosphere often hide some darker lyrics of heartbreak and isolation, amongst all the upbeat rhythms. If you like this check out the recent Soul Jazz compilation Life Between Islands: Soundsystem Culture – Black Musical Expression 1973-2006.
Neil: 'Happy hour' by Hollie Cook is an album which falls into the reggae sub sphere of Lovers' Rock. Lover's Rock is a sub-genre of reggae more delicate and poppy in touch than, say, roots Reggae, and more often concerned with matters of the heart than politics or Rasta theology. It is also a reggae outcrop where female musicians have shone brightly. This is Londoner Hollie Cook's fourth album, and in it she refines and expands on her previous work as one of the brightest exponents of the genre, and delivers an enjoyable swooningly romantic album. Reggae with a very different vibe.
Dear Scott / Head, Michael
Mark: I have to admit I had never heard of Michael Head before, but this album got almost universal acclaim from a variety of critics. A cult Liverpool musician, and the guiding force behind bands The Pale Fountains & Shack, his career has been derailed by personal problems and dependencies, but has had a late solo resurgence with 2017's Adiós Señor Pussycat, and now this follow up. He is definitely a classicist singer/songwriter in that post-Beatles style, and there's a 'Brit-Pop' vibe to a lot of this, as well as Byrdisian folk, and some LA West Coast stylings, with its jangly guitar-meets symphonic pop sound. 'Dear Scott' is a reference to F. Scott Fitzgerald, and he throws in some literary references, amongst the fractured dreams in these engaging, rambling, yet always melodic, narratives.
Neil: Liverpool troubadour Michael Head has been a notable cult figure on the music scene for nearly forty years. From time to time his profile threatens to break through but then fades back. 'Dear Scott', is his ninth album the music is influenced by the US West Coast sound of the early 70's, and there are touches of The Byrd's esp. during their country and western phase. That said, the album is very much his own. Perhaps a better clue is the album title, taken from a letter by F Scott Fitzgerald to himself about evergreen love viewed from the perspective of someone down on their luck.
Will of the people / Muse
Mark: More catchy synth-pop on Muse's 9th, a loose concept album, where people rise up against the threats to democracy and the planet that come from the ruling political structures. The big baroque Queen-esque riffs sometimes feel like they should be on a Weezer parody album, but nonetheless they manage to balance the bombastic-ness of it all, with some semi-serious commentary on the state of the world, while also being a fun listen.
Neil: 'Will of the people' is the ninth outing from the stadium straddling bemouth that is the band Muse. Over the years their albums and spectacular shows have gathered them legions of fiercely loyal and passionate fans. This latest outing can loosely be described as a concept album mainly about rebelling against a dystopian society, a theme they have explored in the past. The genres employed to get the message across vary widely, from glam rock and anthemic Queen influenced ballads, to hard rock and even 80's disco. It is almost certain to please fans, and makes for a perfect soundtrack to a huge stadium event. For this reviewer however it didn't quite gel, the stitches holding the various elements together being too obvious.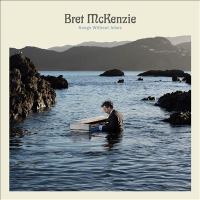 Songs without jokes / McKenzie, Bret
Mark: This album from Flight of the Conchords star Bret McKenzie has been in gestation for a while, pitched as a 'Not Funny' solo Sub Pop label debut where he reinvents himself as a 'serious' musician. But while this is a an album of of very well crafted & catchy songs that verge from country-ish rock to synthy pop, to LA singer-songwriter, and he tackles some weighty material, it's not actually entirely without humour in places. A lot of it has a wry, sardonic, take on life reminiscent of classicist songcraft from people like Randy Newman, Tom Petty or Harry Nilsson. Recorded mostly in LA, he's backed by a crack group of session musicians that breathe a warmth into these narratives.
Neil: Oscar winning Bret McKenzie is a World-famous artist who really needs no introduction. 'Songs without jokes' is a real departure for him, in that as the title states the songs contained in it are not comedic in any sense. To ditch such a key component of his previous works is brave indeed, and the result proves without any doubt that he has more than enough talent required to create an excellent genuine and serious album. He employs his unique unmistakeable vocal style to great effect, evoking a range of songwriter styles from the past such as Randy Newman, with pitch perfect backing. If there is any weakness in the album it is perhaps that he wears these influences too heavily to make the album sound truly his own.
The painter / Orbit, William
Mark: The hugely successful 90s dance-pop-electronica crossover artist & producer returns with his first album since 2014. Plenty of long tracks reach for a chill-out vibe with the help of singers like Katie Melua and longtime collaborator Beth Orton, along with a slew of others. Full of gauzy, atmospheric beats and swirling vocals it's a showcase of pleasant, ambient electro-pop. Orbit fell into some creative hard times and bad habits after his heyday, and the somewhat mixed reviews of this release perhaps reflect a disappointment that he has strictly played it safe here. There aren't any edges to this, but it's a lovingly constructed slice of comforting electro-pop.
Neil: William Orbit's descent into what he himself described as his "rock n roll excess thing" ended with him being committed to a psychiatric hospital, unable to create music for the past eight years. So, it really is fantastic to hear a new album from him. That said, the piece is more a collaborative effort, with a host of great guests such as Lido Pimienta and Katie Melua bringing their own talents to the table. The result is a kaleidoscopic album of many threads, but overarching them all is a super chilled ambient atmosphere. An album to float and luxuriate in.
Oghneya / Ferkat Al Ard
Mark: Another great album from the Habibi Funk label with this release from the legendary Lebanese singer-songwriter, guitarist and composer Issam Hajali's Ferkat Al Ard group. A cult album within the Arab music world, it's a surprising and amazing sounding meeting of Arabic jazz, folk and Brazilian Bossa Nova & Tropicalia. There are so many elements at play here it's hard to keep track of it all, with elements of Baroque Pop to Psych-Folk merging with Brazilian styles, and cinematic Jazz. Today Brazil has the largest Lebanese diaspora in the world and this music, released in the late 70s, is part of what's now seen as Beirut's cosmopolitan golden age, where musicians from all over the world came to play in Beirut nightclubs. A document of the deep links between Lebanon & Brazil, but more importantly, just great sounding music.
Neil: Regular readers of this Blog will know of our liking of the Habibi Funk record label, which specialises in reissues of long-lost musical gems from the Arab world. 'Oghneya' is another wonderful re-issue from them, a beautiful work steeped in Palestinian poetry with heartfelt melancholic songs. The music contains elements of light jazz, and even Brazilian music, lush and chilled with a sad soulful heart. Very different but also strangely familiar.
My boy / Williams, Marlon
Mark: NZ's premiere crooner is back with another mellow album of stately pop, with a new contemporary twist. After spending his lockdown absorbing some classic and modern synth pop from the likes of Duran Duran to Perfume Genius, he added some of these new influences to his previous template of country-esque Orbison/Gene Pitney crooning. Washes of bleeping synths, wozzy wurlitzers, slinky beats, nods to 80s synth pop & The Beach Boys all add different shades to his musical aesthetic. While perhaps not as much of an 'artistic' statement as his 2 previous acclaimed albums, he still digs into themes of gender and masculinity, friendship and sex, while making it all just a bit more fun and danceable.
Neil: On 'My boy' the wonderfully gifted Marlon Williams largely steps away from his country past. Instead embracing the world of 70's and 80's soft melodic pop. The songs are superbly executed and, whilst firmly in the pop world, they do have an emotional gravity about them. To summarise: sun dappled synth pop, with a good feel vibe about it and occasional moments of lovelorn wistfulness from one of New Zealand's leading musicians.
The big exercise / Homesick
Mark: The Homesick are a Dutch indie band, mixing pop and post-punk, and 'The Big Exercise' was their 2020 Sub Pop label debut, following on from 2017's Youth Hunt, which was a big success in Europe and scored them an American record deal. A mix of strong melodic vocal interplay, fused with some psychedelic elements, with Krautrock & Beach Boys/High Llamas touches. The pastoral harmonies that lead the album off soon give way to tracks that are densely layered with different elements, which have a much more avant-garde bent than you might think, given the overall indie pop feel of the album. An fun album with a lot to it that's never less than interesting to listen to, and on occasion very good. Definitely worth a listen if you appreciate the more 'cerebral' bands around at the moment like Black Country, New Road, Dry Cleaning or Squid, with their wonky time signatures and key changes.
Neil: Dutch post punk band The Homesick release their second album and their first on a major label. Again, their interest in pastoral both lyrically and aesthetically is present , but this time it really feels like the band have taken the opportunities that a major label offers, and they have really expanded their sound and musical intentions and ambitions. In short, The Big Exercise is their statement of intent. In places the music reminded me of Fleet Foxes, but with those post punk shifts in dynamic or lyrically someone like a less obtuse Van Dyke Parks.