All battles are first won or lost, in the mind.
– Joan of Arc
As always, we have a rich and diverse range of recently acquired new fiction to tempt you, including Afterlives from the winner of the 2021 Nobel Prize in Literature, Abdulrazak Gurnah. We also have fabulous new historical fiction set in New Zealand in the form of Mrs Jewell and the Wreck of the General Grant by Christina Sanders, not to mention Circus of Wonders, a lush Gothic outing from Elizabeth Macneal. However, one title caught our attention this month – Joan by Katherine J Chen.
The  Maid of  Orléans, Joan of Arc still holds a place in the popular imagination, especially in France where she is its patron saint.
Born a peasant in Northeast France, at the age of 16 she was guided by visions from the archangel Michael, Saint Margaret, and Saint Catherine to seek an audience with Charles VII of France to help save the country from English aggression. She was promptly sent to the Siege of Orléans and shortly after her arrival the English lifted the siege. Further victories followed but eventually the tide turned and, after being captured by French allies of the English, she was tried for heresy and blasphemy, including the wearing for men's clothing and acting on demonic visions, and was burnt at the stake.
Subsequently the verdict was overturned, and she was revered as a martyr and eventually made a saint. To this day, she is regarded as a symbol of freedom and independence and is held up as an early feminist icon. Throughout France and beyond, her story has inspired numerous paintings, sculptures, and music, not to mention literature.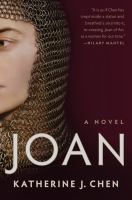 Joan : a novel / Chen, Katherine J.
"1412. France is mired in a losing war against England. Its people are starving. Its king is in hiding. From this chaos emerges a teenage girl who will turn the tide of battle and lead the French to victory, an unlikely hero whose name will echo across the centuries. In Katherine J. Chen's hands, the myth and legend of Joan of Arc is transformed into a flesh-and-blood young woman: reckless, steel-willed, and brilliant." (Adapted from Catalogue)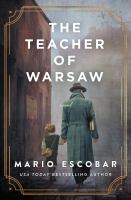 The teacher of Warsaw : a novel / Escobar, Mario
"International bestselling author Mario Escobar captures the strength of the human spirit and the enduring power of kindness in this moving novel based on the true story of a brave Polish teacher who cared for hundreds of orphans in the Warsaw Ghetto"(Adapted from Catalogue)
Mrs Jewell and the wreck of the General Grant / Sanders, Christina
"It's 1866 and the three-masted sailing ship General Grant is on the southern route from Melbourne to London, with gold from the diggings secreted in returning miners' hems and pockets. In the fog and the dark, the ship strikes the cliffs of the Auckland Islands, is sucked into a cave and wrecked. Only fourteen men make it ashore and one woman – Mrs Jewell. Stuck on a freezing and exposed island, the castaways have to work together to stay alive, but they're a disparate group with their own secrets to keep and their only officer is disabled by grief after losing his wife in the wreck. A woman is a burden they don't need. " (Adapted from Catalogue) Also available as an eBook.
The Whalebone theatre / Quinn, Joanna
"One blustery night in 1928, a whale washes up on the shores of the English Channel. By law, all whales belong to the King, but twelve-year-old Cristabel Seagrave has other plans. She and the rest of the household and their guests-her sister, Flossie ; her brother Digby, the long-awaited heir to Chilcombe manor; Maudie Kitkat, maidservant; Taras, a hot-tempered visiting artist-build a theatre within the whale's skeleton. Cristabel is an orphan, mostly ignored by her feckless step-parents and brisk governesses. But within the Whalebone Theatre, she is fully at home and in charge, and her imagination comes to life –" (Adapted from Catalogue)
Circus of wonders : a novel / Macneal, Elizabeth
"When Jasper Jupiter's Circus of Wonders pitches its tent in a poor coastal town, the life of one young girl changes forever. Sold to the ringmaster as a "leopard girl" because of the birthmarks that cover her body, Nell is utterly devastated. But as she grows close to the other performers, she finds herself enchanted by the glittering freedom of the circus, and by her own role as the Queen of the Moon and Stars. Before long, Nell's fame spreads across the world–and with it, a chance for Jasper Jupiter to grow his own name and fortune. But what happens when her fame begins to eclipse his own ? " (Adapted from Catalogue)
The dance tree / Hargrave, Kiran Millwood
"Strasbourg, 1518. In the midst of a blisteringly hot summer, a lone woman begins to dance in the city square. She dances for days without pause or rest, and as she is joined by hundreds of others, the authorities declare an emergency. Musicians will be brought in to play the Devil out of these women. Just beyond the city's limits, pregnant Lisbet lives with her mother-in-law and husband, tending the bees that are their livelihood. And then, as the dancing plague gathers momentum, Lisbet's sister-in-law Nethe returns from seven years' penance in the mountains for a crime no one will name. " (Adapted from Catalogue) Also available as an eBook.
Afterlives / Gurnah, Abdulrazak
" When he was just a boy, Ilyas was stolen from his parents on the coast of east Africa by German colonial troops. After years away, fighting against his own people, he returns home to find his parents gone and his sister, Afiya, abandoned into de facto slavery. Hamza too, is back from the war. He was not stolen but sold into service, where he became the protégé of an officer whose special interest has left him literally scarred for life. With nothing but the clothes on his back, he seeks only steady work and safety – until he meets the beautiful, undaunted Afiya. " (Adapted from Catalogue) Also available as an eBook. 
Holding her breath : a novel / Ryan, Eimear
"When Beth Crowe starts university, she is haunted by the ghost of her potential as a competitive swimmer. With her Olympic dreams shattered after a breakdown, she is suddenly free to create a fresh identity for herself outside of swimming. Striking up a friendship with her English major roommate, Beth soon finds herself among a literary crowd of people who adore the poetry of her grandfather, Benjamin Crowe, who died tragically before she was born. Beth's mother and grandmother rarely talk about what happened to Benjamin, and Beth is unsettled to find that her classmates may know more about her own family history than she does…" (Adapted from Catalogue)