Nick Bollinger is on record as saying  his life  changed at the age of five, when he heard the Beatles' recording of 'Twist and Shout'. He went on to become a bass player and a member of many bands, such as Rough Justice, Ducks, Pelicans,  and Living Daylights as well as  Wellington's iconic Windy City Strugglers.
After working as a postie and training as a teacher, Nick's musical obsession found full fruition as a record reviewer and rock journalist. Contributing to the likes of  New Zealand Listener, Mojo, Rhythms, International Arts Manager, Rip It Up, The New Zealand Herald and many other national and international publications.
Since 2001 he has presented the music review programme The Sampler for New Zealand's National Radio.
Nick was also the curator for Sound Design, Kiwi Style an exhibition of New Zealand record cover design, which toured the country from 2002 to 2004.
Nick has  written several books including  his fabulous coming of age musical memoir Goneville, How to Listen to Pop Music and 100 Essential New Zealand Albums and just released is  Jumping Sundays his wonderful  new book about  the counter culture scene in New Zealand in the 1960's and 70's. The book is a major historical work about that time that is also a thoroughly  enjoyable read.
When Nick agreed to be interviewed by us about Jumping Sunday , and the counter cultural scene in Aotearoa in the 60's and 70's, we leapt  at the opportunity. The resulting interview (which we have had to split into two parts) is wide-ranging, covering the major seismic changes in culture and society at the time at almost every level.
BLERTA perform their children's show, image copyrighted.
Hamish Horsley Collection, Sarjeant Gallery
And as such some adult themes are covered such as sex, drugs and rock n roll !
Our  heartfelt thanks to Nick for taking time out of his busy schedule and for such a fabulous, fascinating, and informative interview. Keep your eyes peeled for the second exclusive bonus content video coming soon .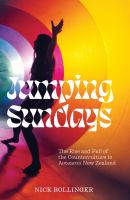 Jumping Sundays : The Rise and Fall of the Counterculture in Aotearoa New Zealand / Bollinger, Nick
"Award-winning writer Nick Bollinger's deep history of the transformation of New Zealand life wrought by the counterculture in the 1960s and '70s." (Adapted from Catalogue) Also available as an eBook.
Goneville : a memoir / Bollinger, Nick
"Goneville is at once a coming-of-age memoir and an intimate look at the evolving music scene in 1970s New Zealand. It show how this music intersected – sometimes violently – with the prevailing culture, in which real men played rugby, not rock. Nick Bollinger draws on his own experiences and also seeks out key figures and unsung heroes to reflect on the hard, often thankless and occasionally joyous life of the career musician." (Adapted from Catalogue) Also available as an eBook.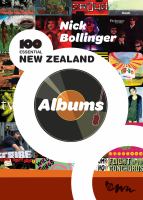 100 essential New Zealand albums / Bollinger, Nick
"Compiled by one of New Zealand's most popular music columnists, this listing will delight pop music fans everywhere. The choices included cover a broad range and present an eclectic taste. Each entry is accompanied by some of the most entertaining writing about music and musicians, ranging from personal accounts of youthful encounters with music legends as well as passionate responses to renowned albums. Guaranteed to surprise and intrigue, this reference is a must-have for all music lovers." (Adapted from Catalogue)
How to listen to pop music / Bollinger, Nick
"This comprehensive and illuminating guide explores the entire spectrum of pop music, from Beatlemania and the long-playing record to Eminem and the iPod." (Adapted from Catalogue) Also available as an eBook.