In this post Corrina, one of the librarians from our Te Awe Library, explores some of the music featuring in Saturday night's Orchestra Wellington concert at the Michael Fowler Centre, focusing on John Psathas's new concerto 'Leviathan', and Robert Schumann's 'Symphony No. 2 in C major', and exploring some of the books and recordings in our collection that may enrich our readers' responses to the music of these two remarkable composers.
John Psathas's 'Leviathan' is the second of his works for orchestra and solo percussion to be featured in Orchestra Wellington's 2022 season, following a performance of his All-Seeing Sky earlier this year.
Leviathan, which was commissioned by Tonhall Dusseldorf GmbH in 2020 as part of the Beethoven 250th Anniversary Year and the Beethoven Pastoral Project, received its world premiere in October 2021 with the Berlin Radio Symphony, soloist Alexej Gerassimez (also the dedicatee of 'Leviathan'), and conductor Markus Poschner. You can read more about the conception behind 'Leviathan' – and its connections with Beethoven's Symphony No. 6 – in Psathas's own words here. Gerassimez will be the soloist at the New Zealand premiere of Leviathan here in Wellington.
We hold a variety of recordings and scores of Psathas's works, including: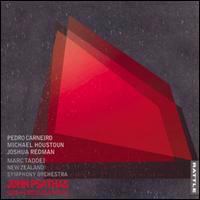 View from Olympus / Psathas, John
Three of Psathas's best-known works – Omnifenix, View from Olympus, Three Psalms – performed by outstanding soloists Joshua Redman, Lance Philips, Pedro Carneiro, and Michael Houstoun, with the New Zealand Symphony Orchestra and conductor Marc Taddei.
Gyftiko : violin / Psathas, John
This is a beautifully produced Promethean Editions score of Psathas's 2011 piece for solo violin Gyfitiko, commissioned by the Michael Hill International Violin Competition.
Sleeper : piano / Psathas, John
A minimalist yet explosive work for solo piano, Sleeper was composed for a recital by Stephen de Pledge at the 2008 New Zealand International Festival of the Arts.
Beethoven's music also has a significant presence in Schumann's Symphony No. 2 in C major. Schumann began work on his second symphony, possibly motivated by hearing a performance of another work in C major, Schubert's Symphony No. 9. Schumann's 'symphonic thoughts' began to translate themselves into musical sketches, but it took almost a year for him to complete and orchestrate the Symphony, before its premiere in Leipzig's Gewandhaus on 5 November 1846.
Berliner Philharmoniker Sir Simon Rattle / Schumann, Robert
The Symphony includes allusions to other composers, especially Beethoven and J. S. Bach. Following the quiet fanfare that opens the Symphony, Schumann writes Bach's name into the music (using the notes BACH or B-flat, A, C, B-natural). Later, in the Symphony's fourth and final movement, Schumann introduces a new – but somehow familiar melody – halfway through: a quotation of the final song in Beethoven's song cycle An die ferne Geliebte (To the distant beloved). In Beethoven's song, this music sets the words:
'Nimm sie hin denn, diese Lieder / Accept, then, these songs
Die ich dir, Geliebte, sang / I sang for you, beloved.
Such ciphers and hidden messages are a recurring feature in Schumann's music, and this was not the first time Schumann had made a musical connection with An die ferne Geliebte in one of his own pieces: his op. 17 Fantasie for solo piano also contains a fleeting reference to Beethoven's song cycle. Such subtle allusions to the music of Schumann's composer-heroes formed a fundamental role in the realisation of his aesthetic and creative ideals.
Schumann : the faces and the masks / Chernaik, Judith
This 2018 biography of Schumann by one of the leading contemporary Schumann scholars illustrates with enticing detail the links between Schumann's music and his literary interests that helped him to realise his ambition to be a 'poet of tones'. Cherniak also explores in compelling detail Schumann's relationship with Clara Wieck, the outstanding pianist who would become his wife, his interactions with other composers, and his responses to the musical events of the day. Cherniak's command of her subject and her accessible writing style make this a very readable study of Robert Schumann.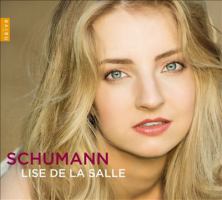 Schumann / Schumann, Robert
This 2014 recording on the Naïve label offers three works by Schumann, his Abegg Variations, op. 1, his Kinderszenen, op 15, and the Fantasie, Op. 17 that includes an illusion to Beethoven's An die ferne Geliebte. Lisa de La Salle's interpretation of these early piano pieces by Schumann offers performances that are idiomatic and idiosyncratic. In her performance, de la Salle's approach to Schumann's articulation emphasises the eccentric humour of Schumann's music in ways that other pianists have smoothed over. Reactions to this recording have differed wildly, but de La Salle illustrates the complexities of Schumann's personality and aesthetics in a thought-provoking style.
Robert Schumann : herald of a "new poetic age" / Daverio, John
Exploring Schumann's early desire to be a writer, then his quest to become a virtuoso pianist, and finally his pursuit of composition and music criticism, Daverio's study blends biography with analysis of a variety of representative musical works. In particular, Daverio offers a compelling and readable portrait of a composer and writer who sought to realise the poetic spirit of Romanticism in mid-nineteenth-century music.
The symphonies / Schumann, Robert
All four of Schumann's complete symphonies – including the 1851 version of his Symphony No. 4 – with the Chamber Orchestra of Europe and conductor Yannick Nézet-Séguin provide a lively portrait of the composer as a symphonist. The smaller forces instrumental of the Chamber Orchestra of Europe sound crisp and sprightly throughout and lend this music a clarity that may initially seem unsettling when we are more accustomed to performances by full-sized symphony orchestras. Nézet-Séguin's approach is energetic, his tempos sometimes breathlessly swift, but the orchestra's ability and artistry are more than equal to their conductor's demands in this 2012 recording.