Our good friends the Verb festival have two fabulous events coming up. On the 15th of September  Sarah
Winman will be talking about Still Life.  Still Life is one of the biggest selling novels of recent times, praised the world over for its joyous portrayal of love, art, adventure and family set in Tuscany, Florence, and London in the 1940s. It is  a one-night-only experience with Sarah Winman so why not delve into how she created such a breath-taking world.
And on the 29th of September Award-winning writer Mohamed Hassan maps the experience of being a Muslim in the twenty-first century in this stunning collection of essays, How To Be A Bad Muslim. Join Mohamed for this timely and important conversation about life, loss, Islamophobia, and hope.
"Mohamed Hassan takes the things we universally love – food, music, family, dreams of travel, a heart's desire – and affirms their gorgeous ordinariness. Then he reveals how othering shatters what we share; how it splinters "us" to create confusion, ignorance, hurt and even hate. Sometimes his writing is gently observational, sometimes sad, sometimes justly angry, but always important, timely and true."
Find full details of both events here.
How to be a bad Muslim : and other essays / Hassan, Mohamed
"This is the breakout non-fiction book from award-winning New Zealand writer Mohamed Hassan. From Cairo to Takapuna, Athens to Istanbul, How To Be A Bad Muslim maps the personal and public experience of being Muslim through essays on identity, Islamophobia, surveillance, migration and language. Traversing storytelling, memoir, journalism and humour, Hassan speaks authentically and piercingly on mental health, grief and loss, while weaving memories of an Egyptian immigrant fighting childhood bullies, listening to life-saving '90s grunge and auditioning for vaguely-ethnic roles in a certain pirate movie franchise. At once funny and chilling, elegiac and eye-opening, this is a must-read book from a powerfully talented writer." (Adapted from catalogue)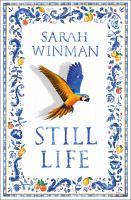 Still life / Winman, Sarah
"1944, in the ruined wine cellar of a Tuscan villa, as bombs fall around them, two strangers meet and share an extraordinary evening. Ulysses Temper is a young British soldier, Evelyn Skinner is a sexagenarian art historian and possible spy. She has come to Italy to salvage paintings from the wreckage and relive memories of the time she encountered EM Forster and had her heart stolen by an Italian maid in a particular Florentine room with a view. Evelyn's talk of truth and beauty plants a seed in Ulysses' mind that will shape the trajectory of his life – and of those who love him – for the next four decades." (Catalogue)