With the news of the passing of Queen Elizabeth II, Queen of Great Britain we thought it timely to share some of our collection for those of you who wish to read more about her long and eventful life and reign.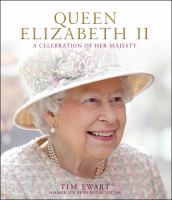 Queen Elizabeth II : a celebration of her life and reign / Ewart, Tim
"Queen Elizabeth II is the longest-reigning monarch in British history. She is the figurehead of the Commonwealth – a total of 53 countries, head of state for 16 countires, manages 1,200 members of staff and hosts on average 30,000 people a year at garden parties or investitures. Throughout her 64-year rule she has made more than 250 official visits to over 100 countries in what has been an exhauting, relentless and demanding career. Each decade has presented her with new challenges as society and perceptions of the monarchy have changed." (Catalogue)
Elizabeth : a diamond jubilee portrait / Bond, Jennie
"Constantly under scrutiny ever since she took the throne, this title presents a balanced and absorbing account of the Queen's life and of her role as the head of state in a country and a world that have changed almost beyond recognition in the 60 years since she inherited the throne." (Catalogue)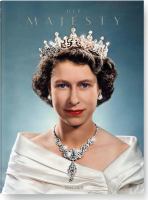 Her Majesty
"Ladies and gentlemen, meet the Queen: The extraordinary public and private life of the world's most famous monarch.  The book tells her remarkable royal story through hundreds of stunning photographs, many previously unseen and sourced from multiple archives in the United Kingdom (including the Royal Collection), Continental Europe, and the United States. These images have it all: history, politics, glamour, fashion, culture, travel, and, of course, hats. These photographs cover every aspect of her reign: the early years, coming of age during World War II, becoming a wife, Queen and mother, the Royal Tours, the palaces, the crowds, the weddings, the Royal Family, the Silver Jubilee in 1977, and the later years." (Adapted from Catalogue)
Queen Elizabeth II
"More than 80 years of the monarch's life, captured in stirring and triumphant photos. Queen Elizabeth II was crowned Queen in Westminster Abbey on June 2, 1953, at the age of 27, the 40th monarch since William the Conqueror and the great-great granddaughter of Queen Victoria. She celebrated her Silver and Golden Jubilees in 1977 and 2002 respectively, her 80th birthday in 2006, and 60 years on the throne in 2012, an achievement that equals only Queen Victoria. During Elizabeth's long reign the world has witnessed sweeping changes, not least of which was the dissolution of the British Empire. Queen Elizabeth II: Diamond Jubilee records the major events of her reign, during which she has carried out her duties with a huge program of visits in the UK as well as many foreign tours, her world travel being unprecedented by any previous monarch." (Adapted from Catalogue)
The Queen : secrets & celebrations of Her Majesty / Kerr, Gordon
"Queen Elizabeth II has seen the country through the upheavals of over half a century and, despite peaks and troughs, her popularity is greater than ever. A timely celebration of the nation's treasured monarch, whose Diamond Jubilee takes place in June, this lavishly illustrated guide takes you through the decades." (Catalogue)
Her Majesty Queen Elizabeth II : Diamond Jubilee souvenir / Bullen, Annie
"This special souvenir guide, illustrated with over 80 photographs, looks at every aspect of the life of one of our most beloved monarchs: her childhood and teenage years; her role as Heir Presumptive; her engagement and marriage to the Duke of Edinburgh and as mother to her young family; her accession and coronation.    " (Catalogue)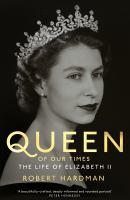 Queen of our times : the life of Elizabeth II / Hardman, Robert
"The definitive new biography of Her Majesty The Queen by one of Britain's leading royal authorities. With original insights from those who know her best, unseen papers, new interviews with world leaders and a fresh perspective on the longest reign in British history, Robert Hardman tells the full life story of the most famous woman in the world. Like her father and grandfather before her, Elizabeth II was not born to be monarch. Yet she has reigned through more change than any sovereign since 1066. From her accession as a young mother of two in 1952 to the age of Covid-19, she has become a global phenomenon commanding unrivalled respect and affection. Elizabeth II: Her Life. Her Reign. Her Story follows the astonishing journey of the quietly determined young woman who has gone on to lead her family and her people through good times and bad for longer than most people have been alive." (Adapted from Catalogue)
Elizabeth & Margaret : the intimate world of the Windsor sisters / Morton, Andrew
"They were the closest of sisters until their uncle Edward Vlll decided to abdicate the throne. Then the dynamic between Elizabeth and Margaret was dramatically altered. Forever more Margaret would have to curtsy to her sister and bow to her wishes. Margaret's struggle to find a place and position inside the royal system was often a source of tension. When the Church and government would not allow her to marry a divorcé, Group Captain Peter Townsend, Margaret had to choose between keeping her title and royal allowances or her lover. Morton explores their relationship, offering unique insight into a woman resigned to duty and responsibility, and a sister resistant to it." (Catalogue)
The last queen : Elizabeth II's seventy-year battle to save the House of Windsor / Irving, Clive
"In 2020, the Queen finally appeared to be at ease in the modern world, helped by the new generation of Windsors. But then Harry and Meghan announced that they were leaving 'The Firm', and Prince Andrew was relieved of his duties following revelations of his involvement with disgraced financier Jeffrey Epstein, inflamed by a car-crash TV interview. Suddenly, the Faustian bargain the royal family had struck with the media to ensure their survival had never seemed so close to breaking point. Here, through Clive Irving's unique insight, we look behind the facade to find a fragile institution which owes its continued existence to one extraordinarily dutiful matriarch." (Catalogue)
Young Elizabeth : the making of our queen / Williams, Kate
"We can hardly imagine a Britain without Elizabeth II on the throne. It seems to be the job she was born for. And yet, for much of her early life, the young princess did not know the role that her future would hold." (Catalogue)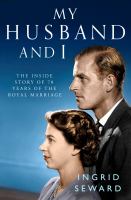 My husband and I : the inside story of the royal marriage / Seward, Ingrid
"When a young Princess Elizabeth met and fell in love with the dashing Naval Lieutenant Prince Philip of Greece and Denmark, it wasn't without its problems. The romance between the sailor prince and the young princess brought a splash of colour to a nation still in the grip of post-war austerity. When they married in Westminster Abbey in November 1947, there were 3000 guests, including six kings and seven queens. Within five years, as Queen Elizabeth II, she would ascend to the throne and later be crowned in front of millions watching through the new medium of television. Throughout her record-breaking reign, she relied on the formidable partnership she had made with her consort. Now, after 70 years of their marriage, acclaimed royal biographer Ingrid Seward sheds new light on their relationship and its impact on their family and on the nation. " (Adapted from Catalogue)
There are many more books on the topic of  Queen Elizabeth II, the British Monarchy and Royal Family available in our collection.