Here is part 3 of our new music picks for August. You can catch up with Part 1 here, and Part 2 here. Do we actually know anything about new music? Or, are we just too old to understand what most of this is banging on about? Read on to find out…
White Jesus black problems / Fantastic Negrito
Mark: When he returned to music in 2014 after a long lay-off, Fantastic Negrito described his new style as "black roots music for everyone". The multiple Grammy award winners 5th album is another swampy mix of blues, rock and R&B stylings, inspired by learning that his ancestors had a mixed race common law marriage in 1750s Virginia and that he is 27% white. While his Grammy awards were in the Blues, he has long pushed the definition of that genre with previous efforts. This album is even sonically richer, taking in Prince influenced funk, country, gospel, delta-blues and seemingly everything in between. A deeply layered musical and lyrical tribute to his two ancestors whose love prevailed in spite of the brutally repressive times they lived through, the parallels from their time that still exist today, and a glimmer of hope that love and courage can forge a new path to the future.
Neil: 'White Jesus black problems' is a heady and emotionally charged album in which Xavier Amin Dphrepaulezz, aka Fantastic Negrito, uses an investigation into his ancestry as its starting point. The tale he uncovers is troubling and dark, going back to Virginia in 1759 and the slave trade, but there's also moments of light and redemption to punctuate the darkness. Musically the album is a hybrid of several genres, primarily R&B and funky rock, and the result is an album that musically sounds old school and modern at the same time, with deep and hugely important lyrical content.
Where's the one / Congotronics International
Mark: A 'supergroup' featuring members of Konono Nº1, Kasai Allstars, Deerhoof, Juana Molina, Wildbirds & Peacedrums, and Skeletons' Matt Mehlan. Congolese guitars with psychedelic rock, and features vocals in Songye language by Kasai Allstars and in English by Mehlan. A sprawling double album of African rhythms mashed up with contemporary edges. Incendiary and intense as dissonance and harmony clash, the music is a manifestation of the collision of styles inherent in a meeting of Western experimental rockers and African musicians.
Neil: : Congotronics International are less a band and more a musical community or collective, with a revolving roster of nineteen musicians. This album is a blend of their high-octane live recordings recorded over several years, but with studio elements included in places. It is an exciting bold and brave, experimental Afrobeat album, with traditional and electronic elements fused into a rapturous infectious high energy piece. At points, the energy levels are so high there is a sense of feverish frenzy to the work. Fabulous stuff.
Neneh Cherry : the versions
Mark: A covers album featuring reworked versions of Neneh Cherry songs by an eclectic group of modern female artists including ANOHNI, Jamila Woods, Sudan Archives, Kelsey Lu, Honey Dijon, Seinabo Sey, Greentea Peng and Tyson, as well as Cherry's rendition of "Buffalo Stance" with Robyn and Mapei. Cherry is really too distinctive a songwriter and performer for this to work as universally well as say the Springsteen covers album we reviewed earlier this month, but I thought this was better than the somewhat patchy reviews implied. The general tone of the covers overall was perhaps a bit too chill and laid back for Cherry aficionados.
Neil: 'The Versions' is a ten-track album featuring a range of artists covering Neneh Cherry songs. The re-interpretations are largely done as smooth and at times vibrant pop songs, to the highest of technical and production levels. It is an interesting approach and many will really enjoy it, but for me smoothing out the edgy, rebellious, nature of the originals was a mistake and weakens the songs. To decide which side you're on, listen to this release then Neneh's 1989 album Raw like Sushi and decide which you prefer.
Te kaahu o rangi / Te Kaahu
Mark: Te Kaahu is the te reo Māori project of Em Walker, whose other musical persona is Theia, and 'Te kaahu o rangi' is a beautiful exploration of her Māori heritage. A series of lovely, lilting, acoustic based tunes that sonically hark back to the 40's and 50's. Sunny Pacific/Hawaiian vibes meld with traditional uplifting Maori waiata, and her gorgeous harmony vocals delivering positive messages of peace, love and self-care, along with hope and support to young women.
Neil: Te kaahu o rangi is a collection of te reo Māori songs that channel traditional singer-songwriter structure and melodies into a place grounded in whakapapa. It is a fresh and interesting take on alt pop. The songs cover a wide range of uplifting themes: hope and healing, peace and love. Te Kaahu's dreamy vocals are placed very much in the centre of the mix, with the musical backing perfectly supporting each songs various sentiments, while the music itself is romantic: warm, sunny with golden slightly nostalgic undertones, firmly rooted in pop.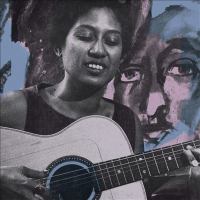 I'm the sky : studio and demo recordings, 1964-1971 / Tanega, Norma
Mark: Cultish folk singer who never quite made it to a household name, despite being hugely talented. She had a hit single "Walkin' My Cat Named Dog", was closely associated with Dusty Springfield for a number of years (and wrote a lot of material for her), but is perhaps best known now for the track "You're Dead", which became the theme song of the film & TV show What We Do in the Shadows. 'I'm the Sky' combines tracks from her 2 studio albums, an unreleased album, along with some unheard demos. Her idiosyncratic nature sets her apart from the more traditional folk artists active at that time, and these whimsical, moody, gentle tracks with simple, catchy arrangements and slightly new-agey lyrics are worthy of rediscovery.
Neil: Norma Tanega was one of those artists who was perilously close to becoming a huge star. Her record label just didn't know what to do with her, and she had a reluctance to enter and take the star making machine seriously. This compilation showcases her pioneering, experimental hippy folk singer-songwriter talents off to great advantage. Norma's songs are rich and complex in their lyrical content, if rooted a little in their time of creation (there's a hint of patchouli oil and the flower power generation around several of the tracks). For reference, if you like very early Joni Mitchell or Vashti Bunyan there is a strong possibility you would like this. Norma went on to write songs for the likes of Dusty Springfield, switched her musical focus to becoming a percussionist and had an alternative creative outlet as a painter. In a different reality we would be very familiar with her creative output already.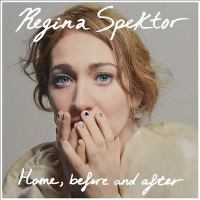 Home, before and after / Spektor, Regina
Mark: Spektor's latest album, her 8th in total and first in 6 years, shifts from the arty tendencies of her previous work to a more pop feel. The songs have an overall symphonic feel to them, shifting from soft piano backing to a lush sound reminiscent of Jon Brion era Fiona Apple. Alternating from pathos to humour, her lyrics with their sometimes funny takes on life, love and relationships, anchor the big swirling crescendos of the music, unfolding the stories within like a warm blanket to comfort you.
Neil: Regina Spektor's previous albums have a definite art punk feel to them and, whilst that is still present here on 'Home, before and after', there is definitely a more widescreen musical background to these songs. The album features sweeping string arrangements, Regina's classical training is very evident in places. A lot of her previous albums also have life, death, and love at their lyrical core, and whilst this album does also, there is a more relaxed haunting quality to the lyrics and her vocal approach. This album is perhaps her most directly approachable vocal delivery so far, and a very different release from the artist that shows a desire to change.
The alien coast / St. Paul & The Broken Bones
Mark: St. Paul and The Broken Bones are an Alabama eight-piece soul band that have been around for a while, releasing four albums and two EPs. Their latest album 'The alien coast' is full of slinky, funky propulsive soul helmed by the powerhouse vocals of lead singer Paul Janeway. This isn't just another retro-soul album, as the music shifts in too many contemporary directions for that, with experimental elements, post-funk, psychedelic and space-rock touches. 'Apocalyptic dance grooves…' sings lead singer Janeway in one of the tracks, and that's pretty much what this sounds like with its eerie, haunting tracks. Like Al Green fronting a soul band at the end of the world…
Neil: While still drawing on their musical roots and inspirations in stoner metal, psychedelia funk and especially soul music, St. Paul & The Broken Bones, the eight-piece outfit from Birmingham, Alabama, have still found their own creative evolutionary path in "The alien coast". The lyrics blur lines too, wavering between sleep and wakefulness and delivering a surrealist apocalyptic uneasy vibe. The result is an innovative, bold and exciting genre spanning soul work.
Box Set Pick:

The rock box 1973-1979 : the complete recordings / Quatro, Suzi
Mark: Once viewed as an embarrassing genre best forgotten, 'glam rock' has enjoyed a bit of a critical resurgence in the last decade or so with several dedicated box sets (Oh yes we can love: a history of glam rock, Can the glam! : 80 glambusters : rockers, shockers and teenyboppers from the 70s) and some serious music criticism dissecting its influence on fashion, theatre, film and contemporary music (Glam rock: dandies in the underworld, Shock and awe: glam rock and its legacy : from the seventies to the twenty-first century). Suzi Quatro was the 'Queen of Glam', an overlooked female trailblazer in music, until the critically acclaimed 2019 documentary Suzi Q firmly staked her place in music history. Now she is the subject of a multi-disc retrospective, 'The Rock Box', which compiles her 6 studio albums and a live album from 1973 to 1979, along with a bunch of bonus singles & B-Sides, as well as a accompanying booklet with commentaries from Suzi herself on each album. There are a lot of classic tracks here, from covers to many of her overlooked originals. She would influence everyone from Joan Jett, to Tina Weymouth (Talking Heads) to Chrissie Hynde (The Pretenders), and this box is fitting testament to that legacy.
Neil: Suzi Quatro was one of the superstars of the glam rock era, along with bands like T-Rex and Sweet. During that time she had a string of chart-topping singles like "Can the Can" and "Devil Gate Drive". However, Suzi Quatro's music is more closely akin to Hard Rock, and has strong roots in the original 1950's rock n' roll sound – a fact picked up by the producers of the American 50's nostalgia TV comedy "Happy Days" who cast her as Leather Tuscadero, a musician from that time. As well as being a 70's superstar, Quatro was a pioneering musician in the world of rock at a time when it was an almost exclusively male dominated preserve. This box set contains all her releases from, as the Pet Shop Boys would say, "her imperial phase" and includes all her biggest hits and the works she is best known for, as well as lots of other equally interesting songs. If this box set fits the bill, check out 'Suzi Q', the fabulous film that charts this trailblazing American rock singers' career.