Following the end of World War Two, French publishing house Gallimard started publishing translations of American crime novels through its Série noire imprint: including authors such as Dashiell Hammett, Raymond Chandler, James M. Cain and David Goodis. The following year, French critic Nino Frank wrote the earliest essays identifying a new departure in American film making, the 'Film Noir'- though the term itself did not come into 'official' use until the publication of Raymond Borde & Etienne Chaumeton's study 'Panarama du film noir americain' in 1955, and wasn't widely adopted in America until the 1970's. According to Borde and Chaumeton, the 'Noir' cycle officially begins with John Houston's The Maltese Falcon (1941) and ends with Robert Aldrich's Kiss Me Deadly (1955) – though the style can be traced back as far as Fritz Lang's M (1931), and forward to films like Memento (2000).
Characterised by fear, mistrust, bleakness, paranoia, fatalism, disillusionment, existential plots and confessional voiceovers, they provided a distinctly pessimistic view of post-war America. However, while the view was American, the 'feel' was distinctly European with shadowy expressionistic lighting, stark and skewered camera angles, jarring editing and deep shadows. Due to this style, the best Noirs are in Black and White – with key European directors such as Fritz Lang, Robert Siodmak, and Jacques Tourneur. Noir protagonists were typically anti-heroes: crooked cops, down and out private eyes, war veterans, petty criminals, gamblers and killers; while the women were often unloving, mysterious, duplicitous and manipulative – but always gorgeous.
While the style dropped out of favour after the late 1950's, its elements were present in several standout films of the 1960's from The Manchurian Candidate (1962) to Point Blank (1967). It made a resurgence in the 1970's, and an even stronger one in the 1990's. Films from this period on are referred to as 'Neo-Noir' and, while some are merely an affected stylism, enough original 'Noir' runs through them to satisfy purists.
The Maltese falcon
John Huston's classic adaptation of Dasheill Hammett's hard-boiled novel (using large chunks of the novels dialogue) with Bogart as Hammett's definitive private eye, the cynical Sam Spade. When Bogart's partner is murdered while tailing someone at the request of a beautiful client he sets out to find the killer, even though he was sleeping with his partners wife. His investigations drag him into a byzantine plot that sees him pitted against a sinister fat man (Sydney Greenstreet), an effete European (Peter Lorre), a doped up gunman (Elisha Cook Jr.), and his client (Mary Astor) a treacherous women whose loyalties turn on a dime – all of whom are after a mysterious black statuette in the shape of a bird, and rumoured to be encrusted with gold and jewels…
Double indemnity
Director Billy Wilder and writer Raymond Chandler adapted James M. Cain's novel into one of the best early Noirs. Smooth insurance salesman Walter Neff (Fred MacMurray) meets femme-fatale Phyllis Dietrichson (Barbara Stanwyck) when he calls to renew her husband's automobile insurance. Sparks fly and together they scheme to murder her husband and collect a large insurance payoff using the 'double indemnity' clause in his life insurance. Narrated by MacMurray to his Claims Investigator boss Barton Keyes (Edward G Robinson) in a flashback, the story is still holds tension right until the last reel, and is full of Chandler's snappy dialogue.
Laura
Darryl F Zanuck, founder of 20th Century Fox once declared that Gene Tierney was 'unquestionably the most beautiful woman in movie history', and 'Laura', based on the Vera Caspary novel, more than shows why. Dana Andrews plays a tough Homicide Detective who falls in love with the portrait of career girl/murder victim Laura Hunt (Tierney). But when Laura suddenly returns alive, he has to figure out who the dead girl is, who shot her, and more importantly, if Laura was the intended victim. Full of great lines, Otto Preminger directs this stylish murder/mystery with a great supporting cast that includes Clifton Webb as an acid-tongued journalist who was Laura's mentor, & Vincent Price as her vacuously charming playboy boyfriend. The DVD also comes with two biographies; one on the tragic life of actress Tierney, and the other on the career of Vincent Price as one of cinemas most versatile villains.
Gilda
One of the most cynical Noirs, Charles Vidor's Gilda stars Glenn Ford as Johnny Farrell, a down on his luck gambler in wartime Buenos Aires. Rescued from a fight by mysterious casino owner Ballin Mundson (George Macready), he is recruited to work in his illegal casino where he soon rises to be Mundson's 'right hand man'. All is well until Mundson goes on a business trip and returns with beautiful new bride Gilda (Rita Hayworth), a woman from Johnny's past. Unaware of their previous relationship he assigns Johnny to keep an eye on Gilda, and their mutual dislike produces some of the most scathing dialogue committed to film. Factor in the bizarre romantic triangle that ensues, the mysterious Tungsten (a rare metal) cartel Mundson heads, the Germans who want to control it, the evocative setting, and Hayworth's famous 'striptease' to 'Put the blame on Mame' and you have a classic piece of Noir.
Out of the past
Robert Mitchum is Jeff Bailey the owner of a small garage and living an idyllic life in small town California… until his past catches up with him in the form of ruthless gangster Whit Sterling (Kirk Douglas) and his girlfriend Kathie Moffat (Jane Greer). Jacques Tourneur's brilliantly realised Noir is one of the best examples of the genre. Flashbacks within flashbacks reveal Mitchum's past as Private Eye Jeff Markham hired by Douglas to retrieve his wayward girlfriend Grier, and the $40,000 of his money she ran off with. He manages to track her to Mexico, but that's just the beginning of his ensnarement with the nasty pair. Mitchum is at his laconic best as Markham, conveying the characters desperation with the most economic of gestures, and the beautiful Greer is nothing short of brilliant as the remorseless femme fatale. Tourneur's camerawork and use of light and shadow convey an inky darkness to even the most sunlit scene. The film was adapted by Daniel Mainwaring (using the pseudonym Geoffrey Homes) from his own 1946 novel 'Build My Gallows High', and is one of those instances where the film improves on the book, though that may have been due to the uncredited dialogue revisions by Frank Fenton, a B-movie writer whose best known credit was John Ford's Wings of Eagles.
Kiss me deadly
A hugely influential film years ahead of its time Robert Aldrich's Kiss me Deadly is regarded as the ultimate film noir. Private Eye Mike Hammer (Ralph Meeker) picks up a half naked girl by the side of the road, and minutes later they are forced off a cliff by the men after her. The woman is killed but Hammer survives and sets out to find her killers. The script by A.I Bezzerides reworks Mickey Spillane's novel, recasting Hammer as a ruthless egotist who isn't above pimping out his beautiful secretary Velda (Maxine Cooper), or slamming someone's fingers in a drawer to get what he wants. Tracking down the girl's killers not because he cares but because he smells something big, he becomes involved in the search for 'The Great Whatsit', a mysterious suitcase that everybody is after. Full of great cinematography, weird and surreal images, crazy camera angles, and a fantastic apocalyptic ending.
The long goodbye
Robert Altman's take on Raymond Chandler's novel was scripted by Leigh Brackett, one of the co-writers of the classic Bogart/Bacall version of Chandler's The Big Sleep in 1946. Chandler's convoluted plot is given a surreal cast that verges at times on parody, as Altman and Brackett recast Chandler's famous detective Philip Marlowe as an affectless, glib, hip, L.A habitué who lives next door to hippies who practice nude yoga, and spends a lot of time talking through a cigarette to himself or his cat. When he helps his friend Terry Lenox cross the border to Mexico he learns he may have been involved in his wife's murder, and when his friend kills himself Marlowe is arrested. The resulting publicity gets him hired by a beautiful friend of Lennox's to find her alcoholic husband (Sterling Haden), a washed up writer, and both 'cases' begin to merge into one. Gould is brilliant as Marlowe; his glib 'It's O.K with me' catchphrase seems to reflect the ultimate disinterest in everything, but the gestalt of Altman's serious 'Noir' ending recasts the character, and the movie, in an entirely different light.
Chinatown
Roman Polanski's finest film is this brooding 1930's Noir, one of the greatest Hollywood movies ever made. Jack Nicholson plays private eye Jake Gittes who is hired by Evelyn Mulwray to capture her husband's infidelity on film – only to find he has been set up and the real Evelyn Mulwray (Faye Dunaway) is someone entirely different. Robert Towne's Oscar winning screenplay remains one of the best ever written, influenced by the novels of Raymond Chandler yet far from just a copy. Based on historical figure William Mulholland (head of the Los Angeles Water Department) and the construction of a viaduct to provide Los Angeles with a steady supply of drinking water, Towne's story fictionalizes Mulholland as two characters: Hollis Mulwray who wants to give the water to the people; and Noah Cross (John Huston) Evelyn's father, a corrupt and ruthless tycoon who will do whatever it takes to control the access to the water, and the wealth it provides. Gittes investigation into who set him up entangle him with Evelyn and her father, as the story's layers are peeled away to reveal a rotten core of incest, political bribery, corruption, the true nature of evil, and one of the best (and bleakest) endings ever, that still packs a punch even after 30 years.
No way out
Roger Donaldson's remake of the 1948 noir The Big Clock sees Kevin Costner give his best performance. As naval officer Tom Farrell he is assigned to the Pentagon to work for Secretary of Defence David Brice (Gene Hackman), where he begins an affair with Susan Atwell Brice's mistress (Sean Young). But when Brice becomes suspicious she is seeing someone else he accidentally kills her during an argument. Turning to his crooked aide Pritchard (Will Paton) for help, they decide to frame her unknown lover for the crime, and to speed his capture claim he was a KGB agent who seduced Atwell to gain information on Brice. Brice puts Farrell in charge of the investigation to find himself, leading to a race against the clock where he has to expose the real killer before a Polaroid negative is developed revealing his image and framing him as a spy…
The usual suspects
Bryan Singer's 1995 film won Oscars for Christopher McQuarrie's twisted screenplay and Kevin Spacey's incredibly nuanced performance as club footed small time conman 'Verbal' Kint. Spacey, leads an ensemble cast (including Stephen Baldwin, Benicio del Toro, Gabriel Byrne, and Pete Postlethwaite), and tells his story in flashback to police detective (Chaz Palmintieri). It begins with a coincidental gathering of a group of career criminals, and leads up to them being propositioned by the lawyer of mysterious 'master criminal' Keyser Soze to hijack a shipment of cocaine from a docked ship. The flashback is interspersed with events in real time, and the complex, labyrinthine plot, keeps the twists coming up to the now famous denouncement. Arguably an exercise is style over substance, the films lasting appeal lies in the subtleties that go unnoticed on the first viewing, especially those in the performance Spacey.
L.A. confidential
While a legion of other movies lay claim to being Neo-Noir, every so often one will come along that leaves no doubt as to its credentials. Curtis Hansen directed and co-scripted this adaptation of James Ellroy's labyrinthine novel, winning an Oscar for the screenplay as did Kim Basinger for Best Supporting Actress. Bud (Russell Crowe) is on the job for revenge, Ed (Guy Pearce) is in it for the glory, and Jack (Kevin Spacey) sells scandal on the side. A bloody multiple murder at the late night 'Night Owl' café provides the central plot that draws the three men together for a twisted journey through the dark underbelly that lies beneath the surface of glitz and sunshine of 1950's Los Angeles. The trail leads to a mysterious high-class pimp (David Strathairn­), a beautiful call girl (Kim Basinger), and corruption that leads straight to the top of the LAPD. A masterpiece of acting, direction, and writing, and the only film to rate comparison with the greatest of Technicolor noir's Chinatown.
Useful Books:

The rough guide to film noir / Ballinger, Alexander
"From dimly lit streets and glamorous apartments to world-weary detectives and irresistible femmes fatales, The Rough Guide to Film Noir illuminates every corner of cinema's darkest and most compelling genre. From early masterpieces like Double Indemnity and Kiss Me Deadly through to neo-noir classics such as Chinatown and LA Confidential, this book highlights all the groundbreaking noir movies. There are profiles of legendary performers such as Humphrey Bogart and Barbara Stanwyck, great directors like Fritz Lang plus key cinematographers, composers and designers. Complete with website listings and books for further reading, this Rough Guide takes a fascinating look at the noir movies made in the Classical Hollywood era and beyond." (Catalogue)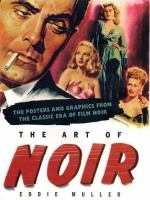 The art of noir : the posters and graphics from the classic era of film noir / Muller, Eddie
"Film noir is about style as much as it is about,crime, with poster art that features a bold look,and iconography all its own – a sizzling marriage,of sex and violence. This is the first book to,present this striking artwork in a lavishly,produced, large-format volume featuring 275,colour images of posters and other promotional,material from the golden age of noir. Featuring,such classics as Touch of Evil and The Big Sleep. Noir expert Eddie Muller also provides background,information on all of the illustrators." (Catalogue)
Film noir : 100 all-time favorites
" Into the shadows: Noir in the spotlight   Enter a world populated by private eyes, gangsters, psychopaths, and femmes fatales, where deception, lust, and betrayal run rampant… If your heart rate just increased a bit, you'll covet this book—the first film-by-film photography book on film noir and neo-noir. Beginning with silent, German, and French films that were early influences on the genre, through to seminal works such as Double Indemnity, The Postman Always Rings Twice, and Vertigo, you'll make your way to the present day via Chinatown, Pulp Fiction, Heat,Memento, and the recent cult favorite Drive. Entries include posters, tons of rare stills, cast/crew details, quotes from the films and from critics, and analyses of the films. Film director, film noir scholar, and Taxi Driverscreenwriter Paul Schrader provides the introduction to this feast of noir worship. Populated by the genre's most revered directors like Hitchcock, Wilder, Welles, Polanski, Mann, and Scorsese, the book also pays homage to its iconic faces such as those of Mitchum, Bogart, Hayworth, Bergman, Grant, Bacall, Crawford, Nicholson, Pacino, and so many more. " (Catalogue)