Statler: Well, it was good.
Waldorf: Ah, it was very bad.
Statler: Well, it was average.
Waldorf: Ah, it was in the middle there.
Statler: Ah, it wasn't that great.
Waldorf: I kind of liked it."
-'The Muppet Show'.
I'm Mark, the Music & Film Specialist at Wellington City Libraries (I also run the Libraries' Wellington Music Facebook page). Every month my colleague Neil and I cast our eye over the new material we have been buying for the Music collection at our CBD Te Awe library. We pick out some interesting titles across a range of music genres, and try to limit our reviews to a few lines only. Can we encapsulate an entire album in just a couple of lines? [Ed. This is probably unlikely at this point]. Do we actually know anything about new music? Or, are we just too old to understand what most of this is banging on about? Read on to find out…
Say Laura / Chenaux, Eric
Mark: Chenaux is a Toronto-based experimental guitarist & songwriter and on this, his 7th album, he delivers a unique interplay of instrument and voice. Semi-improvisational guitar textures, acoustic as well as processed and treated, meld with his relaxed tenor crooning, and other backing including a Wurlitzer and programmed drum beats. It all creates a kind of avant-pop sound, a strange juxtaposition of the smooth and the rough. Mellow yet full of dissonance, these 5 lengthy pieces don't always go where you think they will, but always hold your attention.
Neil: 'Say Laura' by Eric Chenaux is a unique outing. It could be described as jazz-folk that contains minimalist, but precisely focussed instrumentation. Eric's voice is smooth and seductive throughout, and it's this juxtaposition of his voice with instruments such as sparse destabilised guitar that make the album. Despite the sometimes-experimental leanings of the album it's definitely an eminently listenable and rewarding piece of music.
A light for attracting attention / Smile
Mark: The debut album from Thom Yorke's latest side project, which features fellow Radiohead member Jonny Greenwood and Sons of Kemet drummer Tom Skinnner. Some older material, that had been previously played live by Radiohead, sits next to a suite of new mid-tempo tracks that highlight the best elements of Radiohead's post 'OK Computer' output, and the symbiotic creative dynamic between Yorke & Greenwood. These angular tunes focus more on mournful atmosphere than melody as Yorke's dissects the horrors of the time we live in, climate change & power brokers, while moody synths pulse away behind his falsetto. Elements of Funk, prog & afrobeat feature, as well as a couple of more acoustic/strings ballads that highlight the 2nd half of the album. While being some of the most easily accessible music of all the 'Radiohead' side projects and solo albums, this is still a dense & layered album with a lot to take in musically & lyrically, and more will no doubt sink in upon repeated listening. An album that will no doubt be already slotting into critics 'Best of the year' lists.
Neil: Thom Yorke and Jonny Greenwood's latest side project, like much of Radiohead's recent work, is informed by uncertainty and creeping unease. Yorke is in superb voice and the bass lines and spiky electronica, unsurprisingly, sound like a full-blown Radiohead outing, with some of the album's lyrics even directly referencing Radiohead tracks and albums. That said, it's brilliant stuff, with that shifting balance between musical and personal chaos and structure continually explored throughout the piece.
Dolenz sings Nesmith / Dolenz, Micky
Mark: Micky Dolenz's first new solo studio album in nine years was this 2021 tribute to his fellow Monkee Michael Nesmith, who would pass away later that year. Produced and arranged by Nesmith's oldest son Christian, it takes a modern approach to these tunes, changing the tempos on some classic tracks while still aiming for deference & respect towards the originals. From synth based arrangements to heavy rock and psychedelica, Dolenz's 76 year old voice rises to every style with a seemingly effortless energy. A great album that now serves as a fitting tribute.
Neil: This album is an interesting outing, in that both musicians are best known for being members of the 60's manufactured boy-band The Monkees, who eventually cast of their corporate restraints to follow their own creative stars. This album is an affectionate and great tribute from Dolenz to his close friend and bandmate Nesmith. It is vintage pop, but it's also sharp and crisp and fresh sounding. My fav track on the album is 'Circle Sky' from their Jack Nicholson directed movie Head with its hippy era sitar energetically reinvigorating the song.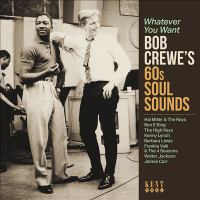 Whatever you want : Bob Crewe's 60s soul sounds
Mark: Crewe was a songwriter-producer best known for his string of Top 10 singles for the group Frankie Valli & the Four Seasons, that he co-wrote with band member Bob Gaudio. The Four Seasons were one of the best-selling musical groups of all time, having sold an estimated 100 million records worldwide, but Crewe also produced numerous other artists from white pop to doo-wop & Black R&B artists like Ben E King, Chuck Jackson, Jerry Butler and Barbara Lewis. This entry in Ace Records 'Producers' series gathers up these tracks & more for another classy overview full of soulful cuts.
Neil: During the 1960's Bob Crewe was one of the worlds most in demand songwriters and producers, best known perhaps for his work with the Four seasons. This compilation focusses on his soul work of the time, and features a whole host of 60's soul stars such as Ben E King and James Carr. It's vintage stuff, in all senses of the word, is choc full of soul classics and , in its own way, is a masterclass on how to write songs in this genre.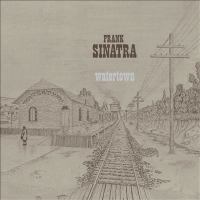 Watertown / Sinatra, Frank
Mark: An incredibly divisive entry in the Sinatra catalogue, and a commercial dud upon release, 'Watertown', a soft-rock concept album following the life of a single character after a bitter separation, has been slowing gaining in critical stature as evidenced by this deluxe reissue. Mainly written by Bob Gaudio of the Four Seasons, the 10 tracks compile a forlorn series of vignettes/'letters' of a small-town man left to raise his children after his wife leaves him. Sinatra brings all of his accumulated skills to these tunes, his voice older and slightly shaky adding a poignancy to the loneliness inherent in these tracks. In tone this feels like a cycle of songs that at the time was perhaps assumed as the musical purview of Country Music or Folk artists, however the passage of time has shifted all the music boundaries to the extent that this now feels like an album that was far ahead of its time. All the tracks have been newly mixed from the original session tapes, and include previously unreleased bonus material with session outtakes, as well as "Lady Day," a tribute to Billie Holiday which was not included on the original album.
Neil:: Ole blue eyes 1970 concept album 'Watertown' gets a welcome rerelease, remaster, and remix. It's an album of drama and tragedy, songs that link together to form a sort of story. On its original release fans and critics were shocked at the radical departure from the more well-known Sinatra style, and the album got only lukewarm reviews. But since then it has been widely reappraised, and now many Sinatra fans regard it as one of his finest albums.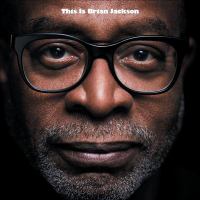 This is Brian Jackson / Jackson, Brian
Mark: Composer and multi-instrumentalist Brian Jackson was the writing partner & musical collaborator of Gil Scott-Heron in the 70's, making 9 albums together. After they split he worked with various other R&B artists and released a low-key solo album in 2000, and this is his first solo release in 20 years. Some of the tracks are old, dating from 70s demos, soundtracks, & 80s cuts, but all of it has been re-recorded with new arrangements and produced by Daniel Collás, of the New York psychedelic soul collective Phenomenal Handclap Band, who also co-wrote some of the new tracks. It's Jackson's album all the way though, as the socially-conscious lyrics bubble beneath a mix of nostalgic sounding funky-jazz grooves & soul with some modern touches of Hip-Hop & afrobeat.
Neil: Gil Scott-Heron's former collaborator releases his first solo work in over twenty years, and in so doing reinvents himself. Jackson's new album is in one sense like many of the albums being released at the moment, in so much as it's a sort of musical montage of the genres that inspire him, but Jackson as a seasoned and well-versed musician puts all his creative thoughts through a prism of his own musical history & artistry. The result is a generous and open sounding work, with multi genre pieces that tip their cap to soul, hip hop jazz and funk, but is also an album that fundamentally retains Jackson's own musical uniqueness.
Sun casts a shadow / Fairlight, Emily
Mark: Wellington-based, ex-Christchurch Americana musician Emily Fairlight and Mike McLeod from Dunedin's The Shifting Sands join forces for an album of acoustic psych-folk. McLeod's band The Shifting Sands had taken a back seat, after a US tour on the back of their acclaimed album Cosmic Radio Station derailed badly. Picking up music again in 2018 he joined Fairlight's live touring band, and after a trip to SXSW the two decided to record some tracks with producer friend in LA. The resulting album is an intimate acoustic affair, with low key indie 80's C86 bedsit sound, and lovely harmonies that sugar coat the heartbroken centre of some of these songs.
Neil: When covid restrictions put plans for a tour on indefinite hold Emily Fairlight, like many artists, retreated into the creative crucible and started writing new material. On this occasion with the creative assistance of Mike McLeod (aka The Shifting Sands) who supplies guitar of a cosmic rock variety and interweaving harmonic vocals on the album. The result 'Sun casts a shadow' is a laid-back, stripped-down, album of timeless psych folk pop songs that move from heartbreak to hope, with a spectral quality to the vocals.
Ladies sing The Boss : the songs of Bruce Springsteen
Mark: Part of Ace Records 'Songwriter' series, this compilation brings together some covers of Springsteen tracks recorded on various albums, EPs & tribute albums dating from the 70s to the 2000's by a wide spectrum of female artists across generations, from Patti Smith, Lucinda Williams, Emmylou Harris, to Lucy Dacus, Aoife O'Donovan & Soccer Mommy. As with all of these sorts of albums some interpretations are great, some not as good, but all are generally interesting, as the pull of the compilation lies in seeing how the female perspective on these tracks plays out. They all tend to tackle some of the more brooding, widescreen, tracks in his catalogue, rather than the romantic more personal side of his writing, which also shapes the overall tone of the compilation.
Neil: A compilation album featuring female musicians covering Bruce Springsteen tracks. Featured on the release are big names such as Linda Ronstadt and Patti Smith, as well as lots of names not so well known. The range of styles and genres differ widely from full out rock, to more subtle American alt folk. Each artist finds their own way into the emotional core of each song, and this range and diversity of voices and approaches is both the albums greatest strength and its weakness. That said, you are almost certain to find a few tracks you really like in there.