Here is Part 3 of our new Music Picks for July. You can catch up with Part 1 here, and Part 2 here. Do we actually know anything about new music? Or, are we just too old to understand what most of this is banging on about? Read on to find out…
[Ed. Sadly Neil could only fit a couple of albums into his schedule this week…]
Drive my car : original soundtrack. / Ishabashi, Eiko
Mark: Japanese film Drive My Car received rave reviews as a movie, but also for its evocative soundtrack by Eiko Ishabashi, a well regarded Japanese singer-songwriter-musician who has frequently worked with Jim O'Rourke, and whose discography ranges from experimental music, to film soundtracks, to a jazzy tribute to a popular character from TV's 'Law & Order'. The film's motifs are based on jazz rhythm patterns provided by a drummer, and piano, electronics, flute, synth, melodeon, vibraphone & pedal steel guitar fill out the pieces, to provide a melancholy & moody undercurrent. An immersive listen that stands on its own as a suite of music, but also forms a counterpart to the slowly unfolding grief at the heart of the films conversation & car journeys.
Neil: A cool smooth and nuanced film soundtrack. The film which it accompanies explores acceptance betrayal and grief and is an adaptation of a Haruki Murakami short story. In many circles the movie has been heralded as a masterpiece, and the music soundtrack perfectly mirrors the highly reflective nature of the film.
Nancy & Lee. / Sinatra, Nancy
Mark: The Light in The Attic label continue their Nancy Sinatra reissue series with her most iconic album, a cult 60's classic. They had been working together for some time and the album is a compilation of sorts, gathering previously released singles, with some covers and new cuts. His cavernously dead sounding cowboy-vocals, and over the top arrangements, meld perfectly with her girlish sweetness. Their fantastic musical chemistry and sense of fun often hide the depth of her talent in navigating the psychological darkness of the characters in these strange songs. Well deserving of its cult status.
Neil: Fabulous collection of strange and odd tracks from Nancy Sinatra and Lee Hazelwood. One might suspect this is the kind of music David Lynch grew up listening too. American Gothic that is rooted in country and Western pop, but looking at it from a carnival funfair, distorted hall of mirrors, perspective.
12th of June. / Lovett, Lyle
Mark: Country stalwart Lyle Lovett returns with his first album in a decade, named after the 2017 date he became a first time father to twins. A mixture of covers and originals, it's the smorgasbord of styles he's known for, from Western Swing, to big-band Jazz, to honky-tonk bar room country, all with his trademark sense of humour. Longtime vocal partner Francine Reed guests on a couple of tracks. A sense of poignancy exists as Lovett (now 64) reflects on his musical past, the passage of time on relationships, and his newfound sense of family.
Love & fire / Black Seeds
Mark: Local legends The Black Seeds return with their 7th album, and first album in 5 years. With sessions recorded initially in 2018 at the Surgery, Covid restrictions hit, and the album ended up as a project via video chat. While being created in the middle of a pandemic the album doesn't focus on Covid specifically, but on overcoming struggles generally, from personal relationships to child rearing. The album never drifts far from their established template, but they throw in a few more different elements like Afrobeat & R&B grooves alongside their patented Reggae/Dub. The result seems deceptively simple, but making a cohesive 'band' album separately, and also as cheaply as possible due to the lack of touring, is a real triumph, and that vibe flows into the music which brings an overriding sense of hope to the sunny/breezy tunes.
Second nature. / Lucius
Mark: The 4th album, and first original material in 6 years, from the Brooklyn-based indie pop group fronted by tandem lead vocalists Jess Wolfe and Holly Laessig – who have also appeared on a Roger Waters album as well as touring as his backing singers, and have featured on tracks from artists as diverse as Ozzy Osbourne, Harry Styles & The War On Drugs. Lucius make classicist AOR pop songs in the ABBA-Fleetwood Mac-dance-pop tradition, and while overlaying electronic beats and synths onto this kind of soncraft isn't original, their superior writing & vocals have made them stand out. 'Second nature' is more classy glistening beats and soaring beautiful duel vocals, that propel the songs into the pop stratosphere. Melancholy in places, yet with an overall feeling of triumph over adversity.
I'll be yours / Americans (Musical group)
Mark: The 2017 debut album from this LA based roots-rock trio, whose follow up release 'Stand True' has just been released. They featured as the 'house-band' in the critically acclaimed PBS documentary series American Epic that was produced by Jack White & T Bone Burnett. 'I'll be yours' is an 'Americana' album that feels completely authentic and not just another exercise in stylism. Emotional vignettes incorporate elements of power-pop, country-rock, blues, working class rock-n-roll & acoustic ballads, and create a sound that seems to reference everything from Springsteen, to Dylan, to Tom Waits, to The Jayhawks while also sounding completely original.
Targala, la maison qui n'en est pas une. / Parrenin, Emmanuelle
Mark: 73 year old Emmanuelle Parrenin is a cult French musician whose debut solo album came out in 1977. A singer, harpist & hurdy-gurdy player she began in the traditional folk genre, but her strange life & musical journey has taken her through punk, techno and the avant-garde. Parrenin spent her first period of lockdown on the edge of the desert in Morocco, having been invited there to play a festival, and this album is a kind of psych-folk meander of ambient harp, dulcimer, synths, guitars, percussion & saxophones, creating an atmosphere that has the feel of a shimmering desert dream. The most unique & original music is being made on the fringes like this, and you won't find a more interesting or haunting ambient album than this.
Box Set Pick: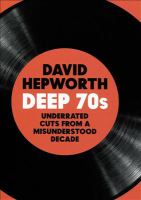 David Hepworth : deep 70s : underrated cuts from a misunderstood decade.
Mark: David Hepworth is a British music journalist, editor & writer, who launched a number of popular magazines in the 80s & 90s, including Mojo & Empire. In 2021, his book Never a dull moment: 1971, the year that rock exploded was adapted into the Apple TV+ documentary mini-series 1971: The Year That Music Changed Everything. He has curated new box set 'Deep 70s: Underrated Cuts From A Misunderstood Decade' with the aim of proving his hypothesis that this decade was the most fertile in terms of the music being created and that "More occured between 1971 and 1979 than in any period of music before or since"… Thematically across 4 CDs (one for American acts, one for British acts, one on "hell raisers" from both countries, and one on female performers) he makes a great case with a collection of obscure (though mainstream) gems. Full of great discoveries for the music fan that chooses to seek out the deep cuts beyond the surface charts.